Christmas Tree Spotted Inside House in September Shocks Driver
There are still more than 100 days to go until Christmas but it would appear someone is getting in the festive spirit extra early this year.
In a video shared to Twitter, radio DJ Lynne Hoggan captured the sight that greeted her during a trip to visit a friend in Perthshire, Scotland: a Christmas tree.
There's no set time for when you should be putting up Christmas decorations, but QubeLuxe Style and Decor expert Debbie Marks previously suggested people are justified to begin "anytime from the first of November."
She told Newsweek: "The joy that decorations and seasonal decor bring us should be enjoyed for as long as possible."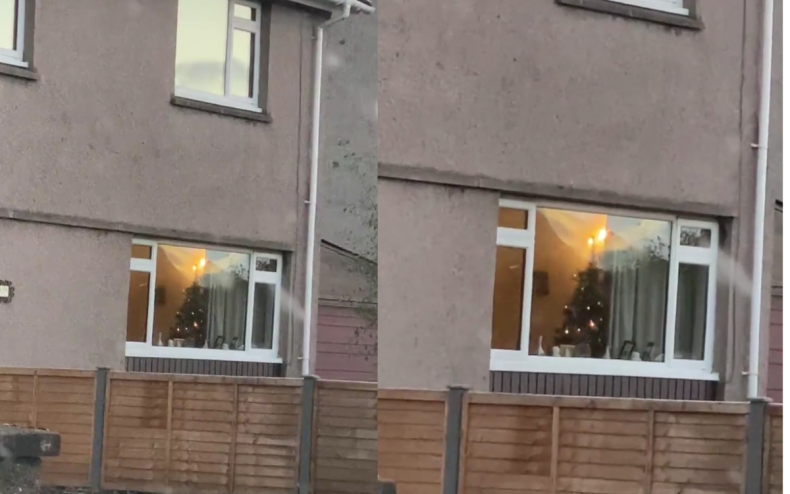 Whatever the case, the homeowner featured in Hoggan's video appears to getting in the mood extra early this year with decorations set up a whole two months earlier than Marks suggested.
Hoggan said she was driving through an unspecified part of the Scottish City when she caught sight of the tree and actually had to reverse her car to check she wasn't "imagining things" and it was actually there.
Yet, as the video she subsequently posted online proves, this was no mirage: She had seen a Christmas tree decked out in lights in the front room of an unknown house in mid-September.
The radio presenter told Newsweek she was a little taken aback by the sight at first. "When I first saw it I was just shocked and surprised because I didn't expect to see a Christmas tree," she said.
Despite the initial shock, however, Hoggan admitted it made her "smile" and, regardless of the homeowner's early start, she's all in favor of people celebrating the festive holidays in whatever way they wish.
"I don't think it's too early, it's never too early, I love Christmas. Having a tree up in September for whatever reason gets my vote," she said.
The video of the tree has already been viewed over 350,000 times online, where it's drawn a mixed response. Some said it was "way too early" to put up a tree while others said there's "nothing wrong with starting early," noting that "Christmas adverts will be on soon anyway."
One man was left very confused. "Did I sleep way too long last night?" they asked. "It's still September right?" Meanwhile, another viewer suggested the homeowner was simply "trying to get some use before the electric prices go up next month."
Whatever the circumstances, Hoggan is all for people celebrating Christmas in their own unique way.
"I just love Christmas tree lights twinkling away," she said. "It always makes me think of the festive period and Christmas time growing up. I always get excited when I get my Christmas decorations up. I smiled when I saw it because I just thought 'good on them.'"