Church Sends Sha'Carri Richardson Message of Support: 'You Are Still That Girl'
A church in Baltimore sent a message of support to Sha'Carri Richardson, the champion sprinter who was suspended after testing positive for a chemical found in marijuana.
Richardson, 21, cannot run in the Olympic 100-meter race after testing positive for the prohibited substance during the Olympic trials in June, the U.S Anti-Doping Agency (USADA) announced in a statement last week.
The ban sparked outrage and an outpouring of support for the sprinter, who apologized on television Friday, July 2, and explained that she smoked marijuana as a way of coping with her mother's recent death.
The Pleasant Hope Baptist Church in Baltimore sent a message of support to Richardson on July 2.
The church's Facebook shared a photo of a sign it put up that said: "SHA'CARRI RICHARDSON YOU ARE STILL THAT GIRL #LEGALIZE."
The post added: "A message to our Sister #ShaCarriRichardson and all others who need a reminder today of their greatness! We are praying for & with you!"
Richardson won the 100-meter dash at the Olympic trials in 10.86 seconds on June 19, and she tested positive for marijuana shortly afterwards.
Though the USADA acknowledged that the drug was not used for performance-enhancing purposes, Richardson had her results erased and received a one-month ban, which was reduced from three months because she successfully completed a counseling program.
She accepted a 30-day suspension that ends on July 27. That would be in time to run in the women's relays, although plans have not been disclosed for the event.
As reports emerged about Richardson's marijuana use, she issued a tweet on Thursday, July 1, that said: "I am human." On Friday, July 2, she went on the TODAY show and apologized. She said her mother died while she was competing at the Olympic trials, putting her in "a state of emotional panic."
But she added: "I want to take responsibility for my actions. I'm not looking for an excuse."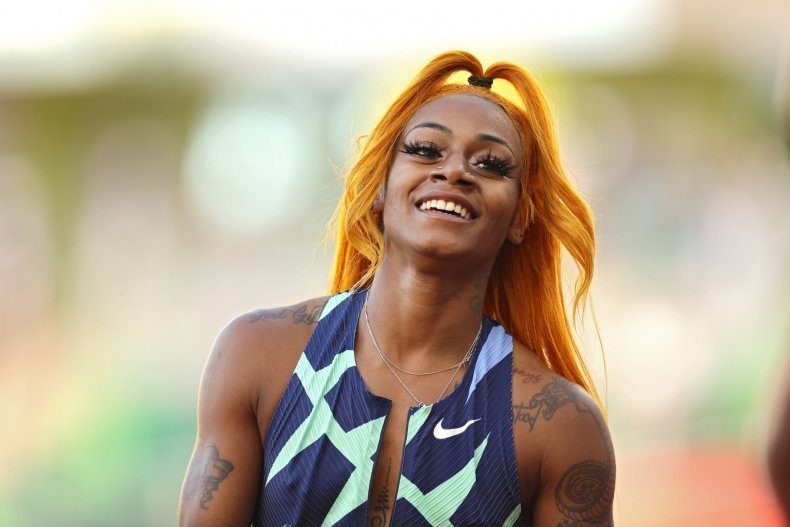 USA Track and Field issued a statement that said Richardson's situation is "incredibly unfortunate and devastating for everyone involved."
It added: "Athlete health and well-being continue to be one of USATF's most critical priorities and we will work with Sha'Carri to ensure she has ample resources to overcome any mental health challenges now and in the future."
USADA CEO Travis T. Tygart said in a statement: "The rules are clear, but this is heartbreaking on many levels; hopefully, her acceptance of responsibility and apology will be an important example to us all that we can successfully overcome our regrettable decisions, despite the costly consequences of this one to her."
Numerous sports stars, celebrities and politicians have taken to social media to voice their support for Richardson.
"Sha'Carri is an incredible athlete with a bright future," tweeted New Jersey Senator Cory Booker. "That her dreams are being crushed over a substance that should be legal across the country is devastating and wrong. Her heartfelt apology shows her strength even in the face of adversity."
Meanwhile, a petition demanding Richardson's suspension be lifted has amassed more than 480,000 signatures.
Richardson thanked fans and supporters this weekend, tweeting: "The support [two heart emojis] my community I thank y'all, the negative forget y'all and enjoy the games because we all know it won't be the same."
In another tweet, she added: "I'm sorry, I can't be y'all Olympic Champ this year but I promise I'll be your World Champ next year."