A petition demanding that the suspension of track and field sprinter Sha'Carri Richardson be lifted after she tested positive for marijuana has garnered more than 370,000 signatures online.
The U.S. Anti-Doping Agency (USADA) announced on Friday that Richardson had tested positive for THC, a chemical in the marijuana plant, at the U.S. Olympic Team Trials on June 19. The agency said that the 21-year-old athlete would be suspended for one month, which would prevent her from participating in the Tokyo Olympics. That decision from the USADA drew swift backlash, with many pointing out that the suspension was not supported by scientific evidence, and others arguing the prohibition on cannabis was rooted in systemic racism.
A petition launched by liberal group MoveOn in support of Richardson has gathered more than 370,000 signatures as of the time of writing. The petition—which is directed to USADA as well as the International Olympic Committee (IOC) and the World Anti-Doping Agency—demanded that Richardson be reinstated so she can compete in the 100-meter dash at the Olympics. It also urged the USADA to revisit its rules regarding marijuana consumption.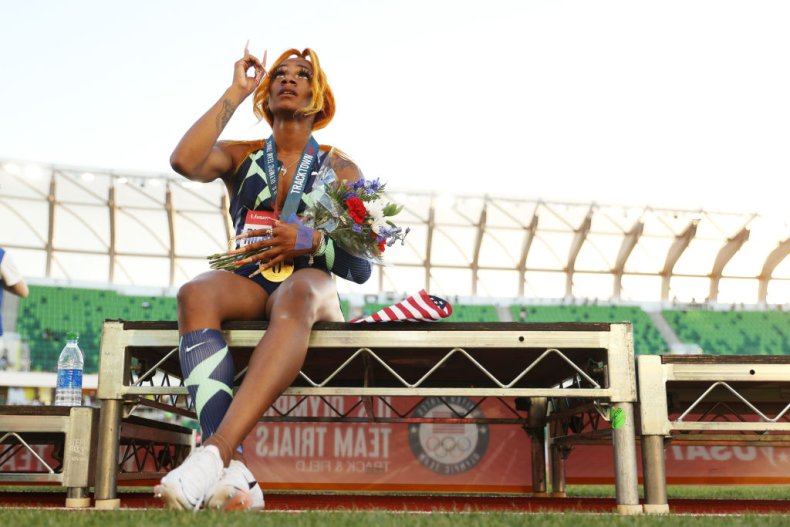 "In no world is marijuana a performance-enhancing drug for runners, and in more places in the United States and around the world, marijuana use is legal. The United States Anti-Doping Agency should drop their penalty and allow Richardson to compete!" the petition read.
"There are many reasons to have rules against performance-enhancing drugs, but this one is absurd," it added.
"The imposition of a penalty against a world-class Black, queer, woman athlete is powerfully and infuriatingly reminiscent of the way drug laws are regularly applied in the United States. Recreational marijuana use has been de facto legal for upper-middle-class white people for years—something more states are recognizing as they legalize marijuana for all people and consider how to repair the damage done to Black and brown communities by decades of the 'war on drugs,'" the petition said.
Richardson consumed the cannabis while she was in Oregon, where recreational cannabis sales have been legal since 2015. She has said that she used cannabis as a way to cope with her mother's death, which occurred a few days before the Olympic trials. Richardson told NBC News' Today that the death was "triggering" and put her in "a state of emotional panic."
Democratic Representatives Alexandria Ocasio-Cortez of New York and Jamie Raskin of Maryland formally urged USADA to lift the suspension in a Friday letter. The lawmakers said that the decision was based on "antiquated prohibition on the use of cannabis." Ocasio-Cortez and Raskin pointed out that "the divergent treatment of recreational alcohol and marijuana use reflects obsolete stereotypes about cannabis products."
Tweeting out screenshots of the letter, Ocasio-Cotez wrote: "Their decision lacks any scientific basis. It's rooted solely in the systemic racism that's long driven anti-marijuana laws." The progressive congresswoman noted that, "Even the medical director of @wada_ama [World Anti-Doping Agency], whose U.S. arm issued the suspension, has said there is no evidence that marijuana is performance enhancing. Not to mention, marijuana is legal in Oregon where Ms. Richardson was when she used it."
Richardson tweeted her thanks to fans and supporters this weekend, writing: "The support [two heart emojis] my community I thank y'all, the negative forget y'all and enjoy the games because we all know it won't be the same."
In a follow-up post, the athlete wrote: "I'm sorry, I can't be y'all Olympic Champ this year but I promise I'll be your World Champ next year."
Recreational marijuana is legal in 18 states and Washington, D.C., although it remains prohibited under federal law. The majority of U.S. states—36 in total—have legalized cannabis for medicinal use, and a significant majority of Americans believe the plant should not be illegal to consume. Gallup polling released in November found that 68 percent of U.S. adults believe marijuana should be legal for recreational use.
Newsweek reached out to the USADA for comment, but did not immediately receive a response.
Uncommon Knowledge
Newsweek is committed to challenging conventional wisdom and finding connections in the search for common ground.
Newsweek is committed to challenging conventional wisdom and finding connections in the search for common ground.
About the writer
Jason Lemon is a Weekend Editor at Newsweek based in Brooklyn, New York. Prior to taking on the editor role, Jason's reporting focused on U.S. politics and international affairs. He joined Newsweek in 2018, and had previously worked as a founding editor at a Middle Eastern media startup called StepFeed. He also worked a year as a contributor to The Atlanta Journal-Constitution and has bylines in The Christian Science Monitor, The Palm Beach Post, Al Fanar Media and A Magazine. He is a graduate of the American University of Beirut in Lebanon and Andrews University in Michigan. You can get in touch with Jason by emailing j.lemon@newsweek.com. Languages: English, Spanish, French and Levantine Arabic