Churches in 7 States Vandalized After Roe v. Wade Ruling: Full List
In the days since the Supreme Court struck down Roe v. Wade, reports of churches being vandalized have been reported across the country.
Friday's bombshell ruling stripped away the constitutional right to abortion, and is expected to lead to bans in about half of U.S. states.
But while Roe's demise was mourned by many across the country, it was welcomed by many evangelical Christian leaders.
And in several states, anger over the court's decision has led to churches becoming targets.
Here, Newsweek rounds up the incidents of vandalism reported at churches so far: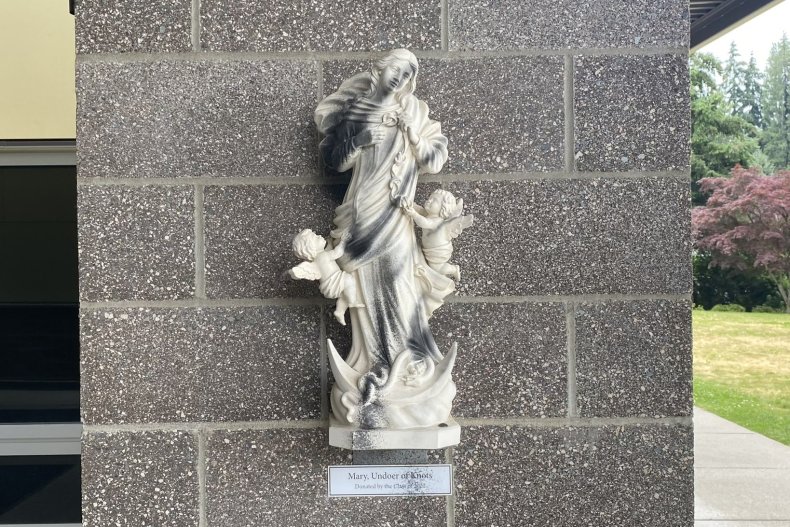 Florida
A Methodist church in Tallahassee, Florida, was targeted with graffiti after the court's ruling.
The words "My BODY" were written in red spray paint on a sign outside Saint Phillips AME Church, the Tallahassee Democrat reported.
Louisiana
A statue and memorial to aborted fetuses at a Catholic church in Algiers Point was defaced with red paint a day after the Supreme Court's ruling.
Dog walkers discovered the damage to the Virgin Mary statue at the Holy Name of Mary Roman Catholic Church, which is flanked with tombstones for the unborn, according to nola.com. Someone planted a sign saying "In Memory of Women Who Die From Lack of Legal Abortion."
New York
"If abortion isn't safe, neither are you" was found spray-painted in black on the outer doors of the Ascension Roman Catholic Church in New York City's Upper West Side on Monday, the New York Post reported.
The message was signed by "Jane's Revenge," a militant activist group that vowed a "night of rage" if the Supreme Court overturned Roe.
Oregon
"If abortions aren't safe neither are you" was also found graffitied on a sign for All Saints Parish, Catholic church in Portland, over the weekend, according to a Christian magazine.
Texas
Two statues were reportedly stolen from St. Anthony's Catholic Church in Harlingen, Texas, while another was toppled over.
Elias Zamora, a longtime member of the church, told KVEO-TV that he believes the incident is related to the Supreme Court ruling.
"It's so hard that it'd be random because it's been here for a while," Zamora said. " Not that I know that the church was pushing for anything about the abortion and stuff."
Virginia
A Catholic church in Fairfax, Virginia, was spray-painted with a number of messages related to the court's ruling, police said.
Police and firefighters responded to St. John Neumann Catholic Church in Reston early on Sunday morning to find a smoldering fire and four instances of graffiti, Fairfax County Police said.
Photographs shared on social media show "THIS WONT STOP" was spray-painted underneath a church sign.
Police said "an accelerant was likely used" to start the fire.
Washington
Police in Washington said a 31-year-old man was arrested in connection with an incident at St. Louise Catholic Church in Bellevue.
Bellevue Police said the man was taken into custody on suspicion of a hate crime and assault after allegedly spray-painting the church, smashing two doors and assaulting an employee.
Surveillance video shared by a Fox 13 reporter showed the suspect throwing a rock at a door before kicking it repeatedly.