Boris Johnson Praised by Zelensky Allies—'Churchill'-esque
British Prime Minister Boris Johnson will soon leave office in humiliation, having been abandoned by his party and ministers after months of cascading scandals.
It remains to be seen when Johnson will actually leave Number 10; that decision will be made by Conservative Party members in the coming days. The prime minister's legacy will feature claims of dishonesty that left all except his most servile allies desert him.
But for many in Ukraine, where Johnson has been at the forefront of the Western response to Russia's invasion, the outgoing PM will be remembered more fondly.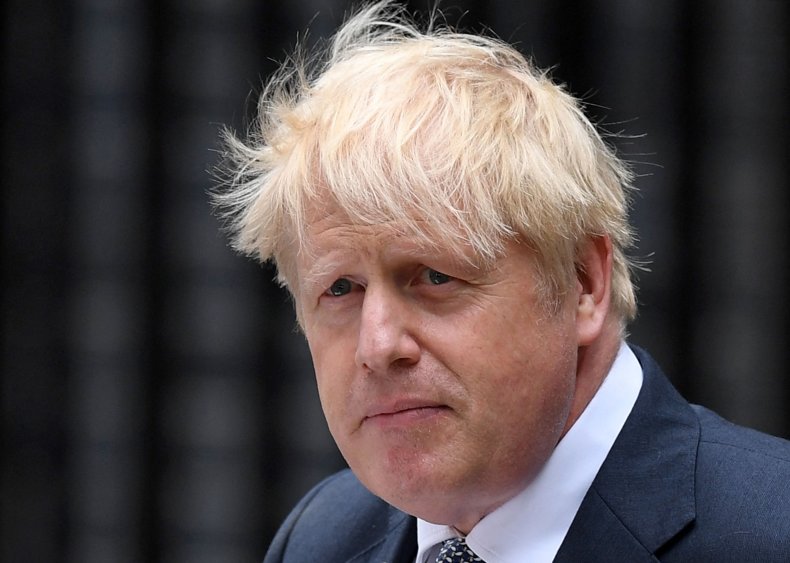 A residential street near the southern city of Odessa has already been renamed in Johnson's honor. Ukrainian politicians and former officials told Newsweek the British leader will be celebrated despite the political travails that prompt derision at home.
"We are grateful to Boris Johnson for what he has done for Ukraine," explained Oleksandr Merezhko, a representative of President Volodymyr Zelensky's Servant of the People party in the Ukrainian parliament and the chair of the body's foreign affairs committee.
"In Ukraine he is viewed as a close friend and is compared to [former British Prime Minister Winston] Churchill," said Merezhko; a comparison long-time Churchill admirer Johnson would doubtless approve of.
Top Zelensky aide Mykhailo Podolyak on Thursday posted a video to Twitter praising Johnson for his advocacy. Kyiv is "extremely grateful" for Johnson's work, Podolyak said.
"Johnson has shown his strong commitment in supporting Ukraine's independence," former Zelensky press secretary Iuliia Mendel told Newsweek. "He was the prime minister who visited Ukraine for the first time in 16 years, and then he repeated his trip during the war when Ukraine faced the threat to our existence."
"Ukraine is relying on the U.K. as one of the strongest supporters," Mendel added, noting concern in Kyiv that the U.K.'s political drama might distract from the ongoing war at a pivotal moment.
Merezhko sounded the same warning. "We are concerned that Putin might use this interregnum," he explained.
Johnson and the Conservatives have long been criticized for tolerating, and even soliciting, Russian influence within the party. The opposition Labour Party has accused the Conservatives of "dangerous links" to the Kremlin via sizeable political donations from wealthy Russians.
This week, the prime minister admitted to taking an unsupervised meeting with former Soviet spy Alexander Lebedev when he was serving as foreign secretary in 2018. Johnson later nominated Alexander's son, Evgeny, for a lifetime peerage in the House of Lords despite concerns among Britain's intelligence agencies.
But the U.K. was among the first NATO nations to begin sending anti-armor weapons to Ukraine in January, as hundreds of thousands of Russian troops massed along its eastern and northern frontiers.
London led the way in pushing for more NATO weapons deliveries and sanctions on Russia after President Vladimir Putin ordered the invasion at the end of February. This included personal sanctions on Putin and top allies such as Foreign Minister Sergei Lavrov.
To date, the U.K. has pledged almost $6.4 billion in aid to Ukraine, $3.8 of which is military assistance, according to analysis by the Kiel Institute for the World Economy.
Ukrainians now hope that Johnson's successor will follow suit. Kira Rudik, the leader of Ukraine's Golos party, told Newsweek: "We hope that the support we were getting was from the British people to the Ukrainian people, rather than from Boris to Zelensky."
Johnson's collapse has fired the starting gun for a new leadership contest. All contenders will be expected to continue the incumbent's strong support for Ukraine, none more so than current Defense Secretary Ben Wallace, who is credited with being the force behind much of Britain's military aid heading east.
"It would be the best choice for Ukraine," Merezhko said of a potential Wallace premiership.
Mendel added: "The Ukrainian government has established strong and reliable relations with the current minister of defense."