Cindy Crawford Recreates Iconic 1992 Pepsi Commercial Aged 55
Supermodel Cindy Crawford has proved age is just a number, as she recreated her iconic 1992 Pepsi advert—in the same outfit.
The 55-year-old headed back to the Halfway House Café, in Santa Clarita, California, in a revamped version of the Super Bowl ad.
In the original, it sees the Vogue star pull up to the gas station in a red Lamborghini and chug down on a can of soda, as two boys watch agog from a nearby field.
The look instantly became a classic, with her bouffant hair, silver hoop earrings, white tank top and daisy duke shorts spawning numerous recreations, and even Halloween outfits.
The mom-of-two slipped back into the same ensemble as she posed up a storm in front of a vintage convertible, with two wolf-esque dogs inside.
Crawford sipped on another can of Pepsi in the snap, shared to her Instagram on Tuesday, as she explained she has recreated the famous scene for a good cause.
She wrote: "It's always a pleasure and a thrill to work with my friend @davidyarrow... and even more so when it's for a good cause. We returned back to the original Halfway House from the famous @pepsi commercial I did in 1992 to recreate the moment (with a David Yarrow twist) in hopes of raising funds for the American Family Children's Hospital in Madison Wisconsin where my brother was treated for leukemia."
Crawford grew up in DeKalb, Illinois, with her two sisters, but her younger brother, Jeffrey, was diagnosed with leukemia when she was 8-years-old. Tragically, he passed away when he was three.
Her post, which has already amassed 97,000 likes, continued: "So far, with the help of David's gallery network across the globe supporting the art and its sales—we've already raised 1 million dollars for the cause. I also have to thank my dear friend, hairstylist @peter.savic who did the iconic hair for the original commercial...
"So I was thrilled he was able to be here for this version as well! Thanks also to @samvissermakeup for makeup and @allowitzstyles for styling. I think we nailed it! Such a fun day—I can't wait to show you more."
In her stories, she shared some behind-the-scenes clips from the shoot, crediting the hair and make-up team once again, as well as Yarrow. And she also got behind the bar this time, sharing a snap showing off the retro-themed interior.
It's not the first time Crawford has returned to the Halfway House, having reprised her role for a 2002 advert, this time for Diet Pepsi.
The commercial followed the same format—the model drinking a can of pop she buys from a machine—albeit it in a slightly different outfit.
While another two boys looked on and uttered near-identical lines to their 1992 counterparts, this time Crawford was given some lines too.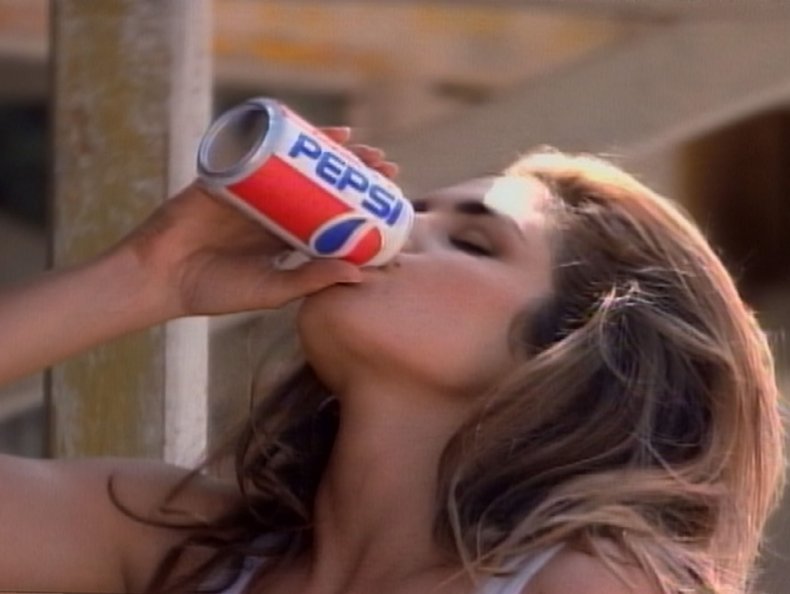 "Some things never change," she says, referencing the drink, while she opens the car door, now driving an SUV, to reveal her two kids in the back, as she quips "and some things do."
Crawford brought along her son, Presley Gerber, and daughter, Kaia Gerber, for the ad, who she shares with Rande Gerber, with the pair following in their famous mom's footsteps.
In 2018, both Presley and Crawford appeared in another Pepsi commercial, this time with the 22-year-old buying a can from the soda machine.
The veteran model pulls up in a red sports car and slurps on the soda, also thought to have been shot at the Halfway House.
While Kaia, 20, is an award-winning model and actress, posing for numerous brands in catalogues and on runways, and also stars in the latest series of American Horror Story.