Cindy McCain Says Split Within GOP Probable After Trump: 'We Cannot Allow This'
Cindy McCain, the wife of the late Republican Senator John McCain of Arizona, said she expects a split within the GOP over the role of former President Donald Trump.
Senator McCain, who was the GOP presidential candidate in 2008, clashed publicly with Trump before his death from cancer in 2018. Cindy McCain has continued to criticize Trump following her husband's death. She endorsed President Joe Biden ahead of the 2020 election and was later censured by the Arizona Republican Party due to her opposition to Trump.
During an interview with CBS News' Sunday Morning, McCain said there would "probably" be a split in the GOP going forward.
"We have got to overcome this. We have to. Not just as a party. But as a country. We cannot allow this," McCain warned.
"I know something's going to happen. I know that much," she said. "Or our party's dead if we don't."
However, McCain predicted optimistically that her more moderate wing of the GOP would have a comeback.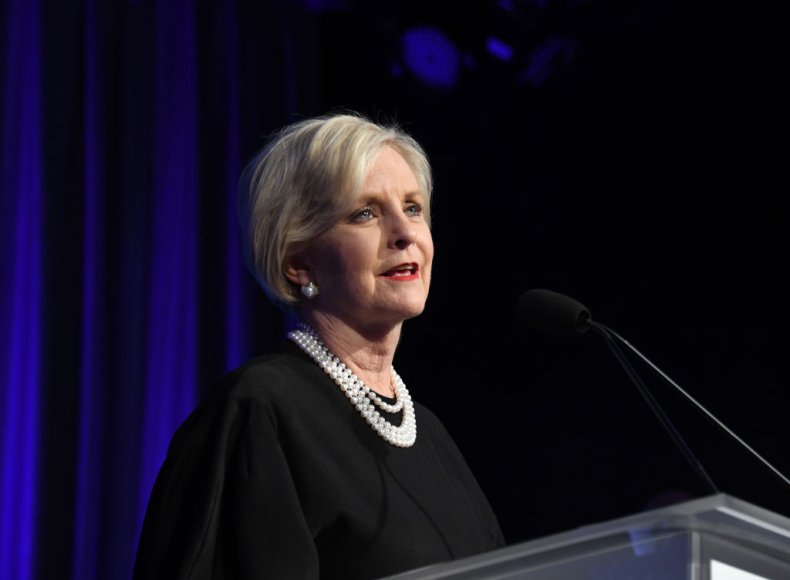 "Our side, it's swung way to the right. It'll come back. It'll come back," she said.
Newsweek reached out to Trump's office for comment, but did not immediately receive a response.
Cindy McCain has been joined by a number of prominent Republicans, who have come out strongly against Trump. Opposition to the former president among GOP lawmakers has grown significantly in the wake of the January 6 attack on the U.S. Capitol by a mob of pro-Trump rioters. The insurrection was launched in a bid to overturn the former certification of Biden's electoral victory, after Trump repeatedly claimed that the election had been stolen. There is no evidence to support this extraordinary allegation.
Senate Minority Leader Mitch McConnell, a Kentucky Republican, has condemned Trump and hopes that he will be expelled from the party moving forward. Representative Liz Cheney, a Wyoming Republican who serves as the chair of the House Republican Conference, has condemned Trump as well and said he should not have a role in the party going forward.
Ten House Republicans, including Cheney, voted with Democrats to impeach Trump a second time after the insurrection against the Capitol. Although Trump was ultimately acquitted at the end of his Senate trial, seven Republican senators voted "guilty" with all 50 members of the Democratic Caucus—making it the most bipartisan impeachment conviction vote against a president in U.S. history.
However, polls suggest that the majority of Republican voters remain loyal to Trump. Furthermore, the majority of GOP lawmakers have not publicly clashed with the former president, and the influential Conservative Political Action Conference (CPAC) taking place this week will feature Trump and a slate of speakers supportive of his movement.
During the CBS News interview, Cindy McCain also suggested that her deceased husband would have gone out and confronted the pro-Trump rioters if he had been alive and in the Senate on January 6.
"I mean, he absolutely—he wouldn't have hidden," she said. "I guarantee he wouldn't have gone to the safe room. I'm not suggesting there is anything inappropriate about going to the safe room. But—just, he was a fighter. He would never have stood by and let that happen. He just wouldn't have done it."