Cindy Williams' Audition To Be Princess Leia Resurfaces After Star's Death
Video footage of Cindy Williams auditioning for the coveted role of Princess Leia in the original Star Wars movies has resurfaced following her death aged 75.
The legendary actress' children, Zak and Emily Hudson, announced on Monday that their mother died peacefully last Wednesday following a brief illness.
"The passing of our kind, hilarious mother, Cindy Williams, has brought us insurmountable sadness that could never truly be expressed," they said in a statement shared with multiple media outlets. "Knowing and loving her has been our joy and privilege. She was one of a kind, beautiful, generous and possessed a brilliant sense of humor and a glittering spirit that everyone loved."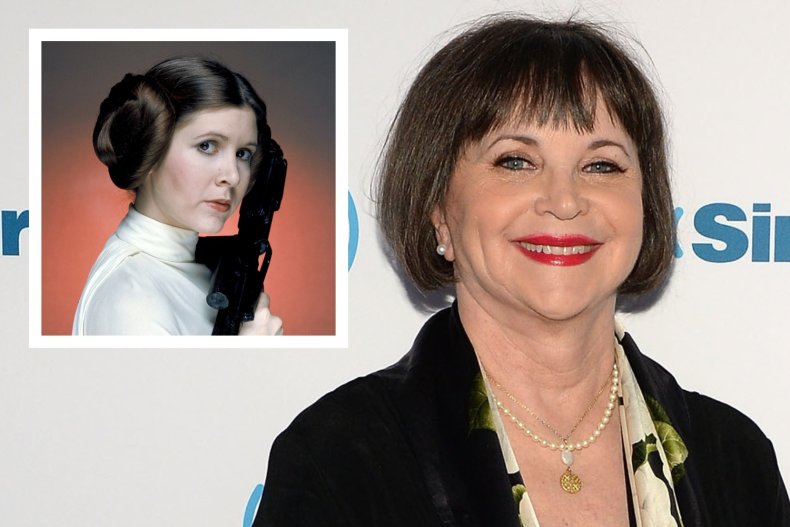 As news of the California native's death circulated, a host of celebrities paid tribute to the star on social media, as well as a large wave of fans.
And while Williams was widely beloved for her portrayal of Shirley Feeney on the classic sitcom Laverne & Shirley, one Twitter user shared a black-and-white clip of the actress auditioning to play Princess Leia, a character first seen in the original Star Wars movie back in 1977.
"Plans and specifications to a battle station with enough fire power to destroy an entire system," she said in character, while reading lines with a person not on camera. "Our only hope in destroying it is to find its weakness, which we will determine from the data I stored in R2."
Throughout the years, it was widely reported that Williams had been considered for the role, after having worked with Star Wars creator and director George Lucas on the 1973 movie American Graffiti. The role eventually went to Carrie Fisher.
While Fisher would seal her fate as a Star Wars legend through her portrayal of Princess Leia, Williams later admitted that she was unsure why she didn't land the role.
"I don't really know what happened," Williams said, per film website Lebeau's Le Blog, which shared a longer version of the screen test. "I think George Lucas might have wanted to go younger. I was already starring in Laverne & Shirley by then."
Williams starred in Laverne & Shirley—which was one of ABC's most popular sitcoms of all time—during its run from 1976 to 1983.
The series came to fruition after Laverne, played by Penny Marshall, and Williams' Shirley were introduced in a 1975 episode of beloved sitcom Happy Days. They proved so popular that they landed their own spin-off show.
Laverne and Shirley were roommates who struggled to make ends meet while working as bottle cappers at a brewery in Wisconsin.
Marshall, who went on to direct and produce for film and TV, died in 2018, also at the age of 75.
As well as American Graffiti, Williams' wide-ranging film career included a role in Francis Ford Coppola's 1974 mystery thriller movie The Conversation.
Later in her career, she also made guest appearances on TV shows such as 8 Simple Rules, Law and Order: SVU and 7th Heaven.
Her stage work included roles in Grease, Menopause the Musical, Death Trap, Nunsense, Middletown and The Drowsy Chaperone on Broadway. She also starred in the one-woman show Me, Myself and Shirley.
"We have always been, and will remain, SO proud of her for many things," Williams' children said in their statement. "Her lifelong mission to rescue animals, her prolific artistry, her faith, and most of all, her ability to make the world laugh!
"May that laughter continue in everyone, because she would want that. Thank you for loving our Mom, she loved you too."