Citizens Blast NYPD for 'Harassing' Residents in Wake of Subway Shooting
Following the arrest of New York subway shooting suspect Frank James, citizens have sounded off on social media on how long it took to apprehend him and how police were allegedly going after innocent people.
New York City Mayor Eric Adams has praised the New York Police Department for the arrest after Tuesday morning's attack at Brooklyn's 36th Street and Fourth Avenue station, which left 29 people hospitalized, 10 with gunshot wounds. But some New Yorkers are scrutinizing the NYPD, not only because a 30-hour manhunt was needed to apprehend the suspect but also because police allegedly targeted people minding their own business.
Whitney Hu is the political director for Churches United for Fair Housing, a grassroots organization that works to improve housing outcomes for low-income, immigrant and working-class individuals. She tweeted Wednesday evening that Sunset Park-goers were "decompressing" when officers from NYPD's 72nd District walked through, only to allegedly stop and "harass" three delivery workers having a drink after work.
"When I came to stand nearby, three more officers came and yelled at me," she said. "Literally 10 minutes later, a white couple show up w/ a six-pack & tall boys."
She said that tickets reportedly cost $150, adding, "This sort of policing makes no one feel safe and [is] truly ridiculous."
Newsweek reached out to Hu for comment.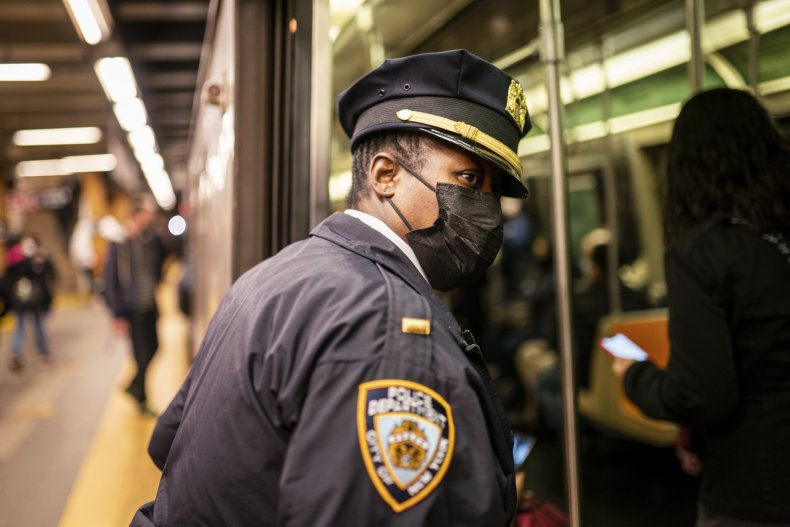 Kristin Richardson Jordan, a councilwoman for New York City Council's District 9, said the NYPD has a budget of $10.4 billion, access to military equipment, facial recognition technology, robot dogs, drones and 36,000 cops "yet still failed to stop yesterday's subway shooting in Sunset Park."
"We must invest in real public safety, for once and for all," Jordan tweeted.
Adams pledged to improve public transit safety, but now some New Yorkers are calling him out.
"Largest police force in the country and they can't find someone who shot up a train at 8:30am," said one tweet that was liked over 100,000 times. "But they did spend all month removing and arresting homeless people from the trains."
Joshua Clennon posted a video from April 13 at Harlem's Marcus Garvey Park that has been viewed over 246,000 times. After officers arrived, a verbal exchange ensued with people at the site, one of whom said he could not afford a gym membership.
He called the park "a safe haven for kids to work out and put the guns down...not a homeless encampment."
"We need our police focused on curbing violent crime instead of harassing community members that are having a positive impact on our community," Clennon said. "If the tent that they used to store equipment was not in compliance, [the] parks department should have simply provided the group with a storage unit. This entire situation could have been easily avoided."
Jamel Ali, founder of the Lion's Den, told Patch that the gym community has been meeting for around 20 years on the park's east side. It has provided metal pull-up bars and other donated equipment, including weights, boxing gloves and punching bags.
He said it was previously one of the worst parks in the city.
"Kids think it's a safe haven," Ali said. "We've got to teach them that killing each other is not the answer. We're just giving them constructive stuff to do—I bring gloves, we bring basketballs."
Crystal Howard, a spokesperson for New York City Parks, told Newsweek that the department has "for years" tried to work with Ali so that his activities in the park align with park rules.
She said Ali was notified on April 5 that if he wasn't in compliance by April 12 he would be in violation of park regulations. Under those rules, a person can't erect or maintain a tent in a park without a permit or store or leave unattended personal belongings within or adjacent to a park.
Howard added that the removal of Ali's structure and equipment is unrelated to the mayor's efforts to remove homeless encampments. The city's Street Outreach department defines encampments as "an outdoor location with a fixed, visible structure where two or more individuals gather, often under bridges or in remote areas, where groups can isolate."
"Our priority here is to ensure a clean and safe park for all its users," Howard said. "While we appreciate Mr. Ali's sentiment to encourage exercise, his ad hoc setup in the Marcus Garvey Park adult fitness area has historically been in conflict with park rules. This week's cleanup was done with advance notice and executed respectfully.
"NYC Parks is the city's largest provider of free and low-cost fitness opportunities through our hundreds of adult fitness areas in parks.... We are hopeful that we can come to a positive relationship with Mr. Ali," Howard said.
Clennon told Newsweek that he met with Jamel and Kioka Jackson, president of the 25th Precinct Community Council. He said the plan is to purchase a storage unit to allow them to safely store their equipment in the park.
"Based on previous meetings, [NYC] Parks has already agreed to this as a solution. It has just been a matter of getting the funds to be able to do it," Clennon said. "Now that I and others in the community are aware of this, we're confident we'll be able to make this happen soon."
Reached for comment, Fabien Levy, a spokesperson for Adams, told Newsweek that "the NYPD would need to speak to specific actions taken." He also referred Newsweek to the mayor's comments made Wednesday during a press conference.
Newsweek also reached out to the NYPD for comment.
Update 4/15/22, 9:55 a.m. ET: This story has been updated with a comment from a spokesperson for Mayor Eric Adams.