The prospect of a second American Civil War has loomed over the political landscape in the last several years, with one news host now suggesting that it might already be underway.
MSNBC's Tiffany Cross on Saturday hosted writers Jelani Cobb and Barbara F. Walter on her show, The Cross Connection, to discuss the possibility of a civil war instigated by former President Donald Trump and his MAGA supporters. During the conversation, Cross suggested that such a conflict has "already begun."
"These days, it feels like we are not just at the brink of a civil war, but that one has already begun," Cross said near the beginning of the conversation.
To back up her supposition, she shared two clips: one of Republican Senator Lindsey Graham saying that violence would erupt if Trump were arrested, and another of former Trump adviser Steve Bannon agreeing with a Vox article that accused the MAGA movement of being "a threat to the American state."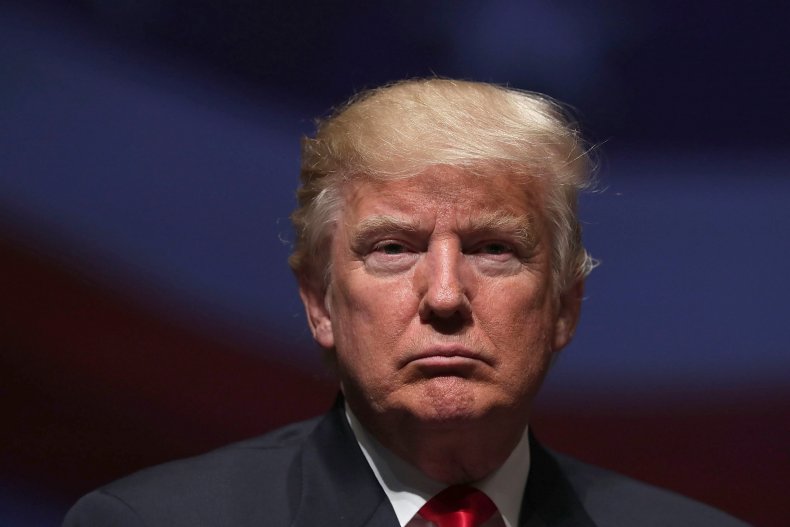 "So Trump supporters are already speaking the language of violence," Cross said after showing the clips. "They're threatening the FBI, the DOJ, the state itself. And this is all as they defend their dear leader. Now, it's more than just threats, though. Their rhetoric has already led to actual violence, and there is likely more to come. And I don't need to remind you how the MAGA mob sacked the Capitol on January 6 in an effort to overturn the 2020 election."
Cross then noted how the Republican field of candidates features many who have voiced support for Trump's false claims of election fraud, leading to concern for many that they would help him overturn a future election. Concern has also mounted after Trump offered pardons to those involved in the January 6 riots, which some viewed as a tacit offer of pardons to any supporters who commit violence on his behalf.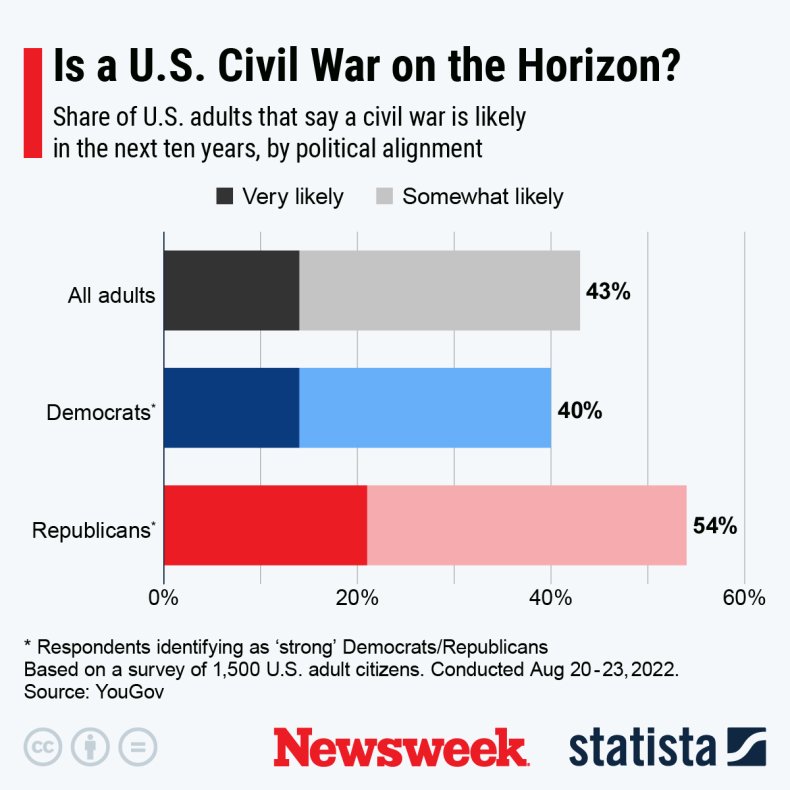 This chart, provided by Statista, shows the share of U.S. adults that say a civil war is likely in the next ten years, by political alignment.
"Now, some of these people are now candidates for office looking to run our elections and, quite frankly, our government," Cross continued. "And for those insurrectionists being prosecuted, discount Don, is, quote, financially supporting some of them and offering to pardon the lot if he's reelected in 2024. More than 40 percent of Americans think a civil war is likely in the next decade. That's a big number. Is this where history will say it began?"
Later in the segment, Walter, a scholar on the subject of the American Civil War, decried GOP leaders like Mitch McConnell and Kevin McCarthy for using dangerous rhetoric in the pursuit of their short-term political goals. She also compared their rhetoric to that of Slobodan Milošević, the former president of Serbia within Yugoslavia in the 1990s, who was called an autocrat and war criminal for his involvement in the Bosnian War.
Tempers among Trump's supporter base flared last week after a speech from President Joe Biden on Thursday decrying extremism among "MAGA Republicans" and recent threats of violence against federal law enforcement following the FBI search of Mar-a-Lago. Biden also made a veiled reference to Senator Graham's comment about violence following Trump's potential arrest.
"The idea you turn on a television and see senior senators and congressmen saying, 'If such and such happens there'll be blood on the street'?" Biden said. "Where the hell are we?"
Newsweek reached out to Trump's office for comment.