Donald Trump has been criticized for sharing a Truth Social post that read "Civil war."
The former president set up the social media site after he was banned from mainstream platforms in the wake of the January 6 attack over fears he would incite further violence.
The civil war comment, written by user "MAGA King Thanos," was in response to a screenshot of a March 20 tweet by El Salvador's president, Nayib Bukele, which was shared by former CBS News correspondent turned right-wing conspiracy theorist Lara Logan.
In the tweet, Bukele wrote: "The most powerful country in the world is falling so fast, that it makes you rethink what are the real reasons. Something so big and powerful can't be destroyed so quickly, unless the enemy comes from within."
Bukele's tweet cited a Bloomberg op-ed headlined "Inflation Stings Most If You Earn Less Than $300K. Here's How to Deal."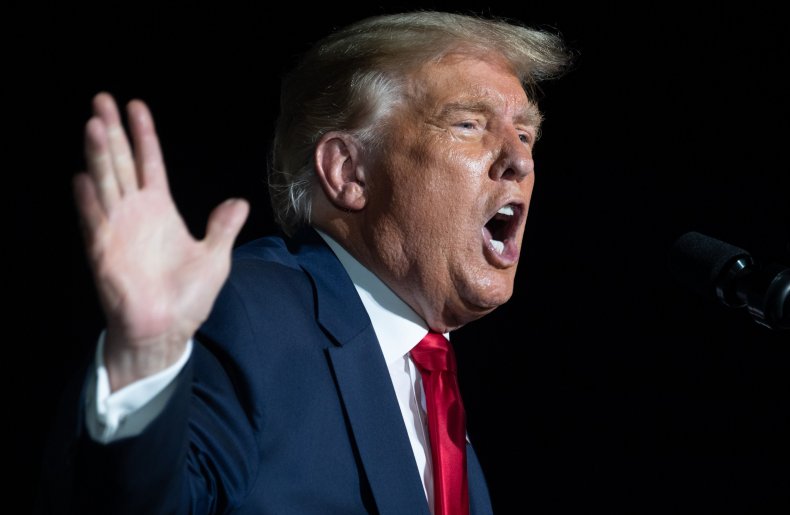 In response to Trump's repost, the anti-Trump political group MeidasTouch tweeted: "The disgraced, twice-impeached former president just shared a post from another user on his social media platform calling for Civil War. This is beyond dangerous."
Illinois Rep. Adam Kinzinger, one of the most vocal critics of the former president in the GOP, also condemned Trump for appearing to advocate for civil war in the U.S.
"Any of my fellow Republicans wanna speak out now? Or are we just wanting to get through 'just one more election first...? Kinzinger tweeted.
Democratic California congressman Eric Swalwell said: "Donald Trump is calling for Civil War. Of course, like Vietnam and the walk to the Insurrection, he won't be man enough to fight it."
George Conway, a lawyer and another frequent Trump critic who also is married to former White House counselor Kellyanne Conway, tweeted: "Nothing to see here. Just a former president of the United States sharing a social media post advocating or predicting civil war in the United States. No biggie."
Author, journalist and attorney Seth Abramson described Trump's actions on the social media platform as the "most seditious step ever taken" by a U.S. president.
"Every American who loves this country needs to condemn Donald Trump for this. There's no room for half-measures here: every GOP elected official in America needs to be *on record* condemning Donald Trump in the strongest possible terms," Abramson said. "You don't play around with Civil War talk."
Abramson also asked whether Trump resharing the Truth Social post bolsters the "already-strong case" that Trump should be disqualified for running for president in 2024 under the Fourteenth Amendment.
While referring to SpaceX and Tesla CEO Elon Musk's confirmation that he would allow Trump back on Twitter if the billionaire buys the social media site, David Weissman, a U.S. Army veteran known for no longer supporting Trump, tweeted: "Hey Elon musk, did you see Trump supporting a call for a civil war on his Truth Social platform? Are you sure you want that on this site if your deal follows through?"
Trump has been contacted for comment.
The "civil war" furor arrived as Trump is already being criticized for pushing unsubstantiated claims that the Pennsylvania GOP Senate primary is rigged due to mail-in ballot voter fraud. Trump-endorsed candidate Mehmet Oz is currently neck-and-neck with Dave McCormick as the count continues ahead of a likely recount.
Trump has continued to spread similar unsubstantiated claims about the 2020 Election results.
The violent mob of Trump supporters, which included far-right extremists, stormed the Capitol on January 6 in order to stop the certification of the electoral votes in favor of Joe Biden while supporting Trump's baseless claims of voter fraud.
In an interview on CBS' Face the Nation on Sunday, former Secretary of Defense Robert Gates was asked if he agreed with fellow ex-defense secretary Mark Esper's claims in his new book that Trump running for office again would present a threat to national security.
"It would concern me," Gates replied. "That's where I am."