'Claim to Fame''s Kai On Why Sister Tiffany Haddish 'Warned' Her About Show
Claim to Fame contestant Kai has opened up about her time on the ABC series,and how sister Tiffany Haddish reacted to her joining the cast.
Kai, real name is Jasmine English, she was eliminated from the Kevin and Frankie Jonas-hosted show on the August 15 episode, after managing to successfully sail through the first half of the series without her co-stars guessing her celebrity connection.
With a $100,000 prize money at stake the pressure is on for the players left in the competition, who at the time of writing include Whoopi Goldberg's granddaughter Amara and who fans think is Jason Aldean's cousin, Logan.
Speaking to Newsweek, English explained how she managed to last so long in the competition. She said: "My strategy was to keep a low profile and keep my circle small in doing so. I hoped it would make the other players believe I have figured out most of their identities, therefore no need for me to really strategize with them.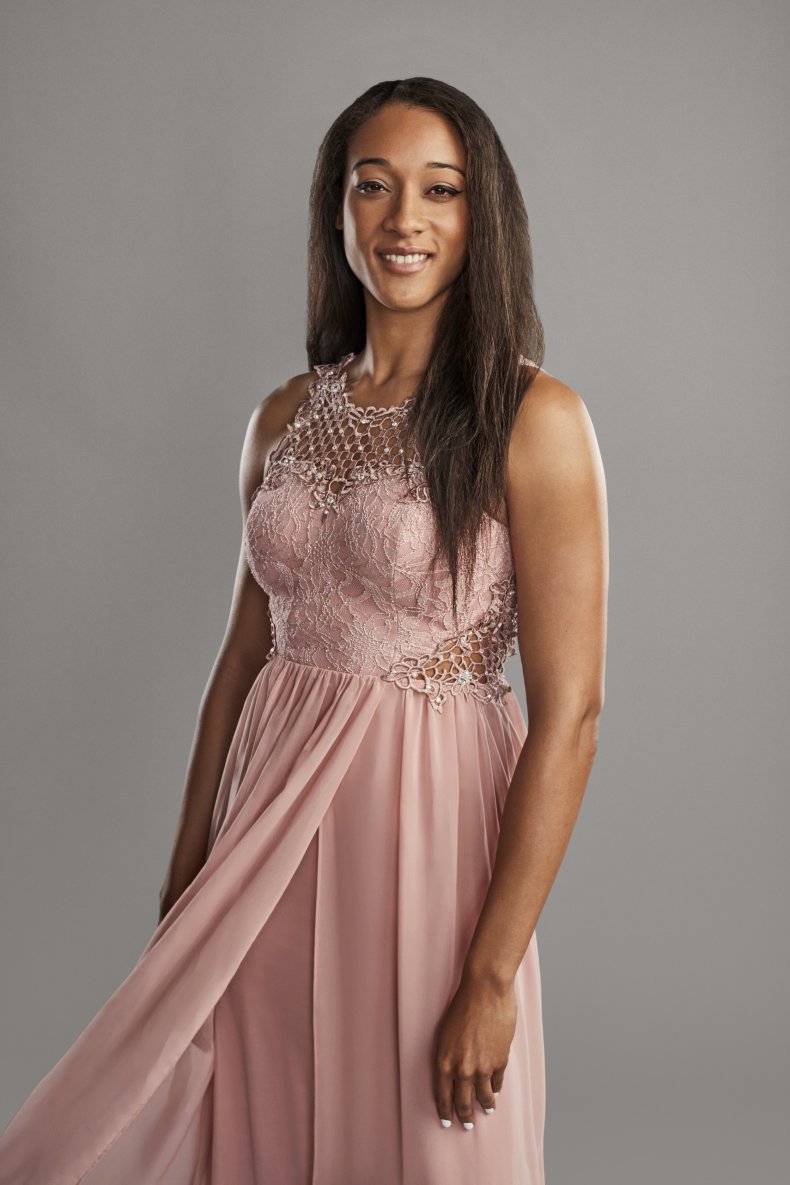 "I also really tried to push that my relative was a singer. I was banking on no one having much knowledge on musical artists. To my surprise my strategy worked better than I could have imagined for quite some time."
English said she felt "somewhat confident" in her ability to hide her celebrity connection, because she doesn't think she looks anything like her Girls Trip star sister.
"I have long curly hair, and most of the people in the house could not figure out my ethnicity for a couple of days," she said. "My only concern was I sometimes sound the same as my sister when I speak and we have some of the same mannerisms."
While fans at home thought they had some contestants figured out right away, for example Pepper, who viewers think is Dean Martin's granddaughter, English, playing as Kai, had those watching at home scratching their heads for a while.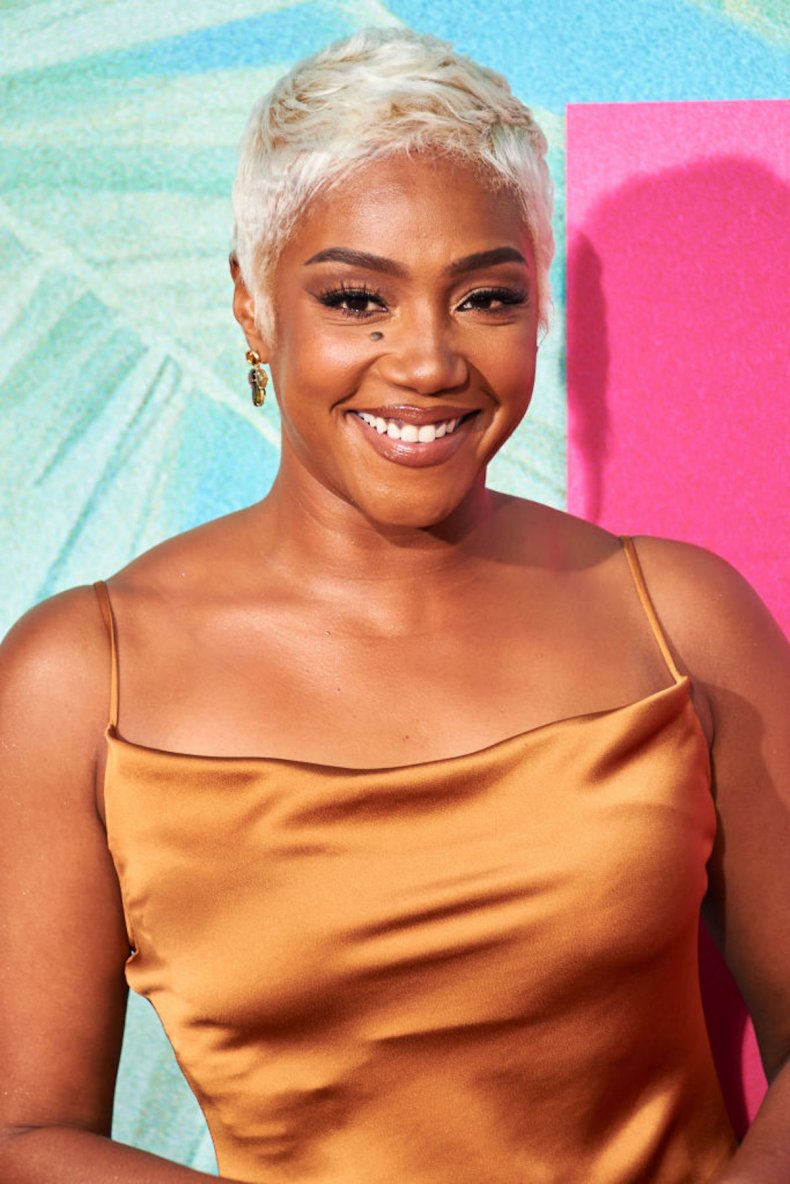 That was, at least, until the white dress clue. During the August 1 episode of Claim to Fame the players were seen taking part in a game where they had to wear one item of clothing that revealed a clue about themselves.
In the challenge Kai donned a floor-length white gown fans believed they had seen before, as Haddish famously wore a very similar white dress to several red carpet events in 2017 and 2018.
Agreeing that the white dress clue made her identity more clear, English told Newsweek: "I had no real concerns about my clues until that damn white dress.
"If you know about Tiffany you know about that dress! I was like man this is it, I'm out! So I really tried my best to drop false hints implying that it was a singer's dress."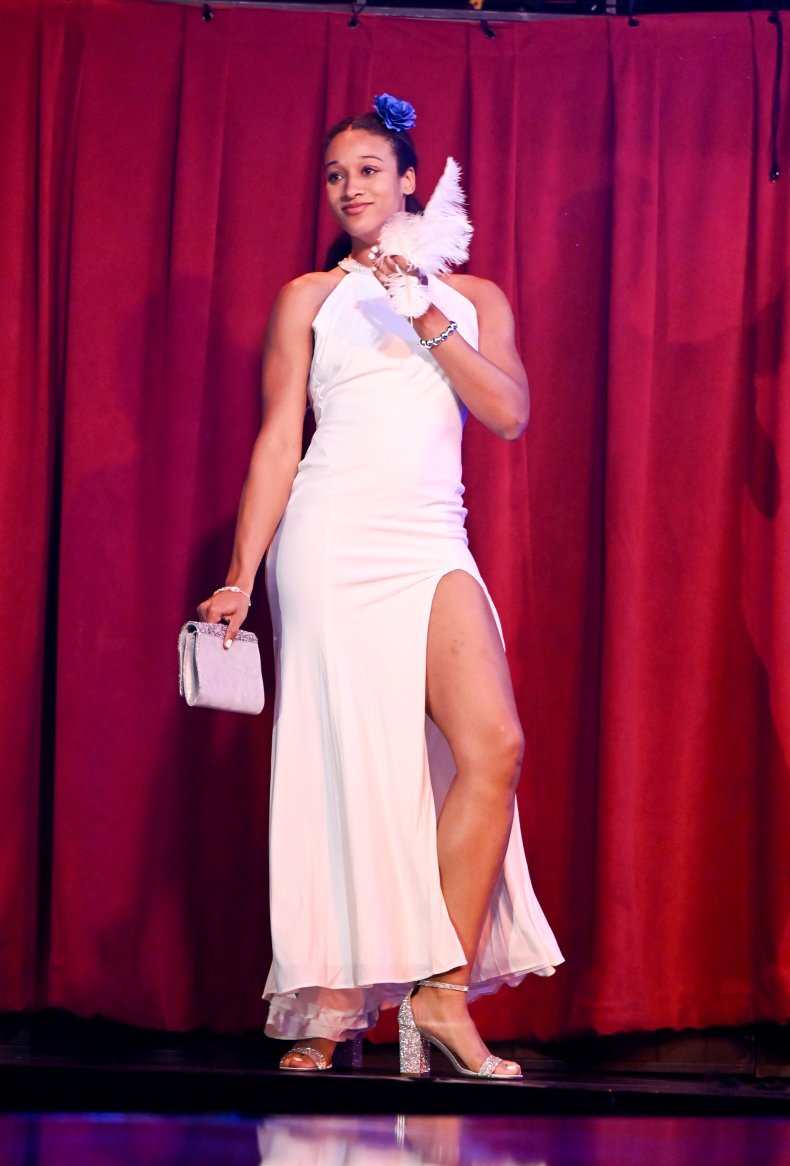 Her plan ended up being successful as Brittany Favre later incorrectly guessed that Kai was related to Andra Day, thinking the white dress was a nod to Day's title role in 2021's The United States Vs. Billie Holiday. "To my surprise it worked for a bit. The dress actually ended up throwing them off my trail!" English said.
English also revealed that, although her sibling "was 100 percent supportive," Haddish did tell her sister to exercise some caution whilst making her first foray into the public eye.
"She did make it a point to warn me that after this show I won't have as much privacy as she knows I would like and of course the negative and the positive aspects that come with it," English explained to Newsweek, continuing: "My big sis is protective and wanted to make sure I was mentally prepared for what was to come."
While it's not yet known exactly how the winner of Claim to Fame will be decided, fans have been showing lots of love for Keke Palmer's sister LC, real name Loreal, on Twitter, and have speculated that she will the whole show.
Discussing whether LC could walk away as the winner of Claim to Fame, English said: "LC is my girl. She is the whole package and has all the tools to win this game. So of course I want her to win the whole thing and I am rooting for her. It was a real joy to have met and played this crazy game with her."
Claim to Fame continues Mondays at 10/9c on ABC. Episodes are available to stream on Hulu the day after their airing.