Clarence Thomas Complained About His Own Student Loan Debt
U.S. Supreme Court Justice Clarence Thomas complained about the "crushing weight" of his student loans after graduating from Yale.
In his 2007 memoir, My Grandfather's Son, Thomas wrote about the student loans he was required to pay after graduating from Yale, and said, "In the end all Yale had to offer me was the tuition postponement option, a program in which the cost of student loans was spread across a class of students who repaid it as a group according to their means, with the greatest burden falling on those with the largest incomes. I didn't know what else to do, so I signed on the dotted line, and spent the next two decades paying off the money I'd borrowed during my last two years at Yale."
Thomas went on to say that a fellow student recommended that he declare bankruptcy "in order to get out from under the crushing weight of all my student loans."
The remarks by Thomas in his best-selling memoir came to light ahead of the Supreme Court's hearing on President Joe Biden's student loan debt forgiveness plan on Tuesday. In August, Biden announced a student loan debt forgiveness plan that would cancel up to $10,000 of federal student loan debt for some borrowers. Other borrowers who received Pell Grants would have up to $20,000 worth of debt canceled.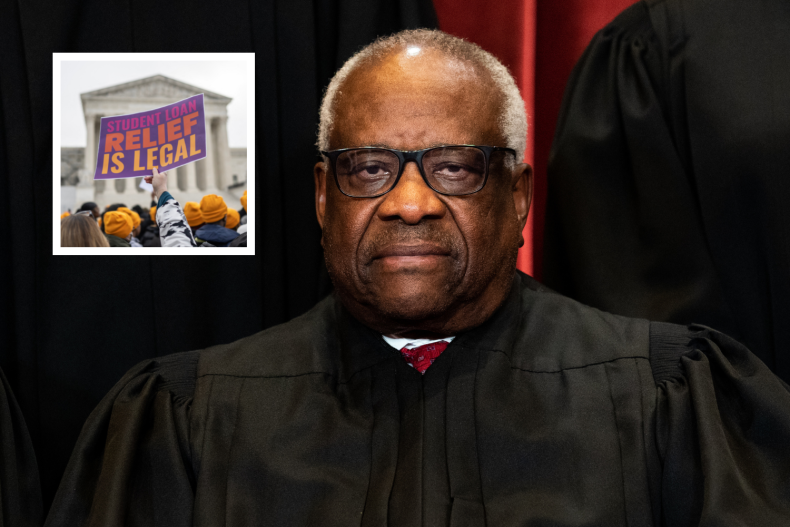 While some applauded Biden's announcement, others criticized it and questioned how the plan would be paid.
The Supreme Court's hearing this week will feature two lawsuits filed against Biden's student loan forgiveness plan, including one filed by six Republican-led states that have argued that Biden does not have the authority to cancel student loan debt. The six states—Arkansas, Iowa, Kansas, Missouri, Nebraska and South Carolina—also argued that Biden's plan will financially harm them.
The Supreme Court will also hear arguments for a lawsuit brought by two Texas borrowers who do not qualify for forgiveness under Biden's plan.
In addition to the comments made by Thomas in his memoir, he also spoke about his own student loan debts while delivering a speech in 2012 at the University of Florida Law School. According to WUFT, Thomas said that he finished paying off his student loans in his third term as a Supreme Court justice and called it a "wise investment."
The Associated Press reported that among the current Supreme Court justices who have children, four have deposited money into college savings accounts that are tax-free. Chief Justice John Roberts has deposited at least $600,000 into a college savings account, while Justice Neil Gorsuch has deposited at least $300,000.
Newsweek reached out to the U.S. Supreme Court for comment.