Petition To Impeach Clarence Thomas Passes 300,000 Signatures
A petition organized by the pubic policy advocacy group MoveOn calling for the impeachment of Supreme Court Justice Clarence Thomas has passed 300,000 signatures.
The petition does not mention the recent decision to overturn Roe v. Wade, however, and instead focuses on the January 6 Capitol insurrection.
"Recently, Justice Clarence Thomas voted against a Supreme Court decision to compel the release of Donald Trump's records regarding the January 6 insurrection and attempt to overturn the results of the 2020 presidential election," the petition said.
"It has become clear that his wife—longtime conservative activist Ginni Thomas—was actively urging the White House to overturn election results both leading up to January 6 and after the deadly insurrection.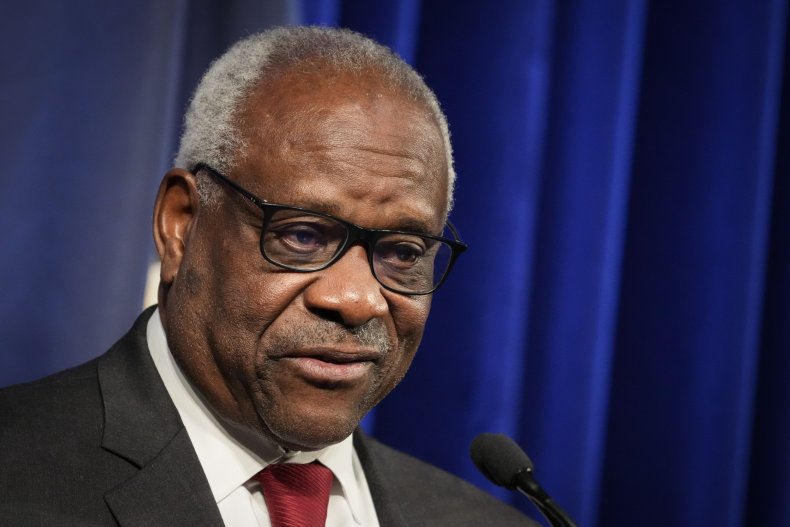 "Thomas' failure to recuse himself warrants immediate investigation and heightened alarm.
"And it's only the latest in a long history of conflicts of interest in the service of a right-wing agenda and mixing his powerful role with his conservative political activism.
"He has shown he cannot be an impartial justice and is more concerned with covering up his wife's coup attempts than the health of the Supreme Court.
"He must resign—or Congress must immediately investigate and impeach."
Support for the petition has been surging. It had generated 143,000 signatures on March 31 but by June 16 the figure was 230,000 and earlier this morning it was approximately 275,000.
The petition comes alongside a growing contention that the Supreme Court should investigate Justice Thomas.
A recent poll has shown that the majority of Americans think Thomas should face investigation regarding his refusal to recuse himself from cases related to the 2020 presidential election.
It was recently revealed by the House committee investigating the January 6 attack on the U.S. Capitol that Ginni Thomas had corresponded via email with John Eastman, an adviser to former President Donald Trump, who reportedly pressured former Vice President Mike Pence to block the certification of Joe Biden's 2020 victory.
It is already known that Ginni Thomas had conversations with former White House Chief of Staff Mark Meadows in early January 2021.
The poll conducted by non-profit Demand Justice and Heart Research Associates, which said that data was collected before the new information regarding Thomas and Eastman's correspondence was publicized, found that in total, 61 percent of Americans said that they "favor" Congress launching an investigation into Justice Thomas, while just 25 percent said they "oppose" an investigation.
"Strongly in favor" of an investigation received 38 percent of the participants' votes. "Somewhat favor" received 23 percent. "Somewhat oppose" received 9 percent, while "strongly oppose" received 16 percent. "Not sure" received a total of 14 percent.
Respondents were also asked: "Do you think that Justice Thomas should recuse himself from the future cases about the 2020 election because of his wife's involvement, or do you feel that is not necessary?"
Fifty-three percent of participants said, yes, he should recuse while 30 percent said this was not necessary. Seventeen percent of those polled said they weren't sure.
You can find a link to the petition here. Newsweek has contacted Clarence Thomas for comment.