How to Watch 'Clifford the Big Red Dog' Online For Free
Clifford the Big Red Dog has been delayed a few times, but now it is finally in theaters for kids to enjoy. The film came to theaters on Wednesday, November 10.
For moms and dads who do not necessarily want to take the whole family to a movie about a giant red dog being chased by a sinister tech company, there is good news. At the same time that the movie came to your local cinema, it was also made available on a streaming service.
There is further good news for the parents of Clifford fans: There is a way to watch that movie online for free on this streaming service.
Here's where you can watch the movie online now.
Where is Clifford the Big Red Dog streaming?
Though Clifford is streaming now, subscribers to the biggest services like Netflix and Amazon Prime Video are currently unable to watch it.
This is because the movie has been produced and distributed by Paramount Pictures. As such, the streaming home of the movie is that company's own streaming service, Paramount+, the streamer formerly known as CBS All Access.
Clifford the Big Red Dog is not the only big kid's movie to be streaming exclusively on Paramount+. The service is also the streaming home in the U.S. of Paw Patrol The Movie and The Spongebob Movie: Sponge on the Run.
Other recent kid's films streaming on the service include Sonic the Hedgehog, the animated Addams Family movie and the Angelina Jolie-staring Peter Pan riff Come Away.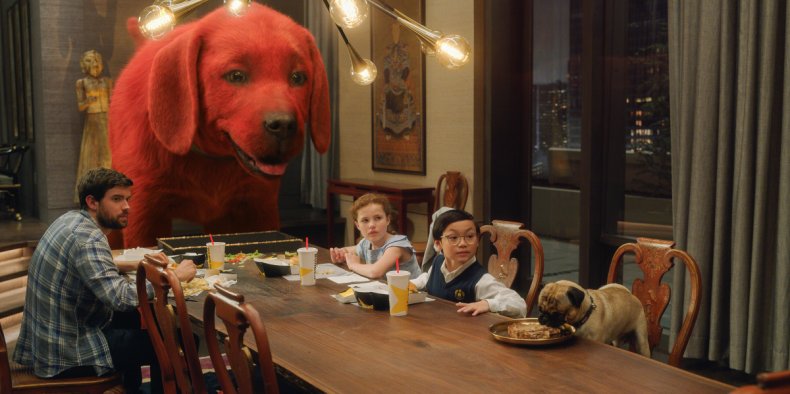 Is Clifford the Big Red Dog streaming for free?
New subscribers to Paramount+ are able to watch the movie and the entire catalog of the streamer for free for a week.
The service offers a seven-day free trial, giving viewers plenty of time to watch Clifford and sample the rest of the Paramount+ catalog. After that time, the service costs $4.99 a month with commercials or $9.99 without them.
If you want to pay annually, the service is $49.99 a year with ads or $99.99 without them.
What is Clifford the Big Red Dog about?
The official Paramount synopsis reads: "When middle-schooler Emily Elizabeth (Darby Camp) meets a magical animal rescuer (John Cleese) who gifts her a little, red puppy, she never anticipated waking up to find a giant ten-foot hound in her small New York City apartment. While her single mom (Sienna Guillory) is away for business, Emily and her fun but impulsive uncle Casey (Jack Whitehall) set out on an adventure that will keep you on the edge-of-your-seat as our heroes take a bite out of the Big Apple. Based on the beloved Scholastic book character, Clifford will teach the world how to love big!"