Climate Advocates Swift, Oprah, Spielberg Called Out for Private Jet Use
The U.K.-based marketing firm Yard on Friday published a report that ranked celebrities who it called the "biggest offenders" of private jet emissions. Among the stars on the top 10 list were a few known for being outspoken in their support of environmental causes—Taylor Swift, Oprah Winfrey and Steven Spielberg.
Swift landed in the top spot on Yard's list, and a representative for the singer-songwriter has already responded to the report. Speaking to Rolling Stone, the rep said, "Taylor's jet is loaned out regularly to other individuals. To attribute most or all of these trips to her is blatantly incorrect."
For its report, the Yard analyzed research from the Twitter account Celebrity Jets, which uses information from ADS-B Exchange on flight data. The firm said Swift's jet had been used on 170 flights since January for a total of 22,923 minutes, or 15.9 days, in the air. Swift's total flight emissions for the year were placed at 8,293.54 tonnes by Yard, which it said was "1,184.8 times more than the average person's total annual emissions."
Swift's lyrics frequently reference nature, and she has been a public advocate for a number of environmental causes, including global clean water access and protecting endangered wildlife. She also called climate change one of the "horrific situations" plaguing the world in a 2020 interview with Variety.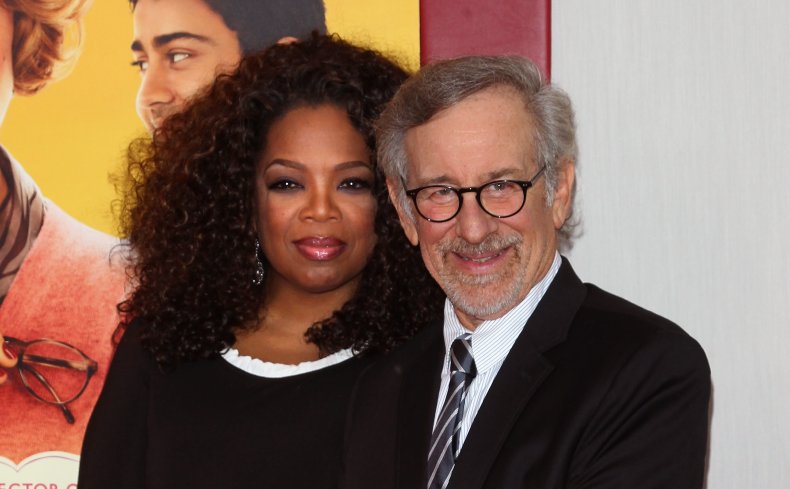 While Swift has been a target of much of the public backlash regarding the list, Winfrey and Spielberg have also publicly aligned themselves with the fight to slow climate change yet were named by Yard as among the top jet emission polluters.
Winfrey has frequently shown her support for the environment by promoting climate change activists on her shows, as well as writing about nature and battling pollution on OprahDaily.com. One such example came in 2019, when she posted about the impact Al Gore's global warming documentary, An Inconvenient Truth, had on her.
"The future of life as we know it is being determined by everything we're doing—and not doing. Now," Winfrey wrote in the post that called on protecting the environment.
Winfrey placed ninth on Yard's list. The report said her private jet emitted an estimated 3,493.17 tonnes of carbon dioxide this year through a total of 68 flights, or "499 times more than the average person's total annual emissions." Yard also wrote that the shortest flights taken by the talk show host/entrepreneur included a 14-minute flight from Van Nuys, California, to Santa Barbara, about 74 miles away.
Even higher on the list than Winfrey was Spielberg, who took the sixth spot. According to Yard, Spielberg's jet took 61 flights this year and emitted an estimated 4,465 tonnes of CO2, which the marketing firm said would be 637.9 times more than the average person's annual emissions.
The Oscar-winning director had the second-longest average flight time on the list at 107.31 minutes. (Actor Mark Wahlberg had the longest on this list, with an average flight time of 117.45 minutes.) The shortest flight his jet took was an 18-minute trip in the Netherlands from Amsterdam to Rotterdam.
"I'm terrified of global warming," Spielberg said during a 2018 promotional interview. "Global warming is a scientific reality. It's not a political trick. It's a true piece of real, measurable, quantifiable science."
They aren't the only celebrities on Yard's list who have also made public statements in support of the environment or have been linked with eco-friendly organizations. Reality star Kim Kardashian, who is seventh on the list, has spoken in the past about wanting her businesses to be more environmentally friendly. Jay-Z, at No. 3, and wife Beyoncé have pushed their fans to adopt a plant-based diet with their Greenprint Project.
"The information is hard to ignore. The benefits of a single plant-based meal a day can have such a profound impact on our health and the environment, spanning from cutting carbon emissions to conserving water," the couple said in 2019 when announcing the initiative. "We want to challenge you as we challenge ourselves to move towards a more plant-based lifestyle."
Jay-Z's private jet has emitted 6,981.3 tonnes of carbon dioxide this year, or 997.3 times the average person's yearly emissions, according to Yard.
Newsweek reached out to Swift, Winfrey, Spielberg, Jay-Z and Kardashian for comment.