Jay Z's Absence From Beyoncé's 'Renaissance' Surprises Fans
With Beyoncé's new album, Renaissance, having finally been released on Friday, fans have noticed one glaring omission—her husband and frequent collaborator, Jay-Z, doesn't rap a single verse on the project.
Beyoncé's seventh studio album features a host of dance tracks, with lead single "Break My Soul" already garnering an enthusiastic response from her dedicated fans.
And while the response to the 16-track project appears to have been overwhelmingly positive in the hours since its release, a number of fans have noted that Jay-Z, whose real name is Shawn Carter, doesn't get a moment on the mic.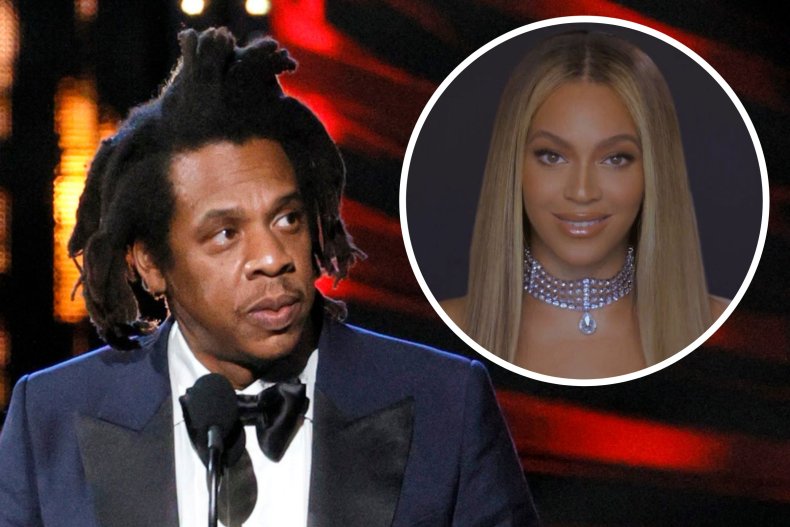 The realization has prompted a flood of memes on Twitter, where many card-carrying members of the Beyhive have expressed their joy at having the superstar singer mostly to themselves on the album.
After giving a glowing assessment of Beyoncé's Renaissance in the early hours of Friday morning, author Sesali Bowen added: "And I didn't have to hear her [husband's] voice once. God is good."
Freelance culture writer Alexis Oatman shared her own amusement at the slew of reactions as she shared a GIF of singer Brandy attempting to conceal laughter.
Oatman wrote: "'jay z wasn't on the album' I HATE Y'ALL."
That sentiment was echoed the micro-blogging platform among a number of other fans, one of whom declared it as a victory for Beyoncé's fans.
"The album has no jay z verse ?!? We won beyhive," they wrote.
Elsewhere, fans used a series of videos to imagine Beyoncé refusing requests from her husband of 14 years for a feature on her album.
Even a clip of Lea Michele tearfully begging while in character as Glee's Rachel Berry was employed to portray Jay-Z pleading to be added to a song on the album.
While Jay-Z didn't unleash his lyrical prowess on Renaissance, he does have writing credit on the album, showing that he was still included in the project.
Beyoncé sang without the presence of Jay-Z on her 2016 album, Lemonade, in which she sang about her husband's previous infidelity, a matter he also addressed on his own 2017 project, 4:44.
Appearing to address the scrutiny their relationship has been under in recent years, Beyoncé sings on the Renaissance track "Plastic Off The Sofa: "We don't need the world's acceptance/ They're too hard on me, they're too hard on you, boy."
She further sings: "Boy, I know you can't help but to be yourself around me, yourself around me/ And I know nobody's perfect so I'll let you be, I'll let you be."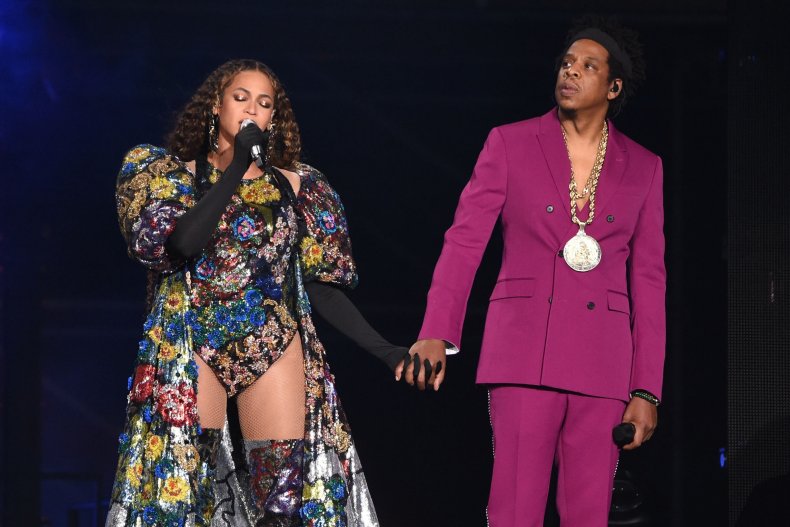 Ahead of the release of Renaissance, Beyoncé shared an open letter on her website, in which she gave her husband a special shout out.
"This three act project was recorded over three years during the pandemic," she wrote. "A time to be still, but also a time I found to be the most creative.
"Creating this album allowed me a place to dream and to find escape during a scary time for the world. It allowed me to feel free and adventurous in a time when little else was moving.
"My intention was to create a safe place, a place without judgement, a place to be free of perfectionism and overthinking. A place to scream, release, feel freedom. It was a beautiful journey of exploration."
Turning her attention to three children she shares with Jay-Z, the Grammy winner went on: "I want to give a special thank you to Rumi, Sir and Blue for allowing me the space, creativity and inspiration.
"And a special thanks to my beautiful husband and muse, who held me down during those late nights in the studio."
She also appeared to confirm a fan theory that the album is a tribute to her late uncle, to whom she paid tribute at the 2019 GLAAD Awards when she accepted the Vanguard Award.
"A big thank you to my uncle Jonny, he was my Godmother and the first person to expose me to a lot of the music and culture that serve as inspiration for this album," she added. "Thank you to all of the pioneers who originate culture, to all of the fallen angels whose contributes have gone unrecognized for far too long.
"This is a celebration for you. Thank you to my Parkwood crew, my Slab, Dream and all of the talented producers involved. Mama, I luhhhh you. To my father, my OG, my first teacher, you inspire me in every move that I make. I love you.
"To all my fans: I hope you find joy in this music. I hope it inspires you to release the wiggle. Ha! And to feel as unique, strong and sexy as you are. Love y'all deep. B."