Beyoncé appears to have addressed the headline-making elevator scandal between her sister, Solange, and her husband, Jay-Z, on her newly released album, Renaissance.
The iconic singer's seventh studio album, which features 16 tracks, was released on Friday, weeks after lead single "Break My Soul" helped whet fans' appetites.
And as the star channels a number of thoughts, feelings and life moments in song form on the new project, one area touched upon appears to be the eight-year-old scandal involving her sibling and spouse.
Back in May 2014, the fiercely private family hit the headlines after leaked security footage showed Solange physically attacking Jay-Z in a New York City elevator as the trio departed a Met Gala after-party.
The grainy video sparked infidelity rumors on the part of rapper and entrepreneur Jay-Z, whose real name is Shawn Carter. The infidelity speculation was subsequently addressed by Beyoncé on her 2016 album, Lemonade.
Appearing to touch upon the matter on Renaissance's second song, "Cozy," Beyoncé stands in solidarity with her sister, as she sings: "She's a god, she's a hero, she survived, all she been through, confident and she lethal.
"Might I suggest you don't f*** with my sis, because she ­comfortable. Comfortable in my skin, cozy with who I am."
Following the release of the elevator footage, Beyoncé, Solange and Jay-Z released a joint-statement in which they said that apologies were privately issued and they had "moved forward as a united family."
"Jay and Solange each assume their share of responsibility for what has occurred," read the statement. "They both acknowledge their role in this private matter that has played out in the public.
"They both have apologized to each other and we have moved forward as a united family. The reports of Solange being intoxicated or displaying erratic behavior throughout that evening are simply false."
"At the end of the day, families have problems and we're no different," the statement continued. "We love each other and above all we are family. We've put this behind us and hope everyone else will do the same."
In August 2014, Beyoncé directly addressed the elevator incident on the remix of of the track "Flawless," featuring rapper Nicki Minaj.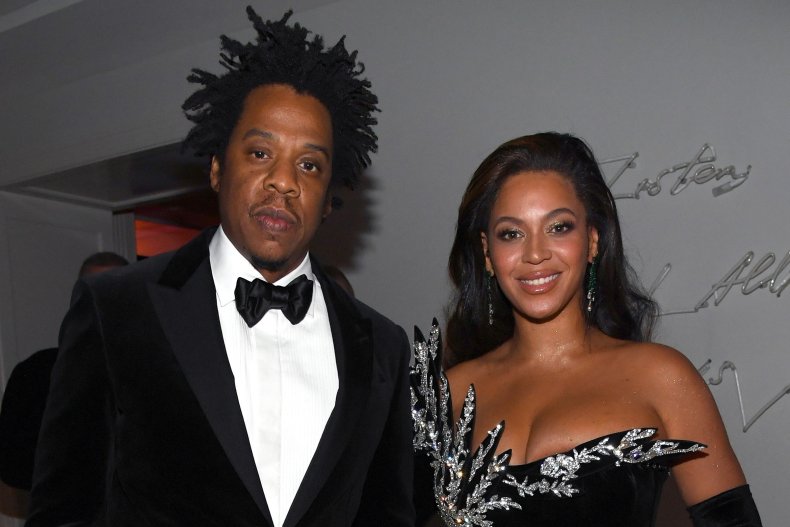 "We escalate, up in this bitch like elevators," she sang on the track. "Of course sometimes s*** go down, when its's a billion dollars on an elevator."
Elsewhere on Renaissance, much love is expressed for Jay-Z, to whom Beyoncé has been married since 2008. The stars have three children.
Appearing to address the scrutiny their relationship has been under in recent years, she sings on the track "Plastic Off The Sofa:" "We don't need the world's acceptance/ They're too hard on me, they're too hard on you, boy."
She further sings: "Boy, I know you can't help but to be yourself around me, yourself around me/ And I know nobody's perfect so I'll let you be, I'll let you be."