CNN anchor Jake Tapper and Representative James Comer, a Kentucky Republican, went back-and-forth about former President Donald Trump's possible indictment on Sunday when Tapper questioned the GOP lawmaker about threats from Republicans to investigate Manhattan District Attorney Alvin Bragg.
While appearing on CNN's State of the Union, Comer, who is the chairman of the House Oversight Committee, was asked how he would respond to Bragg who says Comer is trying to stop an indictment from happening before knowing of any evidence.
Trump is being investigated by Bragg's office over accusations that he concealed a $130,000 hush money payment made by his former lawyer Michael Cohen to adult film star Stormy Daniels ahead of the 2016 presidential election. Daniels alleges that she had an affair with the former president in 2006, which Trump has denied. Meanwhile, prosecutors for the attorney have reportedly suggested that Trump's indictment might be imminent, though they haven't given an exact date. Trump has denied any wrongdoing in Bragg's investigation.
"What the DA is trying to say...he said stay out of local investigations," Comer said. "The problem with that is this is not a local investigation. This is a federal investigation. He's investigating a presidential candidate, not to mention former president of the United States for a federal election crime."
Tapper told the Republican that to his understanding Bragg is investigating a state crime, not a federal one.
Comer responded, "This is about politics. This is a presidential candidate. When you look at what we believe the role of a Manhattan DA should be is to fight crime. I mean that's one of the biggest issues in New York. We saw that in the midterm elections last November."
In a letter submitted by Bragg's office last Thursday, Bragg wrote to Comer, among other top GOP officials, "Congress is not the appropriate branch to review pending criminal matters...Your letter dated March 20, 2023 (the Letter), in contrast, is an unprecedent inquiry into a pending local prosecution. The Letter only came after Donald Trump created a false expectation that he would be arrested the next day and his lawyers reportedly urged you to intervene. Neither fact is a legitimate basis for congressional inquiry."
Political analyst Craig Agranoff told Newsweek on Sunday that "Republicans have held a range of opinions on former President Trump, with some fiercely supporting him and others more critical of his actions and rhetoric."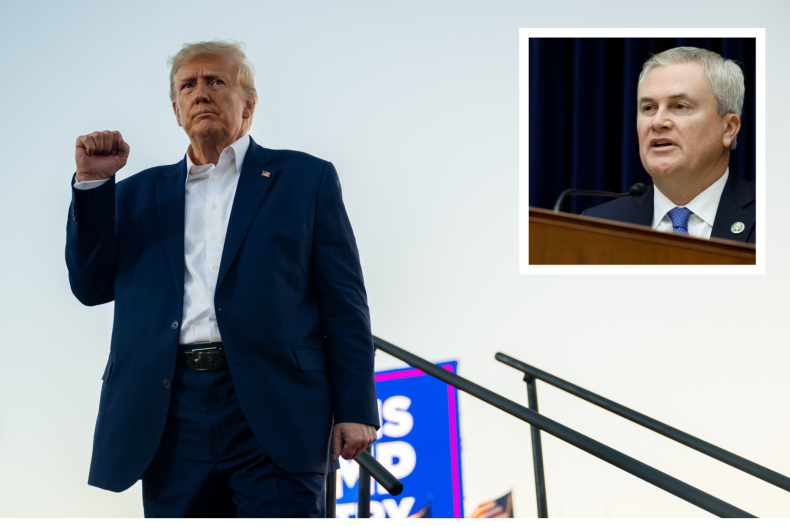 Agranoff continued: "If former President Trump were to be indicted, it is possible that some Republicans may reassess their support for him. As we know, the political landscape is complex, and it is difficult to predict how individual politicians and voters would react. Some Republicans may continue to support Trump despite an indictment, while others may choose to distance themselves from him.
The former president announced on Truth Social last week that he was going to be indicted saying, "Illegal leaks from a corrupt & highly political Manhattan district attorney's office ... indicate that, with no crime being able to be proven ... the far & away leading Republican candidate & former president of the United States of America, will be arrested on Tuesday of next week." Trump was ultimately not arrested last Tuesday.
Agranoff concluded: "I just hope that everyone is aware that criminal indictments are serious matters, and individuals should be considered innocent until proven guilty in a court of law. Any discussions about how politicians might react to a hypothetical indictment should be based on their public statements and actions to date, rather than speculation about their motivations or beliefs."