CNN Anchor Confronts Trump Campaign Aide With Clip of President Laughing After Supporter Says Migrants Should Be Shot
As aides to President Donald Trump attempted to push back against accusations that Trump's rhetoric has led to violence, such as the mass shooting in El Paso on Saturday, CNN anchor Jim Sciutto confronted one of the president's campaign officials with a video showing the commander-in-chief laughing and joking at a May rally after a supporter suggested migrants should be shot.
Sciutto interviewed Marc Lotter, the director of strategic communications for Trump's 2020 reelection campaign, on Tuesday morning, questioning him about the president's reaction in May after a rally attendee yelled "shoot them" in reference to migrants. Prior to the full clip being played, Lotter suggested CNN was inaccurately representing what went down at the event.
"I want to play – because you accused us of falsely editing a clip," Sciutto said. "I'm gonna play you the clip from the May 2019 rally and then let's come back for a reaction, have a listen."
In the video, Trump is speaking on stage about the flow of Latin American migrants to the U.S., asking: "How do you stop these people? You can't, there's no –." Then an audience member yelled out: "Shoot them."
Briefly laughing in response, Trump smirked and shook his head as the crowd laughed as well. "That's only in the [Florida] panhandle you can get away with that," the president replied as the crowd cheered. Trump's quip was likely a reference to Florida's controversial "stand your ground" law, which allows anyone to use deadly force to protect themselves if they fear for their life.
"That's the president, and I know that before that, the president said you can't do that, acknowledging it's illegal to illegally shoot people," Sciutto said. But he continued, describing the situation as "the president of the United States there on a bully pulpit, laughing when the crowd shouts out 'shoot them.' Is that an appropriate response from a sitting president?"
Lotter attempted to argue that the president was "dismissive" of the rally-goers comment. But Sciutto pushed back, saying: "He laughed. He laughed Marc."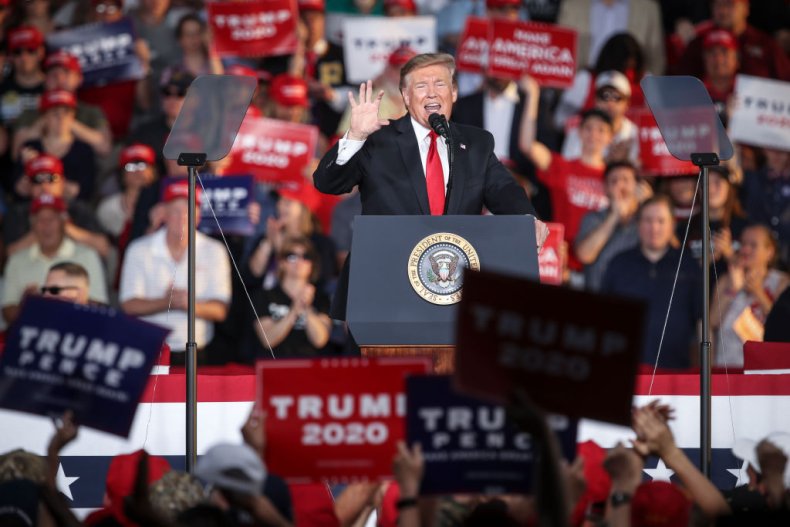 Trump's disparaging and racially charged remarks against immigrants, particularly Latin Americans, has faced intense backlash in the wake of the Saturday mass shooting in El Paso. That attack left 22 dead and more than two dozen wounded at a Walmart shopping center. The alleged shooter, 21-year-old Patrick Crusius, has been linked to a manifesto ranting against a "Hispanic invasion of Texas." The document, which was published online just minutes before shooting was carried, also called for the killing of immigrants.
Critics of the president have pointed to the similarities between the shooter's rhetoric and that of Trump. The president has repeatedly argued that the influx of Central American migrants coming to the U.S. is an "invasion," referring to the families and children crossing the border as "criminals." He also previously referred to Mexican immigrants as "rapists."
Although the president condemned white supremacists in a national address on Monday, many argued that did not go far enough. Trump's rhetoric is widely seen as having long emboldened white nationalists, and his supporters have turned to violence in the past.
"I say to President Trump: Talk is cheap. We need action," 2020 presidential hopeful Senator Bernie Sanders of Vermont tweeted on Monday following the president's address. "Stop the racism. Stop the anti-immigrant bigotry coming out of your mouth."