Cobra Kai's current season may have (spoiler alert) ended with Daniel LaRusso (played by Ralph Macchio) having to shut down Miyagi-Do, but the Netflix show is set to continue. The streaming service has already renewed the show for Season 5.
In fact, Netflix announced that The Karate Kid-spinoff was getting another season back in August 2021, four months before the current season came out.
Though Netflix has not revealed the release date for Cobra Kai Season 5 yet, there is a good sign that the release date of the show will come earlier than the usual year between seasons.
Here's what we know about Cobra Kai Season 5 so far.
'Cobra Kai' Has Already Been Renewed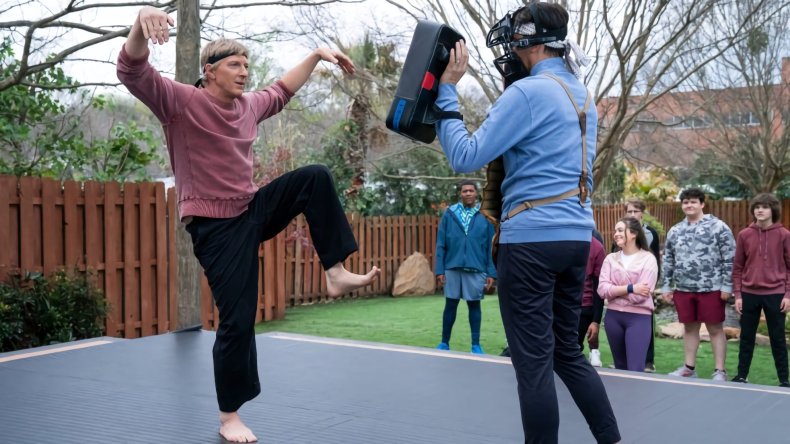 In August, the show was renewed for Season 5, one month after getting four Emmy nominations.
At that time, Deadline reported that production on the show was set to begin in the fall.
Filming on Season 5 Was Underway by October
This was confirmed by the Casting TaylorMade Facebook page, which posted a casting call for the show which was screenshotted and put onto the Cobra Kai Reddit. On this post, the page said the show was filming a three-day pool scene for Season 5 between October 13 and 15.
Though we do not have an exact date when filming began, we therefore know it was underway by October.
By November, filming was coming to a close. This was confirmed by Cobra Kai co-creator Jon Hurwitz, who tweeted: "We're currently filming the final episodes of Season 5."
Filming on 'Cobra Kai' Season 5 Has Already Finished
By December 19, filming for the next season of the show was completed.
This was confirmed by Hurwitz. On that date, he posted an image on Twitter with the caption, "Five. Fin."
By January, fellow co-creator Hayden Schlossberg was discussing what would happen in Season 5 with press. He told ComicBook.com: "The possibilities now are endless.
"Obviously, things could get really heightened because you know that Chozen [Yuji Okumoto] is the type of guy who, at least in Karate Kid II, was willing to fight to the death. And we know that Terry Silver [Thomas Ian Griffith] is willing to go to crazy lengths, to stay in power, especially after what he did to Stingray [Paul Walter Hauser] in Season 4.
"So it has the makings for a big action-packed season. And we just finished shooting it and, and it is. And so, we're looking forward to fans, checking it out."
Why 'Cobra Kai' Season 5 Might Have an Early Release Date
With Season 5 in the can, it seems that Netflix is trying to get this season out earlier, meaning fans may not have to wait the full year that they did between Seasons 3 and 4.
With Season 4, filming wrapped at the end of April 2021, and the show came to Netflix at the end of December, a gap of eight months. If Season 5 follows suit, then viewers can expect it to come in August of 2022.
This is very possible—pre-pandemic, Netflix notably shortened the gaps between seasons on some of its shows to try and maintain hype around its releases. Then again, Netflix has never been afraid of sitting on Cobra Kai seasons for months on end—shooting on Season 3 of the show was completed in 2019, but the episodes were not released until January 1, 2021.
Cobra Kai Seasons 1 to 4 are streaming now on Netflix.