Who Is Shannon Wilkerson? Ex Soldier Arrested in Amanda Gonzales Cold Case
A tragic cold case suddenly heated up this week, some 21 years after a pregnant American soldier was found dead on her military base in Germany—with the news that a man has been arrested on suspicion of her murder.
Army Private Amanda Gonzales was just 19 years old, and four months pregnant, when she was found strangled in her barracks in 2001.
But her brutal death has remained an unsolved mystery for over two decades—longer than she had lived—as it appeared the trail of her killer had gone cold.
But last Thursday, officials announced the arrest of former soldier Shannon L. Wilkerson on suspicion of her murder.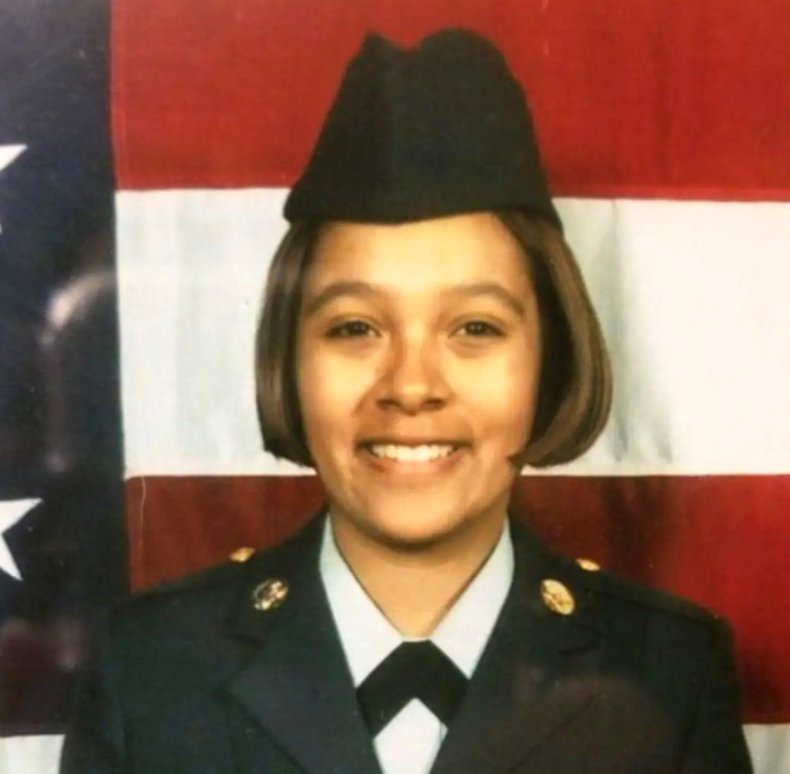 Wilkerson—a 42-year-old who was arrested in Florida—was a serving member of the armed forces at the time of Gonzales' death, "but was later discharged from the Army," according to a statement released by the U.S. Department of Justice.
Details about his discharge weren't revealed.
Newsweek reached out to the Army for further information, and spokesperson Matt Leonard told us: "The Department of the Army Criminal Investigation Division is assisting the FBI in the ongoing investigation. Due to privacy constraints we are unable to provide the characterization of discharge for any soldier."
The suspect would have been 21 at the time of the murder and he was discharged a few years later in 2004, according to the Andalusia Star News.
The newspaper described Wilkerson as an Andalusian man from Alabama, and said he ran a gym called Cardio Zone in the area in 2015.
The Justice Department's statement said: "According to court documents, Shannon L. Wilkerson, 42, is allegedly responsible for the death of Amanda Gonzales on Nov. 3, 2001. The murder occurred at Fliegerhorst Kaserne, then a U.S. Army base in Hanau, Germany. Wilkerson was a member of the Armed Forces at the time of the alleged offense but was later discharged from the Army.
"Wilkerson is charged under the Military Extraterritorial Jurisdiction Act, which gives the U.S. federal courts jurisdiction over crimes committed outside the United States by, among others, former members of the Armed Forces who are no longer subject to the Uniform Code of Military Justice... The FBI is investigating the case."
Wilkerson is charged with one count of first-degree murder. If convicted, he faces a maximum penalty of life in prison.
He pleaded not guilty at a hearing on Thursday, according to court documents obtained by the Andalusia Star News. A trial date has reportedly been set for March 27 in Pensacola, Florida.
Gonzales' body was discovered by worried soldiers when she didn't report for duty as a cook at the base on Monday, November 5, 2001. They broke down the door to her room to find her lying on the floor and officials later ruled her death was a homicide by asphyxiation.
The tragedy sparked a tortuous wait for justice for her bereaved family.
Gonzales' mother, Gloria Bates, who lost both her daughter and her unborn grandchild, told ABC 7: "It was just the same call [saying there had been no developments in the case]... Once a week I'd get a call, answer it, nothing new, saying it was the same story. It was like a recording."
But she added: "Every time we come visit her graveside, I tell her I'm not giving up. I am not giving up... We have to continue on and fight for them because they can't fight for themselves. They don't have a voice. You're their voice."
And now, after 21 years, she finally got the call she had been waiting for, and picked up the phone to hear an FBI agent tell her: "We just want to let you know that we've made an arrest in your daughter's case," Bates told ABC News.
The apparent break in the case comes amid news that another young murdered woman is a little closer to justice this week.
The body of a woman known as "the lady in the fridge" has finally been identified —almost 30 years after her brutal murder. Cutting-edge DNA analysis has revealed the victim was Amanda Lynn Schumann Deza, who was attacked and dumped in a fridge that was thrown into an irrigation canal in California in 1995.
Deza's identification comes just two months after police solved the 66-year-old "boy in the box" mystery. Four-year-old Joseph Augustus Zarelli was finally named after scientific advances helped present-day detectives work out the identity of the little boy, whose naked, beaten body was discovered in a cardboard box on the side of a road in Philadelphia in February, 1957.
Police are still trying to establish what happened to him.
Meanwhile, it has emerged that a recent crime has sparked interest among cold case detectives, who are now looking back through their files in the wake of an horrific attack.
Officials in Pennsylvania are trawling through their unsolved crimes to establish whether there could be any links to Bryan Kohberger, a Pennsylvania native who was arrested on suspicion of murdering four University of Idaho students in November last year.
Update 2/28/23 7:58 a.m. EDT: This article was updated to include a comment from Army spokesperson Matt Leonard.