Which College Football Games Have Been Postponed Because of COVID-19?
The schedule for Week 7 of the college football season is lighter than expected after six games, including three matchups between Power 5 programs, were canceled because of the coronavirus outbreak.
The Southeastern Conference (SEC) was forced to call off two games, including LSU's trip to Florida.
The defending national champions, who have lost two of their first three games of the season, were scheduled to take on the Gators, who are ranked No. 10 in the AP Top 25 poll, in Gainesville on Saturday but the game was called off on Wednesday following a sharp increase in COVID-19 cases among Florida players, coaches and team personnel.
The Gators had suspended all football activities on Tuesday and a day later confirmed that a total of 21 players had returned positive tests, leaving the program with fewer than 50 players available for Saturday's game against LSU. The SEC coronavirus protocol stipulates teams must have at least 53 scholarship players on their roster for the game to go ahead.
"All those who are positive in this instance, including some coaches and some football staff, they seem to be either asymptomatic or only experiencing mild symptoms," Gators athletic director Scott Stricklin said in a statement.
"That's obviously a positive right now and hopefully they'll continue to not have more severe symptoms."
Florida head coach Dan Mullen is among those to have returned a positive test, just days after he urged fans to flock to Ben Hill Griffin Stadium and support the Gators against LSU.
At the beginning of the week, Missouri's home game against Vanderbilt became the first SEC game this season to be postponed because of coronavirus following a series of positive tests among Commodores players.
As is the case for LSU and Florida, the SEC opted to postpone the game after Vanderbilt fell below the threshold of 53 scholarship players available for the game due to quarantine of affected players and contact tracing. The SEC hopes to play both games on December 12—the SEC's lone universal open date for all 14 member schools—but it is yet to make an official announcement on the matter.
On Friday, the SEC warned conference schools can face cumulative fines worth $1 million should they break COVID-19 sideline protocols, which require coaches and their staff to wear a mask.
Programs could be fined $100,000 for a first violation, with a second and third infringement resulting in fines of $200,000 and $300,000. A fourth violation would cost teams $400,000.
"My premise is, our head football coaches are leaders, the most visible people in their programs," SEC commissioner Greg Sankey told ESPN.
"They set the tone. They have that responsibility in this environment."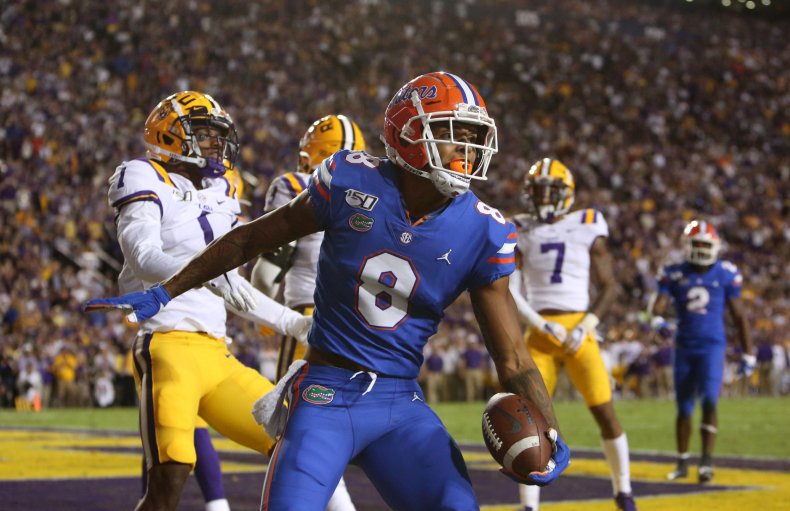 The SEC isn't the only Power 5 conference to have been forced into rescheduling games this week. On Sunday, the Big 12 confirmed Oklahoma State's road game against Baylor in Waco, Texas, had been called off due to an outbreak within the Bears program.
In a statement, the Big 12 indicated Baylor had temporarily suspended football operations because of "multiple COVID-19 test results", marking the third time this season the Bears have had a game postponed.
Their Week 2 matchup against Louisiana Tech was postponed indefinitely after several Bulldogs players tested positive to coronavirus, while their game against Houston—which was organized following the postponement of the game against Louisiana Tech—was called 10 days later after the Bears roster did not meet the 53-player threshold.
The Big 12 has postponed the game to December 12, which is the provisional date for the its conference championship game. The league, however, added the Big 12 Championship Game could be postponed to December 19, depending on which teams will reach the conference title showdown.
Elsewhere, the American Athletic Conference postponed Cincinnati's road game against Tulsa, while the Conference USA called off Florida International's visit to Charlotte and UTEP home game against Southern Miss.
The Atlantic Coast Conference, Big 12 and Sun Belt conferences all kicked off their seasons as scheduled in early September, while the SEC began its 10-game, conference-only season on September 26.
The Big Ten and the Pac-12 initially canceled their seasons in the wake of the coronavirus pandemic, but have since revisited their positions and will kick off on October 24 and November 7 respectively.
Here's a breakdown of the Week 7 schedule for AP Top 25 programs (all times ET, number denotes ranking in AP poll.)
(No. 1) Clemson @ Georgia Tech—12 p.m., ABC
Pitt @ (No. 13) Miami—12 p.m., ACC Network
(No. 15) Auburn @ South Carolina—12 p.m, ESPN
Kentucky @ (No. 18) Tennessee—12 p.m., SEC Network
Louisville @ (No. 4) Notre Dame—2:20 p.m., NBC
(No. 11) Texas A&M @ Mississippi State—4 p.m., SEC Network
(No. 5) North Carolina @ Florida State—7:30 p.m., ABC
(No. 3) Georgia @ (No. 2) Alabama—8 p.m., CBS
Boston College @ (No. 23) Virginia Tech—8 p.m., ACC Network