A Colorado Avalanche fan was banned from attending Avalanche games at the Ball Arena in Denver after he spread his best friend's ashes on the ice.
Ryan Clark, a local Avs fan, lost his best friend for over two decades, Kyle Stark, in December of last year. Clark told Denver7 that he and Stark used to go to hockey games all the time, and after Stark's funeral, his parents invited Clark to join them at an Avs game at the Ball Arena.
Clark and Stark's parents decided to bring a small bag of Stark's ashes with them to the game, and before the game began, Clark reportedly went and spread them on the ice.
Clark told Denver7, "We had him in a little baggie. We got Kyle over the glass and into the ice. An usher had come up to me and was like, 'Hey dude, what was that?' and I said, 'Well, to be honest with you, that was my best friend Kyle. He died.'"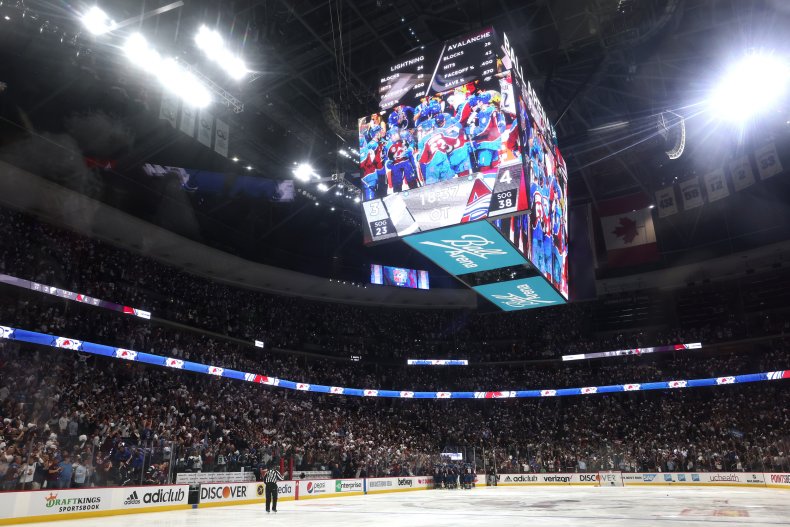 Clark said he received a letter shortly after the game telling him he was banned from attending any Avalanche events at the arena for the entirety of the season, a consequence of a move that Clark said he would do again in an instant.
"I'd do it all over again with the biggest smile on my face like I did the last time," Clark told the station. "I know in my heart that's where he wanted to be. When asked constantly, 'where do you think he is?' Well, that Zamboni got him all over the ice. Realistically, again, not the brightest idea, but in my heart the best way I could give tribute to my friend for what he truly loved more than anything in the world."
"I just love him very much," he added. "I miss him very much. I wish we were doing a different kind of interview. I wish we were those fans that were coming out of the arena."
The Colorado Avalanche are entering game 4 of the NHL Stanley Cup Finals and currently have a 2-1 series lead over the defending champion Tampa Bay Lightning. The Lightning are looking for a third straight championship after winning back-to-back Stanley Cups in 2020 and 2021. The Avs last won the championship in 2001 against the New Jersey Devils.
Game 4 takes place on Wednesday night, with the puck drop set for 8 p.m. ET.
Newsweek reached out to the Ball Arena for additional comment.
Uncommon Knowledge
Newsweek is committed to challenging conventional wisdom and finding connections in the search for common ground.
Newsweek is committed to challenging conventional wisdom and finding connections in the search for common ground.
About the writer
Emma Mayer is a Newsweek Culture Writer based in Wyoming. Her focus is reporting on celebrities, books, movies, and music. She covered general news and politics before joining the culture team and loves to cover news about new books, films, Taylor Swift, BTS, and anything else she might be obsessing over at the moment. Emma joined Newsweek as a fellow in 2021 and came on full-time in January 2022 after graduating from Colorado Christian University in December. You can get in touch with Emma by carrier pigeon or by emailing e.mayer@newsweek.com. Languages: English.