'Confederate Memorial Day' Still Celebrated in These Three States
State offices in South Carolina were closed Tuesday to observe Confederate Memorial Day, an official state holiday honored every year on May 10.
The commemoration of the Confederacy-linked day of remembrance drew considerable criticism on social media, including comments from a Democratic gubernatorial candidate in the state, Joe Cunningham.
"Today, state offices are closed to observe Confederate Memorial Day. This is another example of how our state continues to live in the past. Honestly, it's embarrassing," he tweeted Tuesday. "When I'm governor, we're going to end Confederate Memorial Day and make Election Day a state holiday instead."
South Carolina is one of three Southern states that still have an annual Confederate Memorial Day, despite some pushback and even challenges from lawmakers aimed at erasing the observances. Those challenges against the holidays in all three states have so far been unsuccessful.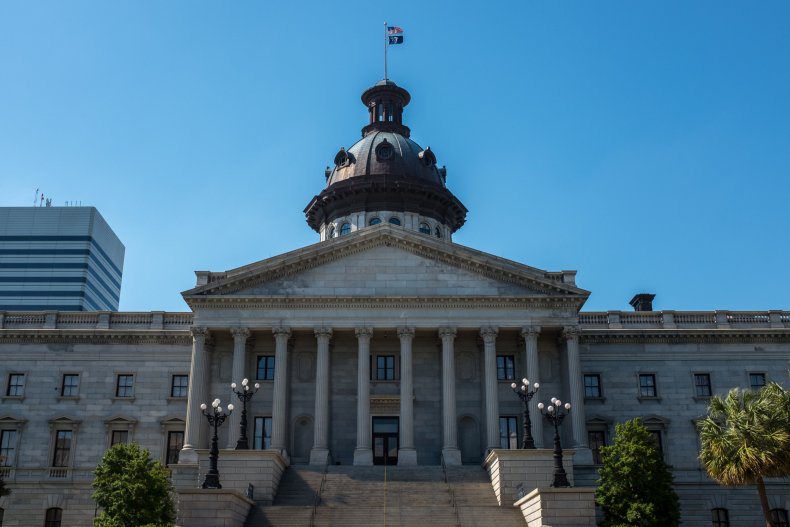 Alabama's official holiday schedule for 2022 shows that the state observed Confederate Memorial Day late last month, on April 25. The exact date may vary by the year because Alabama chooses to commemorate the day on the fourth Monday in April.
On the day, state offices and courts are closed, while schools, but city and county offices and federal services and buildings do not. Besides, Confederate Memorial Day, Alabama's state holiday schedule shows that it observes the birthdays of Jefferson Davis, who was president of the Confederacy, and General Robert E. Lee, commander of the Confederate forces, as official state holidays.
According to Mississippi's holiday schedule, the state celebrates Confederate Memorial Day on the last Monday in April. Like Alabama, Mississippi marks Davis' birthday as an official state holiday on the last Monday in May. It is also one of several states that celebrate (or used to celebrate) Lee's birthday on the same day they observe Martin Luther King Jr. Day, a federal holiday honoring the slain civil rights leader.
Alabama is one of the other states that still honors the birthdays of Lee and King on the same day, even though they were born on different days. Lee was born on January 19; King on January 15.
Mississippi Governor Tate Reeves recently declared that April is "Confederacy Heritage Month" in the state, a move that drew condemnation particularly because he signed the proclamation a month after recognizing April as Genocide Awareness and Prevention Month.
South Carolina's 2022 state holiday schedule does not have any official days commemorating Lee or Davis. A recent bill would give state employees a floating holiday instead of a designated holiday on Confederate Memorial Day. The measure was passed by the state Senate but is stalled in a House committee, according to Savannah TV station WTOC.
In June last year, Democratic lawmakers in Mississippi announced they would sponsor legislation that would replace Confederate Memorial Day with Juneteenth, a federal holiday commemorating the emancipation of enslaved African-Americans. Newsweek was not able to confirm any progress on the bill since the lawmakers announced plans to introduce it.
A Democratic state representative in Alabama introduced legislation this year that would eliminate Confederate Memorial Day as a state holiday and make Election Day a state holiday instead. The measure did not end up getting a committee vote, Alabama.com reported.
While Alabama, Mississippi and South Carolina are the only states with an officially designated Confederate Memorial Day, several other states have some type of Confederate-linked commemoration. Both Texas and Tennessee, for example, commemorate the day but don't consider it an official holiday, according to Forbes.
Newsweek reached out to the governor's offices in Alabama, Mississippi and South Carolina for comment.