These U.S. States Have Removed the Fewest Confederate Monuments
While Confederate monuments continue to be pulled down across the U.S. more than 1,700 still remain in place, according to a study.
Research from BeenVerified found that though 172 have been removed, 1,712 still stand.
Maryland and California have taken 70 and 50 percent of those in their states down respectively, while West Virginia is the only state to have left all of theirs intact.
The analysis was conducted by looking at data on public symbols of the Confederacy conducted in 2019 by Southern Poverty Law Center alongside analysis of reports of those removed in recent weeks.
It comes as questions surrounding such public monuments are raised amid protests against racism and police brutality following the death of George Floyd.
Brian Ross, a senior data analyst for BeenVerified, said: "The Confederate symbol removal gained traction after the 2015 Charleston, South Carolina, church shootings, which ignited a nationwide debate on these symbols and their prominence in public spaces.
"But after peaking in 2017, the trend has been on a decline—until the death of George Floyd."
In 2017, 55 such symbols were removed, while 34 have been taken down in the U.S. this year so far, according to the study.
The research looks at "statues, plaques, schools, roads, military bases, buildings, parks and other public designations honoring former Confederate soldiers."
Removals include those taken down by protesters, those officially removed and others where decommissioning plans have been announced.
In terms of removals by percentage, West Virginia is bottom, with zero gone and 21 remaining symbols.
South Carolina and Mississippi have each seen 1 percent of them go, with 194 and 147 in place respectively. They have removed 1 and 2 respectively.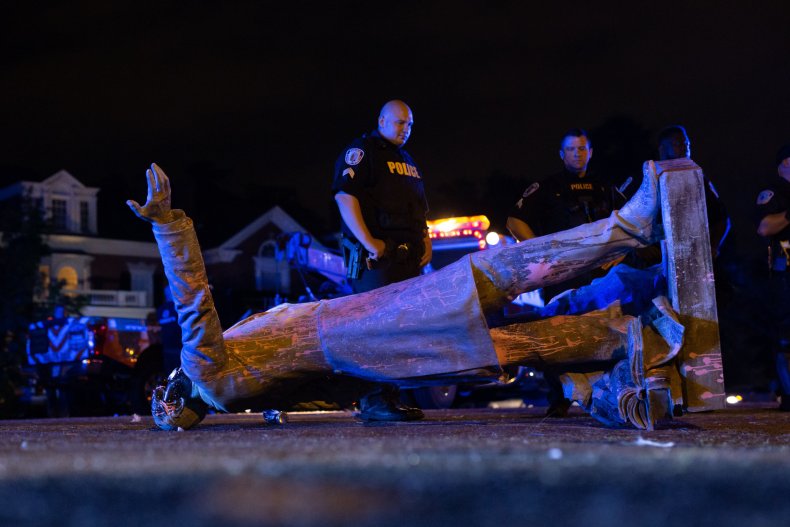 In Arkansas, 4 percent have gone, though 64 remain, with only 2 removed.
While Georgia, North Carolina and Alabama have each seen 5 percent of the symbols taken down. Georgia has removed 7, North Carolina 8 and Alabama 5 in total.
Newsweek has contacted the governors of each of these states for comment.
A statement from a spokesperson for North Carolina Governor Roy Cooper, a member of the Democratic party, said: "Governor Cooper believes Confederate monuments should be removed from places of allegiance and placed at museums and related historical sites where they can be examined in proper context. The law passed by the General Assembly has prevented monuments like the ones at the Capitol from being removed thus far."
In 2015, a law was passed in North Carolina requiring General Assembly approval to remove or relocate Confederate statues.
According to the BeenVerified research, the states where the most have been removed following recent protests are Virginia, 12, Texas and Florida, both on 5, Alabama, 4, and Georgia and Kentucky on 2 each.
Opinion on the removal of such symbols has been split across the nation, with a recent poll showing 44 percent of people believe Confederate statues should remain standing.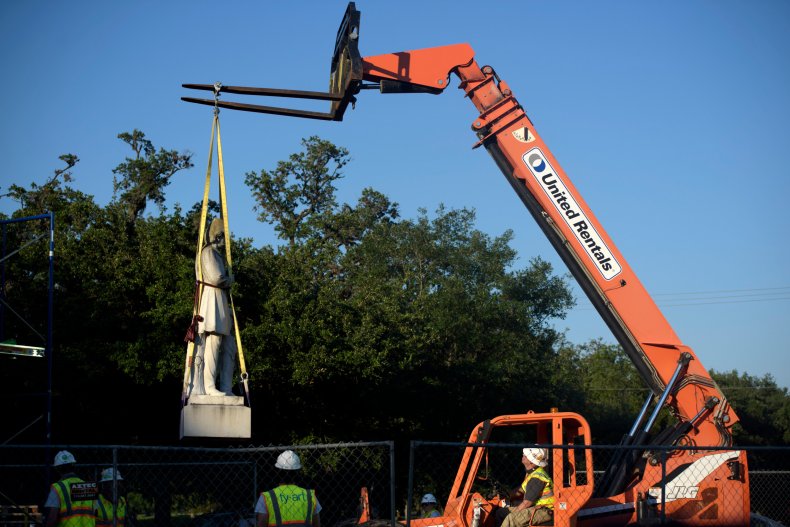 Conducted by Morning Consult/Politico, the poll surveyed roughly 1,990 registered voters from June 6 to June 7. On the other side of the argument, 32 percent said they should be taken down, while 23 percent said they did not know or did not have an opinion.
While statues have been a particular target, there have also been calls to retitle military bases named after Confederate generals.
President Donald Trump dismissed this idea, writing on Twitter: "It has been suggested that we should rename as many as 10 of our legendary military bases, such as Fort Bragg in North Carolina, Fort Hood in Texas, Fort Benning in Georgia, etc. These monumental and very powerful bases have become part of a great American heritage and a history of winning, victory, and freedom.
"The United States of America trained and deployed our heroes on these hallowed grounds, and won two world wars. Therefore, my administration will not even consider the renaming of these magnificent and fabled military installations."
Others have been more open to the idea though, with Senate Majority Leader Mitch McConnell saying he was "personally OK" with the suggestion.
"I can only speak for myself on this issue. If it's appropriate to take another look at these names, I'm personally OK with that, and I am a descendent of a Confederate veteran myself," McConnell said.
House Speaker Nancy Pelosi also recently ordered that four portraits of House speakers who served in the Confederacy which had been displayed in the U.S. Capitol be removed.
Multiple confederate statues have been torn down recently, with a Confederate monument made up of four statues in Portsmouth, and another of Confederate leader Williams Carter Wickham in Richmond's Monroe Park toppled last week.