Congo Anti-Kabila Protests Turn Deadly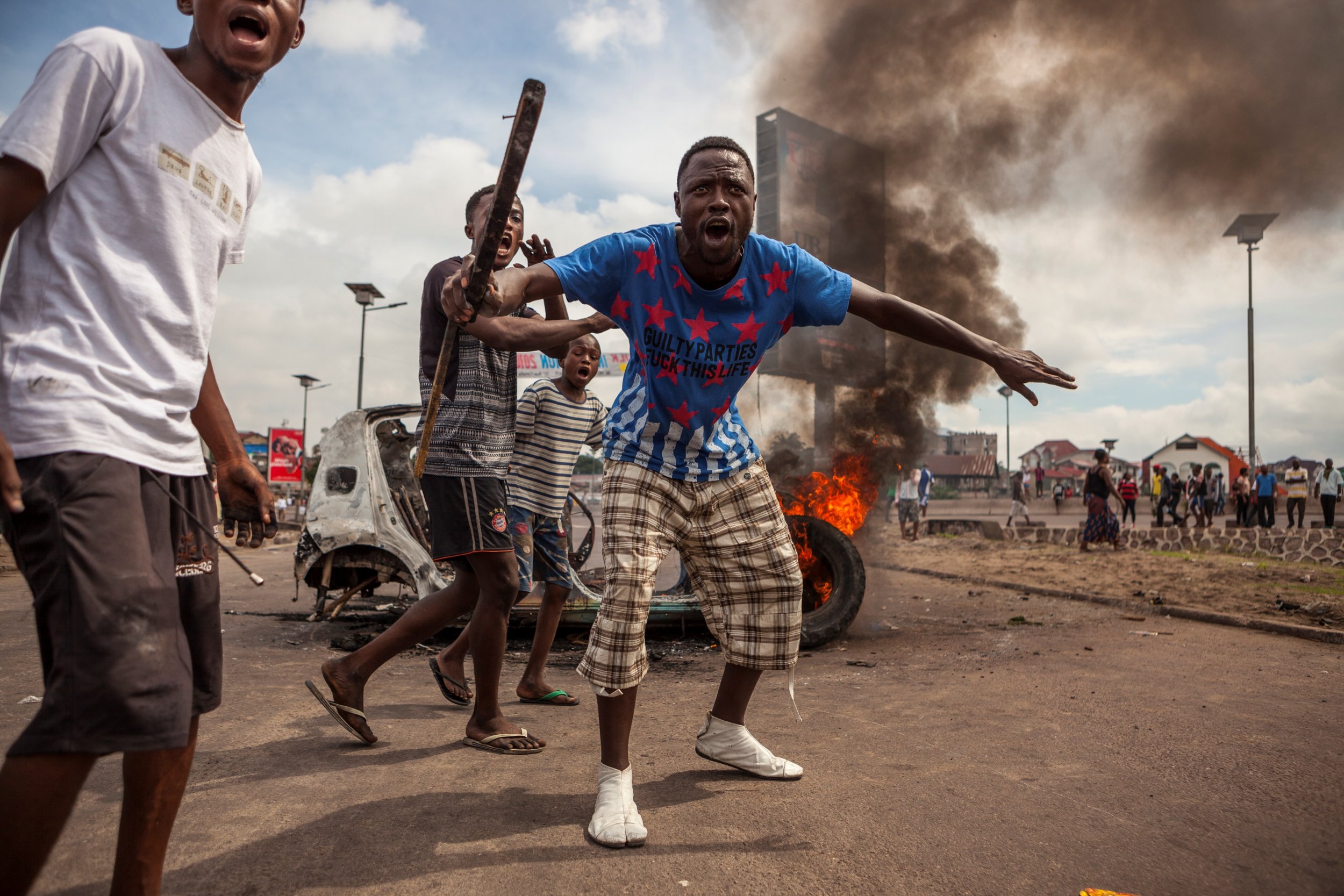 Protests against Congolese President Joseph Kabila turned deadly Monday, with opposition groups claiming that more than 50 people were killed in clashes with security forces and that the headquarters of several opposition parties had been torched overnight.
Thousands of protesters gathered in the capital Kinshasa Monday to call for Kabila—who came to power in 2001 after his father was assassinated—to step down when his mandate ends in December. Democratic Republic of Congo (DRC) is due to hold elections in November, but the government has said these will be delayed while the voter registry is updated.
A coalition of opposition groups claimed that over 50 people were killed during the protests, "victims of the firing of real bullets by the police and the republican guard," AFP reported Tuesday. Congolese Interior Minister Evariste Boshab claimed that 17 people died, including three police officers, and described the demonstration as an "uprising."
Overnight Monday, the offices of three opposition parties—including the main opposition Union for Democracy and Social Progress (UPDS), led by Étienne Tshisekedi—were torched. Two burnt bodies could be seen in the UPDS office Tuesday morning. The offices of the Forces of Union and Solidarity and the Lumumbist Progressive Movement were also targeted, according to AFP.
Unrest has been growing in the massive, mineral-rich Central African country ahead of the scheduled elections. Kabila is constitutionally mandated to step down after serving two elected terms, but opposition figures have accused the leader of attempting to stay in power by delaying the elections. The country's highest court ruled in May that, should the elections be delayed as expected, Kabila could remain in power in the meantime.
Opposition leaders have expressed fears that the president could seek to alter the constitution—as was done recently in the neighboring countries of Republic of Congo and Rwanda—in order to seek a third elected term.
Monday's violence was the worst in Kinshasa since anti-Kabila protests in January 2015, when a police crackdown left scores of opposition supporters dead. The clashes were condemned by the international community, including former colonial power Belgium and the United States, which also accused Congolese authorities of harassing its special envoy to the Great Lakes Region while he was departing from Kinshasa airport Sunday. The State Department said that Special Envoy Tom Perriello encountered "physical obstruction and verbal aggression" in an area of the airport that is "tightly secured by Congolese authorities."
DRC has never experienced a peaceful transfer of power since gaining independence in 1960. The country's eastern region has been the site of one of the world's deadliest conflicts since World War II—between 1998 and 2003, millions of people were killed in a brutal conflict involving a plethora of militias and rebel groups from Congo and neighboring Rwanda.