Congress Considers Police Reform: What to Know About Banning Chokeholds, Qualified Immunity
A bipartisan package on police reform was on track to be approved by lawmakers and on President Donald Trump's desk in the next few weeks in response to George Floyd's death by a white Minneapolis police officer—an unusually swift pace when it comes to major legislation.
But on Monday, top Senate Republicans signaled that rapid timeline could be delayed by weeks until late July, as Congress grapples with other simultaneous matters, such as another coronavirus stimulus and a defense reauthorization package. However, several of them later signaled that Majority Leader Mitch McConnell (R-Ky.) hoped to pass legislation before July 4th recess.
Attempting to replicate its swift pandemic response, Congress is trying to rapidly tackle police brutality amid a nationwide call to action. Dueling proposals by Democrats and Republicans will soon be debated to iron out the differences, marking one step closer to new guidelines for America's law enforcement communities.
Here is a look at what Congress and each party is proposing.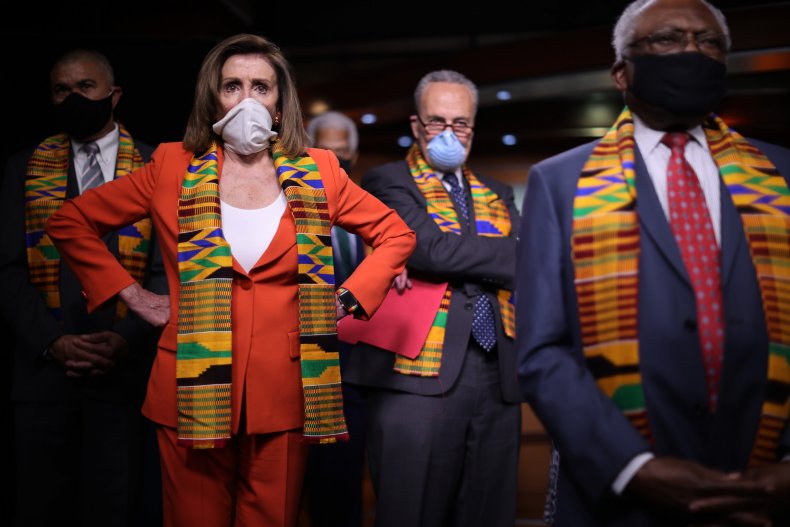 House Democrats
After unveiling their sweeping package last week, House Democrats are eyeing as early as next week for their measure's final passage. The bill includes a ban on police chokeholds and no-knock warrants, the elimination of qualified immunity for officers, a reduction in the amount of military-grade equipment provided to localities, a requirement for body and dashboard cameras, a central registry for police misconduct, stricter training, and the designation of lynching as a federal hate crime.
Democrats will debate the package, known as the Justice in Policing Act. They will then consider amendments and ultimately pass their bill—which was spearheaded by the Congressional Black Caucus (CBC)—out of the House Judiciary Committee on Wednesday.
Republicans have derided their Democratic colleagues for not more strongly condemning the "defund the police" movement that has erupted from liberal activists and more progressive voices, such as Representative Ilhan Omar (D-Minn.). But Democrats have made it clear their proposal does not defund law enforcement.
"Nobody is asking how to get rid of policing; we want to get rid of the bad apples. They ruin the entire barrel," House Majority Whip James Clyburn (D-S.C.) told reporters during a conference call Monday.
Other laws, such as no-knock warrants, are contradictory and must end, Clyburn argued.
"How do you pass a law and give people the right to bear arms and say you are for the Second Amendment, and they go crash in someone's house without knocking and don't think they're gonna try to defend their house?" he said.
Senate Republicans
Senator Tim Scott (R-S.C.), the only black GOP member of the Senate who is crafting his party's new police reform measure, is expected to unveil his package by the middle of this week. However, substantial negotiations will have to take place because there are expected to be significant differences with the House version.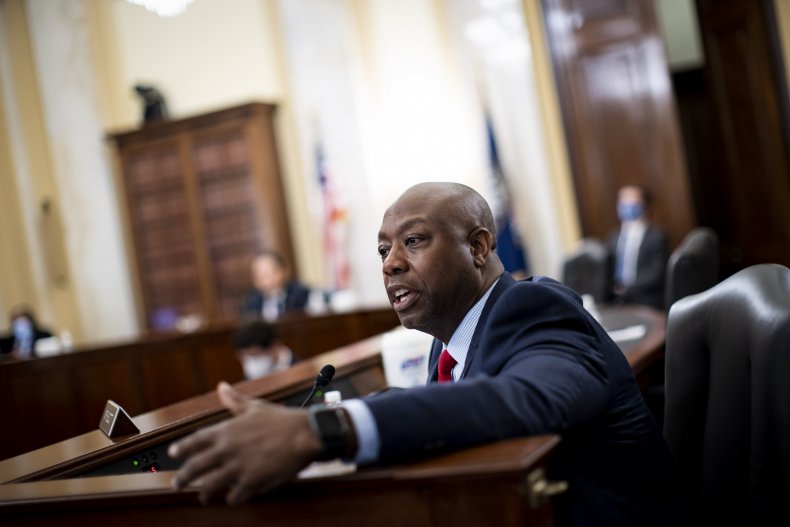 CBC Chair Karen Bass (D-Calif.) and House Speaker Nancy Pelosi (D-Calif.) have been in contact with Scott about his forthcoming legislation, according to Clyburn.
Scott's package will address many of the same topics as Democrats but stop short of creating what Republicans consider to be overreaching federal guidelines for local agencies.
Republicans have so far shot down Democrats' demands for qualified immunity for officers, a move that would subject police to more civil lawsuits over alleged brutality. Scott has labeled the idea as a "poison pill" and characterized it as a non-starter.
"Nothing is a non-starter," Clyburn said. "It seems to me that anything might happen within the next 12 to 24 hours to make a non-starter a sprint."
And while Scott said he would personally support a chokehold ban, his bill is not expected to include such a measure to receive more GOP support. He has advocated for stronger training practices to help officers eliminate the need for such a maneuver.
On creating a national database for police misconduct, Scott suggested police the grant eligibility of police agencies should be tied to whether they alert the FBI to excessive uses of force and share disciplinary actions with other local departments during the hiring process of an officer.
The Senate Judiciary Committee will have a hearing on Tuesday about police brutality and practices.