Congress Has Just Days to Reach a Stimulus Deal as Millions Face Eviction
Congress must achieve in the next seven days what it has been unable to accomplish in the past seven months. But it's hard to imagine a scenario in which lawmakers leave for Christmas without doing at least something for millions of struggling families, particularly those facing eviction next month.
According to the latest U.S. Census Bureau's Household Pulse Survey, which ended November 23, more than 5.5 million adults said at the time that they were very or somewhat likely to be either evicted or foreclosed on in the next two months. More than 17 million said they were behind on their rent or mortgage payments. And upward of 10 million said they had zero confidence they would be able to pay December's rent or mortgage.
In addition, some 12 million Americans will lose their unemployment benefits the day after Christmas.
Still, rank-and-file lawmakers have shown little willingness to put aside their partisan differences, as their leadership refuses to cross self-imposed red lines to pass an economic relief package that could save people in the nick of time.
"I didn't think that was even a remote possibility a week ago," Senator Kevin Cramer (R-N.D.) said about going on Christmas vacation without Congress approving any sort of relief bill. "But right now, I'm not so sure. It's a 50-50 possibility. And that's hard for an optimist like me to say, but I've watched it play out."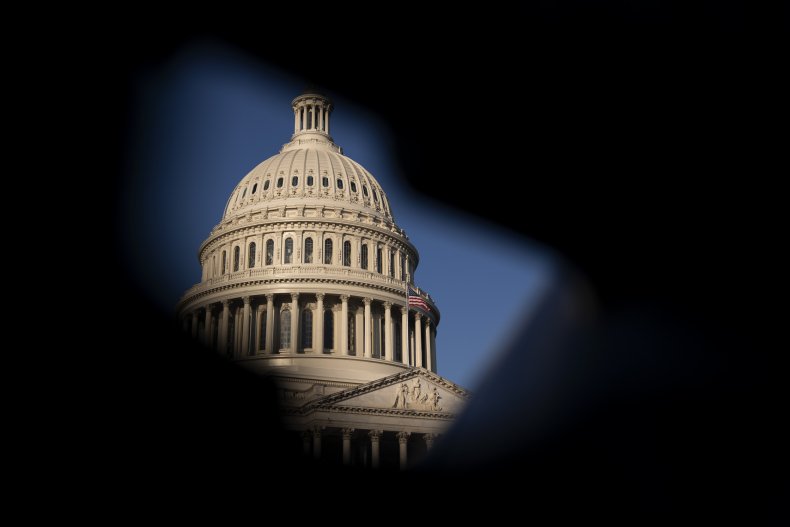 Despite the bleak state of affairs, it's business as usual in the nation's capital. The Senate adjourned for the weekend Friday afternoon after a roughly 24-hour delay, narrowly avoiding a government shutdown. The House left town on Thursday.
When lawmakers return Monday, they'll have until next Friday—when government funding will again run out—to approve a fiscal budget and desperately needed economic relief, as eviction moratoriums end at the end of the month. At this point, the likeliest scenario is that a few provisions like unemployment funding, rent protections and vaccine funding will hitch a ride onto the budget.
Leaders on both sides of the aisle have vowed to remain in Washington until something is passed. But a deal still remains elusive because of the same sticking points that go back to June, draining the all-time-high optimism that emerged a few weeks ago when a bipartisan and bicameral group of lawmakers bypassed their leadership to forge their own proposal.
"If we need more time, then we take more time, but we have to have a bill, and we cannot go home without it," House Speaker Nancy Pelosi (D-Calif.) said Thursday. "But we've been here after Christmas, you know."
Liability protections demanded by Republicans to prevent an "avalanche" of "frivolous" lawsuits, as Senate Majority Leader Mitch McConnell (R-Ky.) has described them, and money for local and state governments demanded by Democrats are preventing a bipartisan $908 billion package from advancing.
"It's an unconscionable position," Senate Minority Leader Chuck Schumer (D-N.Y.) said. "No relief for the American people unless corporations receive blanket immunity from lawsuits."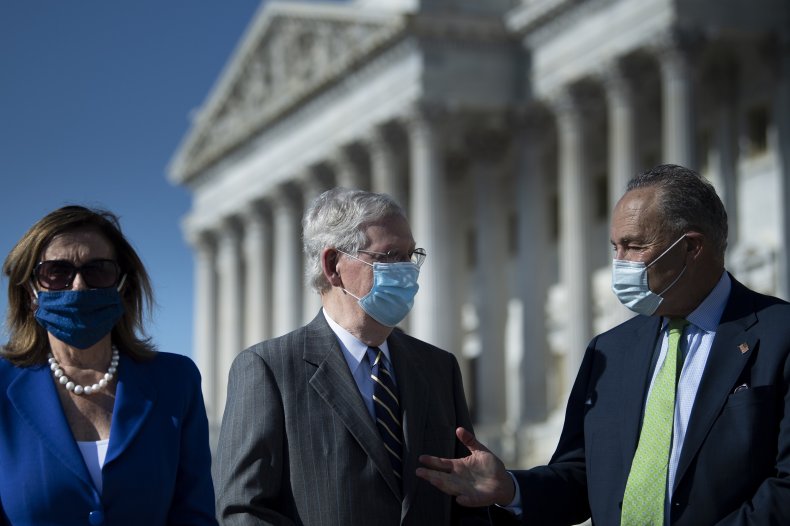 The bipartisan group behind the proposal is still working to end the logjam, but time is quickly running out.
"Millions and millions of Americans simply can't wait any longer. We shouldn't. We can't get bogged down in issues that don't help people. State and local governments need help," President-elect Joe Biden told reporters in Wilmington, Delaware. "We are in peak crisis right now...as [we have] more deaths than we saw in a single day in 9/11 or Pearl Harbor. This is serious business."
Amid fierce rhetoric this week, Democrats rejected two GOP stimulus plan offers that attempted to undercut the bipartisan group's work. McConnell and more conservative-leaning senators have been the few people absent from the bipartisan fray.
"Day after day, [Schumer] finds new reasons not to compromise; new ways to avoid taking 'yes' for an answer," McConnell said.
The first offer, from McConnell, was to move forward with legislation close to his $500 billion plan but to remove the liability protections and state and local government aid. The second, from the Trump administration, was for $916 billion and included $600 stimulus checks but all but eliminated federal unemployment benefits.
"We're still working on it. Nothing is coming out," Senator Joe Manchin (D-W.Va.), who's helping lead the bipartisan talks, said about stripping out the most contentious provisions in the proposal.
Next week will be a make or break moment. If lawmakers are unable to cobble together a compromise with such a hard deadline—the best circumstance in which Congress usually accomplishes something—it's unlikely staying over Christmas would change much.
"It's like any kind of competition: as long as the clock is still ticking, if you could play into overtime, you're going to keep playing," Sen. Cramer said. "If you're in a negotiation and it's not the end, you're going to try and get one more thing. I just think sometimes we need to cut it off."
Elizabeth Crisp contributed to this story.