Congressman Warns China Would 'Go to Bed With a Loser' Amid Russia Alliance
Representative John Garamendi, a California Democrat, warned on Saturday that China allying with Russia amid the Ukraine war would mean Beijing is going "to bed with a loser."
China, one of the world's largest economies and a growing influence in the Indo-Pacific, is facing pressure when it comes to the Ukraine war. Chinese President Xi Jinping has publicly supported Russian President Vladimir Putin, making him one of Moscow's most powerful global allies, but has so far resisted providing material aid to Russia. Western countries including the United States, who are key Chinese trading partners, have backed Ukraine, and Chinese support for Russia would threaten to disrupt trade.
However, Secretary of State Antony Blinken said this week that intelligence suggests China is "strongly considering providing lethal assistance to Russia" as the Ukraine war crossed its one-year mark on Friday. This milestone passed as Russia continues to struggle to achieve substantial gains against the war-torn country, despite the vast size of its military and powerful arsenal.
Garamendi warned China against backing Russia during an appearance on NBC News on Saturday.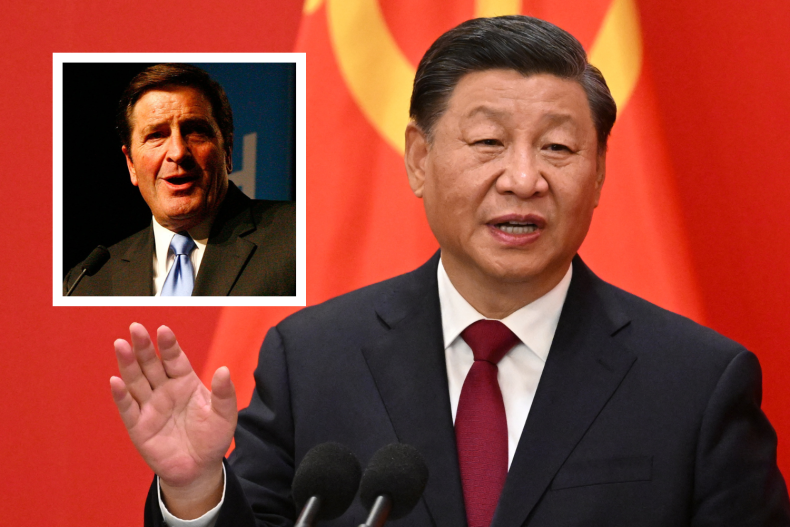 As China considers whether to provide substantial military aid to Russia, it is likely considering the amount of military aid provided by the West to Ukraine, as well as the potential impacts backing Russia would have on its economy, Garamendi said.
"China is going 'Oh my, who are our trading partners? Are we going to be sanctioned?' Is the Chinese economy going to be hurt if they go in?" he said.
The congressman added that if China were to send aid to Russia, it would be backing a military invasion that has for months remained stagnant.
"You've got to be really careful who you go to bed with. In this case, China would go to bed with a loser. Now go to bed with Russia, who is clearly a loser in this war and loser diplomatically around the world, China's going to be very careful here. They're thinking about their options," Garamendi said.
Javed Ali, a University of Michigan professor specializing in international policy and diplomacy, told Newsweek on Saturday, "Xi has to make a decision about how to manage that relationship with Russia, and what's most important about that in the fight against Ukraine versus China's biggest strategic ambitions."
Ali explained that the U.S.'s willingness to come forward with this intelligence follows a "highwater mark" in U.S.-China relations after the U.S. military shot down a Chinese spy balloon over the Atlantic Ocean earlier this month. He said a central question for the national security community is whether this development is linked to the balloon, or whether it is related to other Chinese national security priorities.
"If the intelligence case was that China is thinking about it, that may suggest that China may be willing to incur risks in a way that perhaps they weren't a year ago," Ali said.
He also noted that whenever the U.S. comes forward with this intelligence, the government could be compromising sources it may not get back.
"This is also a risk for us on the U.S. side," he said. "In order to make these public cases, there could potentially be the lack of access to really exquisite access."
Meanwhile, a State Department official told Reuters last week that Blinken "was quite blunt in warning about the implications and consequences of China providing material support to Russia or assisting Russia with systematic sanctions evasion."
North Atlantic Treaty Organization (NATO) Secretary-General Jens Stoltenberg also warned China against supplying Russia with arms, as doing so "will be to support an illegal war of aggression, breaching international law and violating the U.N. Charter," Politico reported Friday.
'MAGA Republicans' could send 'message' to China, Garamendi warns
During his interview appearance, Garamendi also talked about "MAGA Republicans" in the House of Representatives withholding aid to Ukraine.
While many Republicans support providing aid, some GOP members of Congress have signed onto legislation introduced by Representative Matt Gaetz of Florida to end military aid to Ukraine. They argue these funds should instead be spent domestically, rather than on a foreign war. Gaetz's "Ukraine Fatigue" bill discourages all future military, financial, and humanitarian aid spending for Ukraine in its war against Russia, and pushes for the two nations to reach a peace agreement.
Garamendi warned about the "message" withholding aid would send to China.
"That is a message to China that they can do most anything they want in the Western Pacific, because the United States is not a stable, not a dedicated, not a committed partner through the good and the bad areas," he said. "Ukraine remains exceedingly important in Europe, but also exceedingly important in the Western Pacific and China and Taiwan."
Newsweek reached out to China's international press center for comment.
Update 02/25/2023, 7:05 p.m. ET: This story was updated with comment from Javed Ali.