Connecticut Barbershop Defies Lockdown Restriction: 'This Is What I Have to Do in Order to Keep My Business'
On Wednesday, Cat Thibodeau—the owner of Modern Barber and Shave, a barbershop in Pawcatuck, Connecticut—reopened her business in defiance of Governor Ned Lamont's executive order closing all non-essential businesses to slow the spread of COVID-19.
"If I don't open now I am not going to be able to pay the overhead on this place," Thibodeau said. "I am not going to be able to keep the doors open. To me, it is not really a choice. This is what I have to do in order to keep my business."
Lamont had originally aimed to reopen barbershops, salons and other beauty businesses on May 20, but he reconsidered after local business owners told him they needed more time to safely reopen. On Monday, Lamont pushed the reopen date back to June 1.
Thibodeau now says she has invested thousands in preparing her shop to protect customers from coronavirus: from acquiring personal protective equipment to adapting contactless payment methods. She also says she's only accepting about 10 to 15 appointments each day so she can properly clean and disinfect between clients.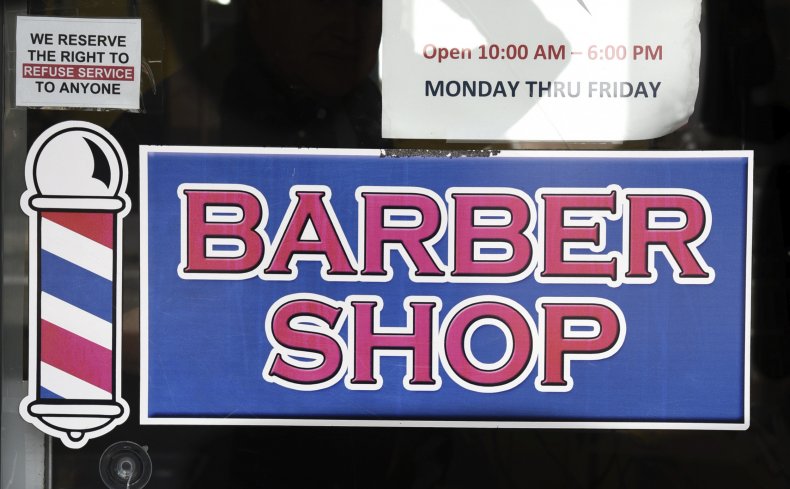 The Ledge Light Health District, the local entity responsible entity for enforcing Lamont's Executive Orders over foodservice and cosmetology businesses, said on Facebook that it will issue an order of closure to any establishment violating the governor's order, although it has not specified whether it will take action to close Thibodeau's business.
Stephen Mansfield, Deputy Director of Health for the Ledge Light Health District, told NBC Connecticut that his entity sent an inspector to ensure that Thibodeau's barbershop adhered to all public health guidelines. The shop reportedly passed the inspection.
"A public health order has been drafted and will be delivered [Thursday] morning. She will be required to close," a Ledge Light Health District spokesperson told Newsweek.
Thibodeau says she plans on getting a lawyer and doing whatever she needs to get her business operating again.
Thibodeau is just the latest owner of a cosmetology business to reopen their shop in defiance of a governor's shutdown order.
In Michigan, 77-year-old Owosso barber Karl Manke reopened his barbershop last Monday in violation of Michigan Governor Gretchen Whitmer's executive order shutting down all non-essential businesses.
Similar to Thibodeau, he said he could no longer survive without making an income and pledged to observe safety guidelines to minimize his customers' possible exposure to coronavirus.
In Texas, Shelley Luther, owner of Salon A La Mode in north Dallas, was imprisoned for several days after she continued to operate her business under the same reasoning as Manke and Thibodeau.
She was eventually released by the Texas Supreme Court after Texas Governor Greg Abbott rewrote his executive order to forbid future arrests for businesses who violated his executive order.
Update (5/20/2020, 5:20 p.m.): This article has been updated to include a statement from the Ledge Light Health District.