Conservatives Call for Chris Stapleton to 'Replace' Rihanna's Halftime Show
Conservatives are calling for Chris Stapleton to replace Rihanna as the halftime performer after he sang the national anthem at Super Bowl LVII on Sunday.
The country music singer got the 2023 Super Bowl between the Kansas City Chiefs and Philadelphia Eagles underway when he performed a well-received rendition of "The Star-Spangled Banner." Meanwhile, Rihanna was in Donald Trump's cross-hairs in the days leading up to the Super Bowl after he called her a talentless "nothing" on Truth Social.
On the flipside, Stapleton appears to be a favorite of some conservative Twitter users who praised his pre-show performance.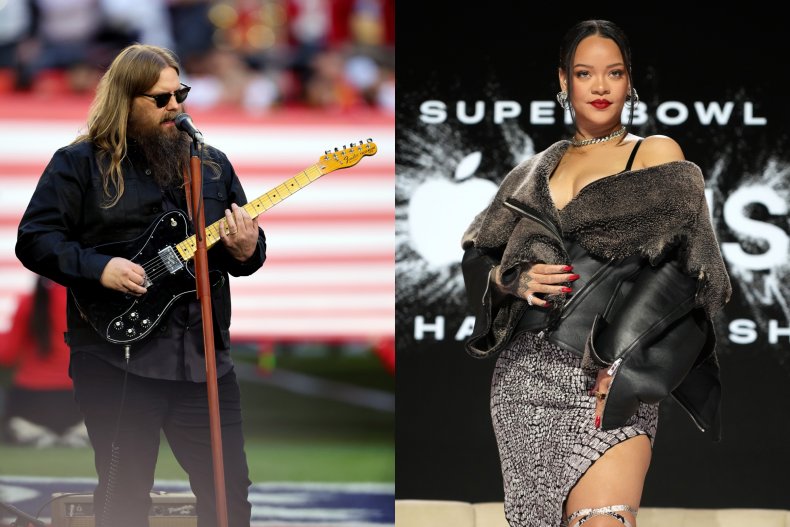 "Chris Stapleton did an amazing job," wrote Twitter user Suburban Black Man. "He should do us all a favor and replace Rihanna for halftime."
He wasn't alone in his preference, as Fox & Friends co-host Will Cain also tweeted his opinion with a short statement. "Chris Stapleton > Rihanna," he wrote.
"Can Chris Stapleton do the half time show instead of Rihanna?" asked Cole Douglas Claybourn, an education reporter at U.S. News & World Report.
The praise for Stapleton continued from other Twitter users. Texas-based sports journalist Leah Vann acknowledged her own unpopular opinion.
"I am in the minority here and I like Rihanna and think she probably is the better fit for a halftime performance but I would've been way more jazzed for a Chris Stapleton halftime show," she tweeted.
"You are definitely the minority," replied Twitter user Mrscowling in her comment section.
Rihanna has millions of fans across social media who've been hotly anticipating her halftime performance. The show's musical director, Adam Blackstone, previewed the occasion with Newsweek, expressing his hopes that anyone who's not a fan of Rihanna before the show, will be afterwards.
Rihanna has previously spoken out against Trump, who made his opinions of her clear this past week.
Representative Ronny Jackson, a Texas Republican, called for the National Football League (NFL) to cancel Rihanna's show in posts to Twitter and Truth Social, saying that she should be removed from the show because she previously tweeted images of a Cadillac with the words "F*** Trump" spray-painted on it.
Trump replied to Jackson's post on Truth Social, writing, "Without her 'Stylist' she'd be NOTHING. Bad everything, and NO TALENT!"
While politically right-leaning figures expressed their distaste for Rihanna, Representative Tom Perriello, a Virginia Democrat, spoke out in her defense as the Super Bowl got started.
"Chris Stapleton + Babyface < Rihanna," Perriello wrote and included the hashtag #SuperBowlMath.
Meanwhile, musician Babyface had played a patriotically-designed guitar and performed "America the Beautiful" before Stapleton's national anthem performance.