Cori Bush Says Manchin, Sinema 'Don't Care' About People, Just Their Donors
Progressive Representative Cori Bush, a Missouri Democrat, said moderate Democratic Senators Kyrsten Sinema of Arizona and Joe Manchin of West Virginia "don't care" about people amid negotiations over President Joe Biden's Build Back Better "human infrastructure" legislation.
Manchin and Sinema have been the key Democratic moderates opposing key aspects of Biden's initially $3.5 trillion reconciliation bill, which would pass the bulk of the agenda he promised voters. Manchin has come out against key provisions to address climate change, while Sinema has refused to back increased corporate tax rates and high-end income taxes that Democrats planned to use to pay for the massive bill.
Bush accused the two moderate Democrats of caring more about the views of their donors than the American people.
"I feel like they are not looking at that, not wanting to pay attention to those folks, but pay attention to their donors. I have a huge problem with that," the progressive lawmaker told CNN for an article published on Friday.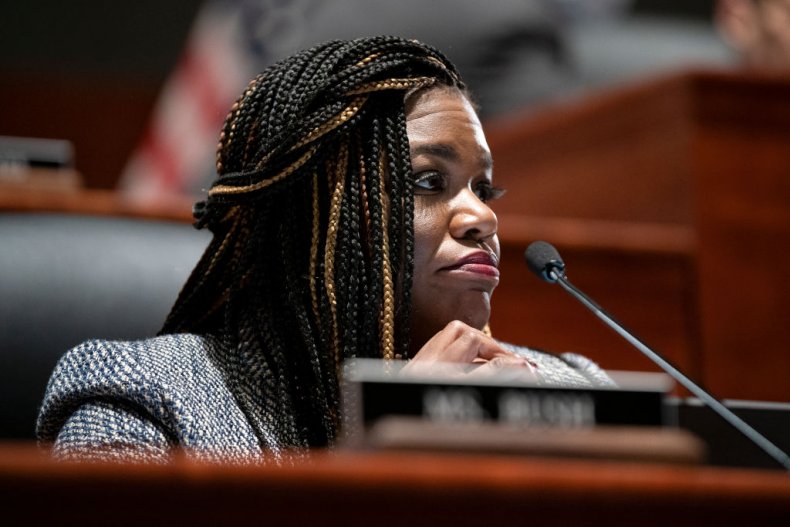 "Sen. Sinema, Sen. Manchin come to my district and visit with my folks, come and talk to the people who actually live out what you're trying to overlook. You don't care, but we do, and I'm not going to quit talking about that," the congresswoman said.
Other progressives have criticized Manchin and Sinema as well, while many Democrats have expressed frustration over their objections to a package backed by the vast majority of Democratic lawmakers. Polls also show that the bill is broadly popular and receives exceptionally high support from Democratic voters.
"We can bring the moderates and progressives together very easily if we had two more votes. Two. Two people," Biden told reporters at the beginning of October, taking an apparent jab at Manchin and Sinema.
A number of progressives expressed frustration and outrage when news broke earlier this month that Manchin was opposed to key climate change provisions included in the package. Progressive Representative Ritchie Torres, a New York Democrat, didn't mince words in calling out the moderate from West Virginia.
"Senator Joe Manchin has veto power over the country's transition to a clean energy economy. The tyranny of Joe Manchin is a tragedy for the rest of us," Torres tweeted on October 15.
Manchin's critics have pointed to the approximately half a million dollars in income he earned in 2020 from a private coal brokerage he founded decades ago, suggesting these profits impact his decisions in Congress. The senator's son now runs the company—Ernersystems—but the West Virginia Democrat still maintains a stake valued at up to $5 million. The climate change provisions Manchin opposes would target the coal industry, likely having a negative effect on the senator's own finances.
The moderate senator has pushed back against the criticism, voicing concern for workers in his state. Coal and natural gas, which would also be impacted by the climate change proposals, are key industries in West Virginia.
Last Sunday, progressive Representative Alexandria Ocasio-Cortez, a New York Democrat, accused Sinema of putting lobbyists' interests ahead of the American people.
"It's 2021. You don't have to put corporate lobbyists over people to legislate, fundraise, and win," Ocasio-Cortez wrote in a Twitter post, retweeting a comparison of her higher fundraising numbers compared to Sinema's.
"It's insulting to tell everyday people who worked tirelessly for a majority that they must suffer insane drug prices, no voting rights, & climate disaster for political convenience," the congresswoman wrote.
Meanwhile, Sinema has defended her opposition to tax hikes.
"She has told her colleagues and the president that simply raising tax rates will not in any way address the challenge of tax avoidance or improve economic competitiveness," Sinema spokesperson said in a Friday statement, The Hill reported.
Both moderate senators have opposed the high price tag of the package as well. Biden and Democratic leaders have capitulated, suggesting the final legislation may cost closer to $2 trillion. Meanwhile, Manchin maintains he wants a price tag of up to $1.75 trillion.
With an evenly split 50-50 Senate, Democrats need every member of the legislative chamber's Democratic Caucus to back the reconciliation package in order for it to succeed. As a result, just one senator can hold up the legislation and prevent it from moving forward.
"When you're in the United States Senate and you're President of the United States and you have 50 Democrats, everyone is a President," Biden said during a CNN town hall event on Thursday, nodding to the difficult reality of negotiations with the current Congress. "Every single one. So, you got to work things out," he said.
Newsweek reached out to Manchin's and Sinema's press representatives for comment but did not immediately receive a response.