Joe Manchin Praised by Billionaire Who Voted for Trump as 'Most Important Guy in D.C.'
Billionaire Nelson Peltz praised Senator Joe Manchin, a West Virginia Democrat, saying that he talks to the moderate lawmaker "every week" and describing him as the "most important guy in D.C."
Peltz, with a net worth of about $1.7 billion according to Forbes, has previously said he voted for former President Donald Trump in the 2020 presidential election, but later expressed regret over that decision. During a Wednesday interview with CNBC, he touted his close ties to Manchin—a key Democrat pushing back against significant portions of President Joe Biden's agenda.
"Machin is showing them the way and they are fighting him. But I got to take my hat off to Joe, who's been an old friend of mine for 10 years. I call him every week and say, 'Joe, you're doing great. Stay tough. Stay tough, buddy.' He is phenomenal," Peltz said.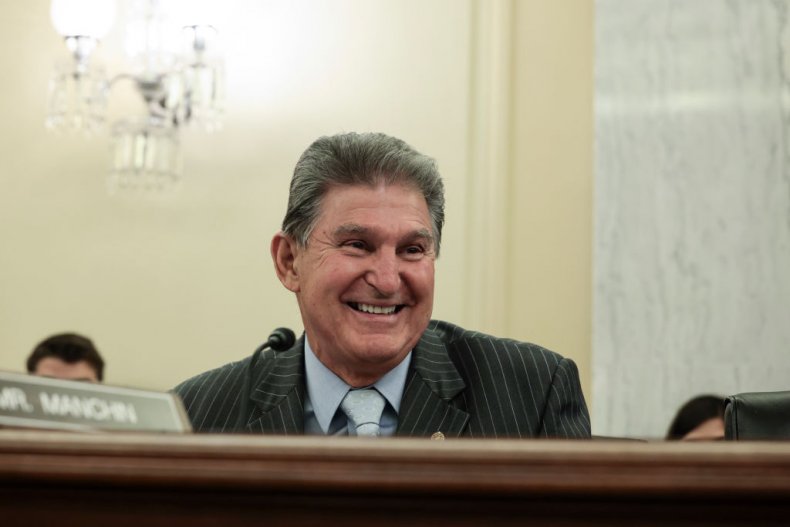 The billionaire, an activist investor who founded Trian Fund Management, argued that Manchin is a vital voice in Congress in the present political moment.
"Joe is the most important guy in D.C., maybe the most important guy in America today. He is keeping our elected officials somewhere in the middle and anywhere center right to center left works for me," Peltz said.
The West Virginia Democrat has received backlash from progressives over his opposition to the initial $3.5 trillion price tag of Biden's Build Back Better "human infrastructure" reconciliation package. Manchin has also gotten criticized by progressives over his opposition to core provisions to address climate change included in the proposed legislation.
Progressives have pointed to the approximately $500,000 in income Manchin earned last year from a private coal brokerage he founded in 1998, suggesting this impacts his efforts in Congress. Although his son now runs the company—Ernersystems—the senator still maintains a stake valued at up to $5 million. The provisions Manchin opposes would specifically target the coal industry, potentially negatively impacting the senator's own finances.
Additionally, progressives have alleged that Manchin is beholden to corporate lobbyists and billionaire friends. However, Manchin has pushed back against their criticisms—arguing he is looking out for the best interest of his constituents. Coal and natural gas are key industries in West Virginia, employing thousands of state residents.
Peltz spoke favorably of Trump's signature tax cuts before they were passed. However, he has said he did not vote for the former president in 2016.
"If he gets the kind of tax reductions he's talking about, we will wind up having more employment, more companies coming back to the United States," Peltz predicted to CNBC shortly after Trump's election.
On January 7, the day after Trump's supporters attacked the U.S. Capitol in an apparent effort to prevent the formal certification of Biden's election win, Peltz expressed regret over his 2020 vote.
"I didn't vote for Trump in '16. I voted for him in this past election in November. Today I'm sorry I did that," Peltz told CNBC.
"I supported many of his policies... but so much good was undone yesterday with what we all saw," the billionaire investor added.
Newsweek reached out to Manchin's spokesperson for comment but did not immediately receive a response.