Republican Adam Kinzinger Warns 1/6 Committee Subpoena for Trump Would Become 'a Circus'
Representative Adam Kinzinger, an Illinois Republican, said that the House select committee investigating the January 6 attack on the U.S. Capitol "certainly will" issue a subpoena for former President Donald Trump if necessary, but warned it would become "a circus" if that happens.
Kinzinger, a staunch Trump critic, is along with GOP Representative Liz Cheney of Wyoming one of just two Republicans serving on the committee. Trump has discouraged his allies from cooperating with the committee's investigation, and former Trump adviser Steve Bannon is facing a criminal referral after he refused to appear before the House investigators this past week.
Committee members have repeatedly said that they are willing to subpoena a wide range of individuals to get information about the January 6 attack. Although they have not said Trump will be subpoenaed, they have kept open the possibility. Kinzinger reiterated this point during a Sunday interview with CNN.
"Just speaking quite honestly, if we subpoena all of a sudden the former president, we know that's going to become kind of a circus," the Republican congressman said. "So that's not necessarily something we want to do up front."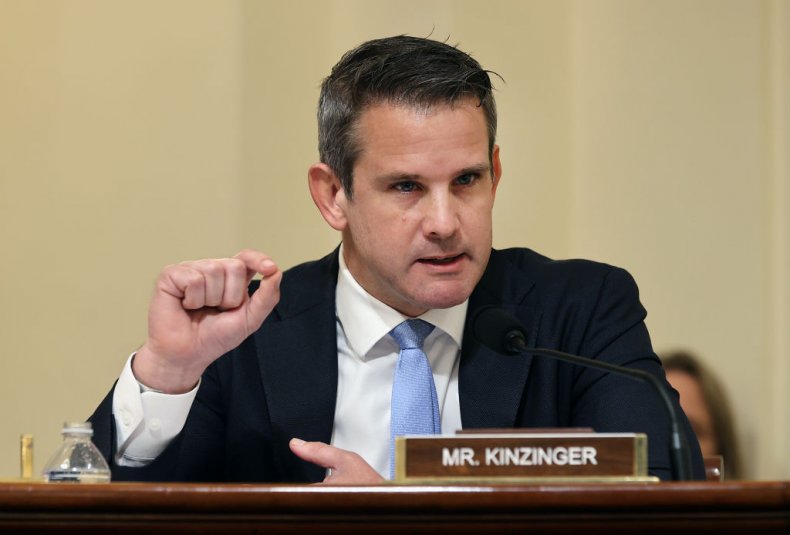 "But if he has pieces of information we need, we certainly will," Kinzinger asserted. The GOP lawmaker said that the point of the committee was to produce an accurate historical record of what occurred on and leading up to the assault on the nation's Capitol.
Kinzinger, along with Cheney and eight other Republican lawmakers, voted with Democrats to impeach Trump for inciting his supporters to attack the legislative building on January 6. Although the Senate failed to convict Trump, seven GOP senators voted "guilty," along with all 50 members of the chamber's Democratic caucus—making it the most bipartisan impeachment vote against a president in U.S. history.
However, under the Constitution a two-thirds majority—which would be 67 senators—is required for a successful conviction against a president. A number of other GOP lawmakers strongly criticized or condemned Trump's actions, blaming him for the attack. But they declined to vote to impeach or convict.
The crowd of hundreds of Trump supporters was largely animated by his baseless claim that the 2020 presidential election was won by President Joe Biden due to widespread fraud. This extraordinary allegation has not been substantiated with evidence. Dozens of election challenge lawsuits filed by Trump and his allies have failed in state and federal courts. Even judges appointed by Trump and other Republicans have rejected the allegations.
Trump has urged his allies not to cooperate with the January 6 investigation, citing "executive privilege." Legal experts have explained that this argument no longer applies to Trump, as he is no longer serving in the White House.
Newsweek reached out to Trump's press office for comment but did not immediately receive a response.