Representative Liz Cheney, a Wyoming Republican, accused House Minority Whip Representative Steve Scalise of being part of an "attack" on the U.S. after he declined repeatedly in a Sunday interview to say the 2020 election wasn't "stolen."
Trump and many of his Republican allies continue to baselessly claim that President Joe Biden won the presidential election through widespread voter fraud. During an interview with Fox News Sunday, Scalise was pressed multiple times by host Chris Wallace to answer whether he agreed with the extraordinary allegation, but the Louisiana Republican side-stepped and did not respond directly.
Sharing a clip of the interview, Cheney tweeted on Sunday, "Millions of Americans have been sold a fraud that the election was stolen. Republicans have a duty to tell the American people that this is not true. Perpetuating the Big Lie is an attack on the core of our constitutional republic."
Scalise, the No. 2 ranking member in House GOP leadership, has long backed Trump's opposition to the 2020 election results. The Louisiana Republican was among the more than 140 GOP lawmakers in Congress to vote against certifying the Electoral College votes of Arizona and/or Pennsylvania back in January.
"Do you think the 2020 election was 'stolen' from Donald Trump? And in continuing to make that charge...do you think that that hurts, undermines American democracy?" Wallace asked Scalise on Fox News Sunday.
Scalise didn't directly answer the question. "I've been very clear from the beginning. If you look at a number of states, they didn't follow their state-passed laws that govern the election for president. That is what the United States Constitution says," he responded.
Wallace went on to ask the direct question two more times, but Scalise responded with his concerns about state's allegedly not following their local election laws. He also criticized Democrats for opposing controversial election changes pushed through by Republican legislatures in conservative states.
Cheney previously served as the No. 3 Republican in House leadership. She was ousted from that position—chair of the House Republican Conference—in May due to her consistent criticism of Trump and fellow GOP lawmakers who refuse to condemn his claims about the 2020 election.
The Wyoming Republican was one of the 10 House Republicans to vote to impeach Trump for inciting his supporters to attack the U.S. Capitol on January 6. "There has never been a greater betrayal by a President of the United States of his office and his oath to the Constitution," she said in a statement ahead of that vote.
Along with GOP Representative Adam Kinzinger of Illinois, Cheney has since then become one of the most vocal conservative critics of Trump and his faction of the Republican Party. Cheney and Kinzinger were both selected by House Speaker Nancy Pelosi, a California Democrat, to serve on the House select committee investigating the violence of January 6.
The two have received significant backlash from pro-Trump colleagues. House Minority Leader Kevin McCarthy, a California Republican, has dubbed Kinzinger and Cheney "Pelosi Republicans." Members of the conservative House Freedom Caucus have described their two Republicans colleagues as "spies for the Democrats," urging McCarthy to remove them from the House GOP caucus.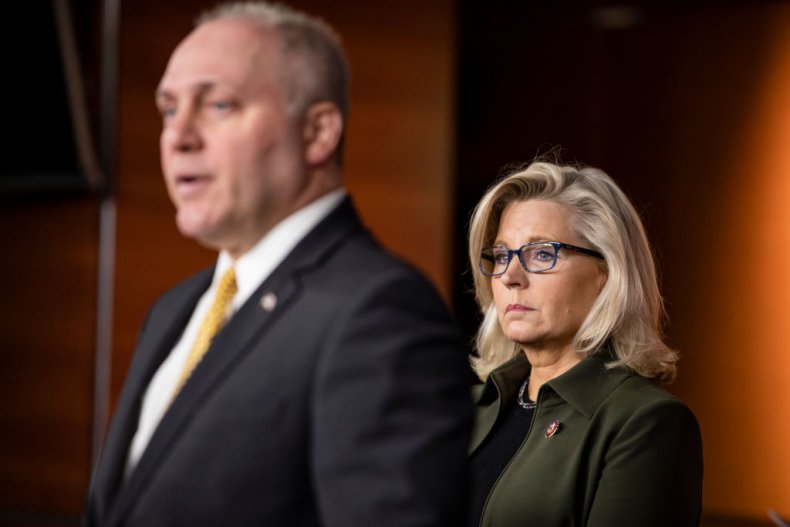 Meanwhile, Trump and his allies continue to promote misinformation about the 2020 election. Despite their claims, dozens of election challenge lawsuits have failed in state and federal courts. Even judges Trump and other Republicans appointed have rejected the allegations of widespread fraud. Audits and recounts in key battleground states—including in areas where the election was overseen by pro-Trump Republicans—have consistently reaffirmed Biden's victory.
Former Attorney General William Barr, who was widely viewed as one of Trump's most loyal Cabinet members, said late last year that there was "no evidence" to support the claims of widespread fraud. The Cybersecurity and Infrastructure Security Agency at the Department of Homeland Security described the election as the "most secure in American history." The agency, which was then led by a Trump appointee, noted that there was "no evidence that any voting system deleted or lost votes, changed votes, or was in any way compromised."
Newsweek reached out to Scalise's press secretary for further comment but did not immediately receive a response.