Trump Attacks Texas Republican House Speaker by Comparing Him to Mitch McConnell
Former President Donald Trump attacked Texas' Republican state House of Representatives Speaker Dade Phelan in a Saturday statement by comparing him to U.S. Senate Minority Leader Mitch McConnell, and threatening the possibility of backing a primary challenger.
Trump's statement came due to Phelan not pressing forward with attempting to pass Texas state Senate Bill 47 (SB 47), which would allow for party officials to push forward with county audits—including of the 2020 presidential election results. Although SB 47 passed in the state Senate, the audit legislation is not currently on the state House agenda for the legislative session.
"Texas Speaker of the House Dade Phelan is another Mitch McConnell. He is not fighting for the people of Texas. Speaker Phelan should immediately move the Forensic Audit bill, SB 47 by Senator Bettencourt that passed out of the State Senate this week, to the floor," Trump said in a statement shared by his spokesperson Liz Harrington.
The former president said that Republicans in Texas are "tired of Phelan's weak RINO [Republican in name only] leadership in the State House." He concluded his criticism by floating the possibility of endorsing a primary challenger against Phelan if he didn't comply with his demand.
"If this doesn't pass soon, we look forward to seeing him in the Texas primary. It will get done one way, or the other!" Trump said.
Trump has repeatedly attack McConnell, a Kentucky Republican, in the wake of the January 6 attack against the U.S. Capitol and his impeachment trial that followed that assault. McConnell declined to vote to convict Trump, saying it was unconstitutional to do so since the former president was out of office by the time the vote was held. However, he condemned Trump and blamed him directly for the violence committed by his supporters.
"There's no question—none—that President Trump is practically and morally responsible for provoking the events of the day. No question about it. The people who stormed this building believed they were acting on the wishes and instructions of their president," McConnell said at the conclusion of the Senate impeachment trial.
"The leader of the free world cannot spend weeks thundering that shadowy forces are stealing our country and then feign surprise when people believe him and do reckless things," the GOP leader asserted.
Trump quickly responded with a statement attacking the Republican lawmaker.
"Mitch is a dour, sullen, and unsmiling political hack, and if Republican Senators are going to stay with him, they will not win again. He will never do what needs to be done, or what is right for our Country. Where necessary and appropriate, I will back primary rivals who espouse Making America Great Again and our policy of America First," the former president said at the time.
Texas' SB 47 would give all state or county party officials the authority to trigger mandatory reviews of the November 2020 election. Although Trump won in Texas by more than 630,000 votes, the former president and his allies continue to groundlessly claim that the election was "rigged" in favor of President Joe Biden across the country. No evidence has been brought forward substantiating this extraordinary allegation.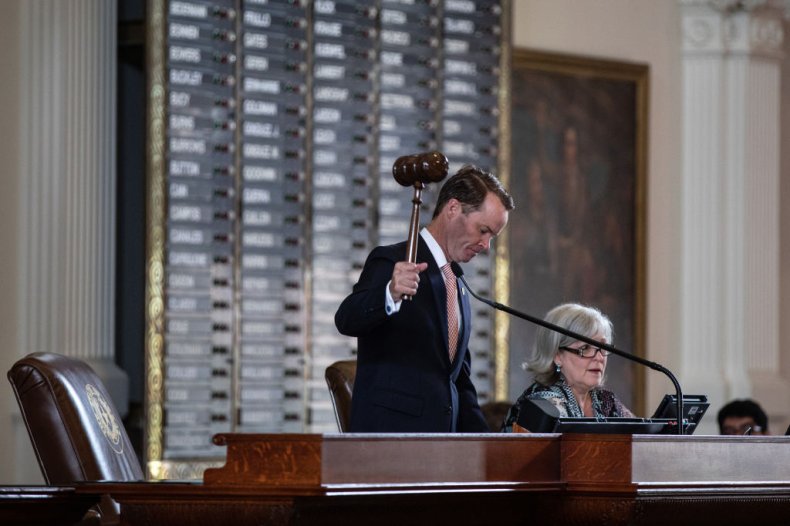 To the contrary, dozens of election challenge lawsuits brought by Trump and his supporters have failed in state and federal courts. Even judges the former president and other Republicans appointed have rejected the allegations. Audits and recounts in key battleground states—including in areas where the election was overseen by pro-Trump Republicans—have reaffirmed Biden's victory.
Former U.S. Attorney General William Barr, who was widely viewed as one of Trump's most loyal Cabinet members, said last December that there was "no evidence" of widespread fraud that would change the election results.
The Cybersecurity and Infrastructure Security Agency at the Department of Homeland Security said last year that the election was the "most secure in American history." The federal agency, which was then led by a Trump appointee, noted that there was "no evidence that any voting system deleted or lost votes, changed votes, or was in any way compromised."
Newsweek reached out to Phelan's office for comment but did not immediately receive a response.