Republican Adam Kinzinger Suggests 'Satan' Writes Pro-Trump Fundraising Messages
Representative Adam Kinzinger, an Illinois Republican, recently suggested that Satan wrote a pro-Trump fundraising message that was sent out to conservative donors.
Kinzinger has become one of former President Donald Trump's most vocal critics in the wake of the November 2020 general election. He has repeatedly pushed back against the former president's false claim that the election was "rigged" or "stolen" in favor of President Joe Biden.
In a Thursday post, Kinzinger re-tweeted a screenshot from a recent pro-Trump fundraising message sent to donors by the National Republican Congressional Committee (NRCC). The message disparaged would-be donors who had not yet contributed, suggesting they had betrayed the former president.
"You're a traitor. You abandoned Trump," the fundraising message said. It went on to say that that the donor had a "final chance to prove [their] loyalty." Otherwise, they would be "branded a deserter." It gave a timeframe of just 17 minutes to contribute before the threat would apparently be implemented.
Charlie Sykes, the founder and editor-at-large of the conservative publication The Bulwark, tweeted the original screenshot, writing: "Who writes this sh*t? And does it work?"
Kinzinger then retweeted Skyes, responding to his questions. "Satan (indirectly) and yes," the Republican congressman wrote.
Along with nine other Republican House members, Kinzinger voted to impeach Trump for inciting his supporters to attack the U.S. Capitol on January 6. Since then, Kinzinger and GOP Representative Liz Cheney of Wyoming have become two of Trump's staunchest conservative critics.
Cheney and Kinzinger were appointed by Speaker of the House Nancy Pelosi, a California Democrat, to serve on the House select committee investigating the events of January 6. The two GOP members of Congress have received significant backlash from Republican colleagues as a result.
House Minority Leader Kevin McCarthy, a California Republican, has dubbed Kinzinger and Cheney "Pelosi Republicans." Meanwhile, the conservative House Freedom Caucus has urged McCarthy to find a way to oust the two GOP lawmakers from the House Republican Conference. They have accused Kinzinger and Cheney of being "spies" for the Democrats.
Kinzinger and Cheney have maintained that Trump should no longer be seen as a leader of the GOP, due to the events of January 6 and his continued false claims that the 2020 election was fraudulent. Despite their efforts, the majority of Republican voters appear to have aligned themselves with Trump and his faction of the GOP.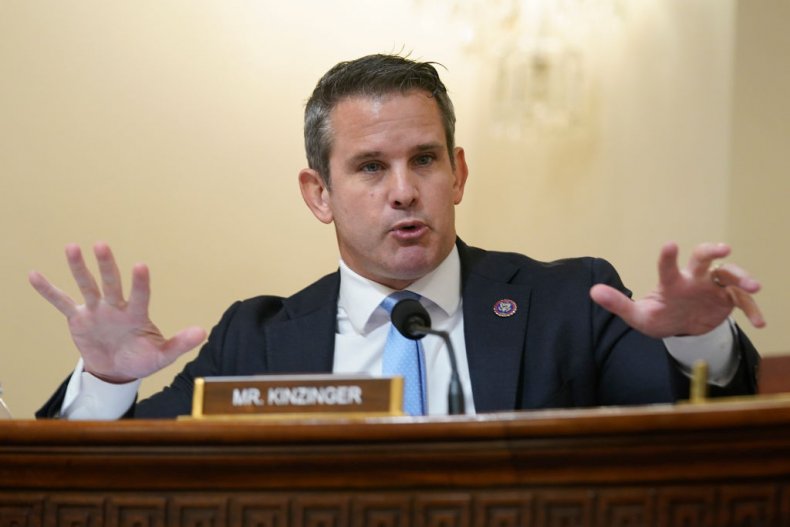 Polling published Wednesday by Morning Consult showed that 82 percent of Republican voters continue to view Trump favorably. Furthermore, just over two-thirds (67 percent) said they want Trump to run for president again in 2024.
Among potential 2024 GOP contenders, the former president appears to be the clear frontrunner. The survey found that 47 percent of GOP voters would back Trump, while former Vice President Mike Pence was a distant second with the support of just 13 percent of respondents.
Newsweek reached out to the NRCC for comment but did not immediately receive a response.