Democrat Missouri Representative Cori Bush told MSNBC host Joy Reid on Friday that she relocated her office to avoid white supremacists in Congress, including Republican Georgia Representative Marjorie Taylor Greene.
Some Democratic lawmakers have criticized Greene for her continued commitment to former President Donald Trump. Videos posted to social media appear to show Greene's support of conspiracy theories, including a belief that a mass shooting at a Florida high school in 2018 was a false flag event. Some Democrats have called for Greene to be expelled from Congress.
On Friday, Greene and Bush had a heated discussion over Greene's choice not to wear a face mask. After the incident, which was live-streamed by Greene, Bush announced that she would be relocating her office.
"I moved my office because I am here to do a job for the people of St. Louis," Bush said. "They deserve that. And what I cannot do is continue to look over my shoulder wondering if a white supremacist in Congress by name of Marjorie Taylor Greene—or anyone else because there are others—that they are doing something, are conspiring against us. Our focus has to be on St. Louis and the work that we can get done."
"Also my team deserves better," Bush added. "They should not have to come to work and have to wonder if that door is going to open, that does not have a peephole, that that door is going to open and there's somebody that does not want to do them well."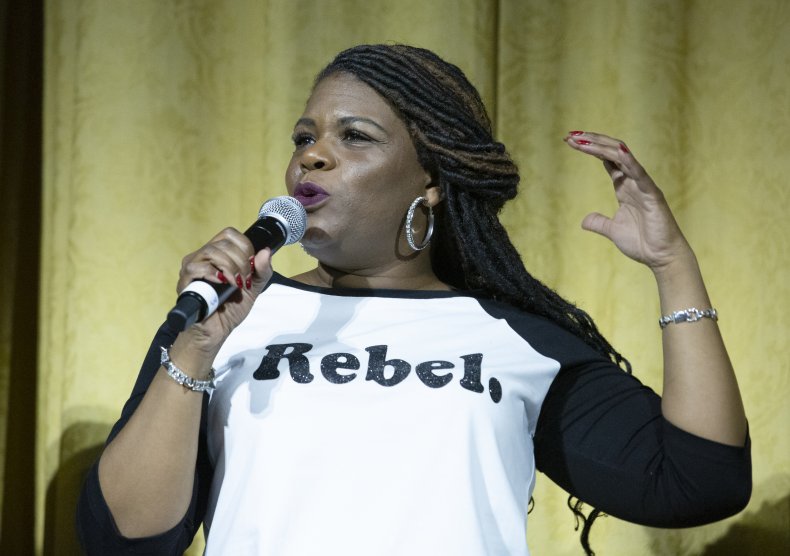 Greene tweeted that Bush started the Friday confrontation over the facemasks.
"Rep. @CoriBush is the leader of the St. Louis Black Lives Matter terrorist mob who trespassed into a gated neighborhood to threaten the lives of the McCloskey's," Greene wrote. "She is lying to you. She berated me. Maybe Rep. Bush didn't realize I was live on video, but I have the receipts."
In the video, a member of Greene's team can be heard telling Bush to "stop inciting violence with Black Lives Matter." Bush worked as an organizer for Black Lives Matter in Missouri before being elected to Congress.
"What does Black Lives Matter have to do with this?" Bush said Friday night. "Put on a mask and save lives."
Newsweek reached out to Greene's office for comment.
Citing Greene's past alleged espousal of conspiracy theories, Democratic California Representative Jimmy Gomez announced a resolution to have Greene expelled from Congress. In a Wednesday statement, Gomez said Greene's "very presence in office represents a direct threat against the elected officials and staff who serve our government."
Greene indicated in a Friday statement that she would not resign her seat. Referring to criticism leveled against her, Greene wrote that she would "take all of these slings and arrows gladly for you. I take them for our America First movement so that we can save our country and stop socialism. I knew this day would come, it was only a question of when."