Alaska Congressman Who Called Coronavirus the 'Beer Virus' Attended NRA Fundraiser After Skipping COVID-19 Relief Fund Vote
Alaska's sole congressman skipped a vote on providing U.S citizens an emergency coronavirus relief package days after saying the seriousness of the pandemic is being "blown out of proportion."
Rep. Don Young, 86, missed the House vote on whether to ensure two weeks of paid sick leave for workers, expand family leave for workers, and provide free testing for COVID-19 which took place in Washington, D.C. in the early hours of March 14.
As noted by the Anchorage Daily News, later that day Young attended an NRA fundraising event in Mat-Su, Alaska, which he posted about on Facebook.
The Friday before the vote took place, Young gave a talk at Mat-Su Senior Services in Palmer, a nonprofit that provides housing and services for the elderly, in a room full of seniors.
During the March 13 event, Young assured the group of more than 50 elderly people in attendance that it was still safe to continue their normal activities amid the coronavirus outbreak — which he jokingly referred to as the "beer virus" — and blamed the media for causing unnecessary concern.
"This beer virus I call it, they call it a coronavirus I call it a beer virus, how do you like that?
"It attacks our senior citizens. Now I'm one of you. I still say we have to as a nation, as a state to go forth with our everyday activities," Young said, reported the Mat-Su Valley Frontiersman.
The advice is in direct contradiction to that given by health officials such as the Centers for Disease Control and Prevention (CDC) to help minimize the spread of the virus. These include social distancing measures such as avoiding large crowds and staying at least six feet away from another person when possible.
Elsewhere, Young also blamed the media for creating "hysteria" about the potential death rate of the virus while discussing restrictions on international travel and COVID-19 testings.
"This is blown out of proportion about how deadly this is. It's deadly but it's not nearly as deadly as the other viruses we have, but we respond to [what I call] the hysteria concept," said Young.
Young gave his talk at Mat-Su Senior Services one day after governor Mike Dunleavy confirmed Alaska's first case of COVID-19 in the state and mere hours after Young's Facebook page urged residents to "stay diligent, follow the health protocols and best practices being suggested by our health care professionals, and minimize the spread of the virus."
Young's website also has a "Coronavirus Resource Center" with links to CDC's tips on how to stop the spread of the coronavirus, including practicing social distancing.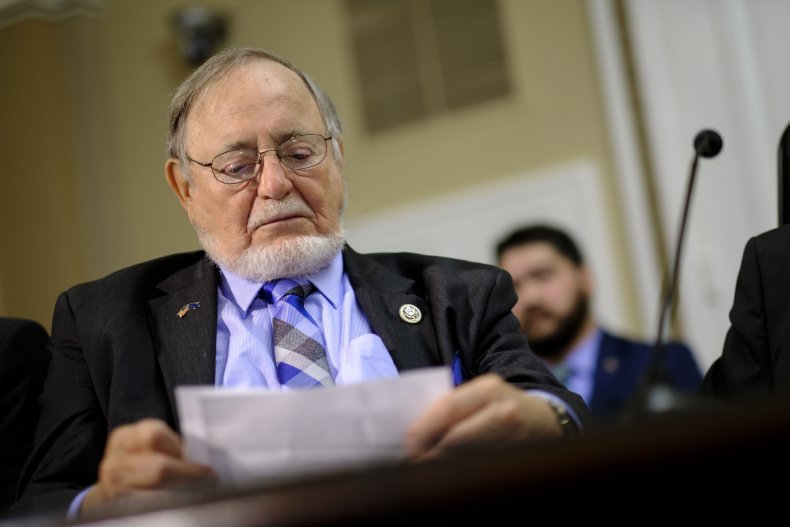 Young's spokesman, Zack Brown, did not respond when asked by the Anchorage Daily News why Young told the elderly people at the Mat-Su Senior Services to "go forth" with their activities while promoting advice saying the opposite.
"Congressman Young continues to be concerned for populations particularly vulnerable to COVID-19, including seniors," Brown said.
"Congressman Young helped the House pass legislation authorizing billions of dollars in funding to combat COVID-19, and has been in communication with House Leadership to ensure that proper resources are available to turn the tide in the fight against COVID-19."
Young's re-election campaign manager, Truman Reed, added: "It was my understanding that the Congressman was trying to urge calm, stressing his confidence that we will weather this storm.
"This pandemic's impact is very real, growing and causing all of us — our governments, businesses, health care professionals and as individuals — to have evolving views and protocols to face its challenges."
Young's office has been contacted for further comment.
There are more than 218,000 confirmed cases of COVID-19 across the world, with 8,810 deaths, according to Johns Hopkins University. A total of 84,121 people have managed to recover from the virus.
This graphic, provided by Statista, shows the global spread of the new coronavirus as of March 18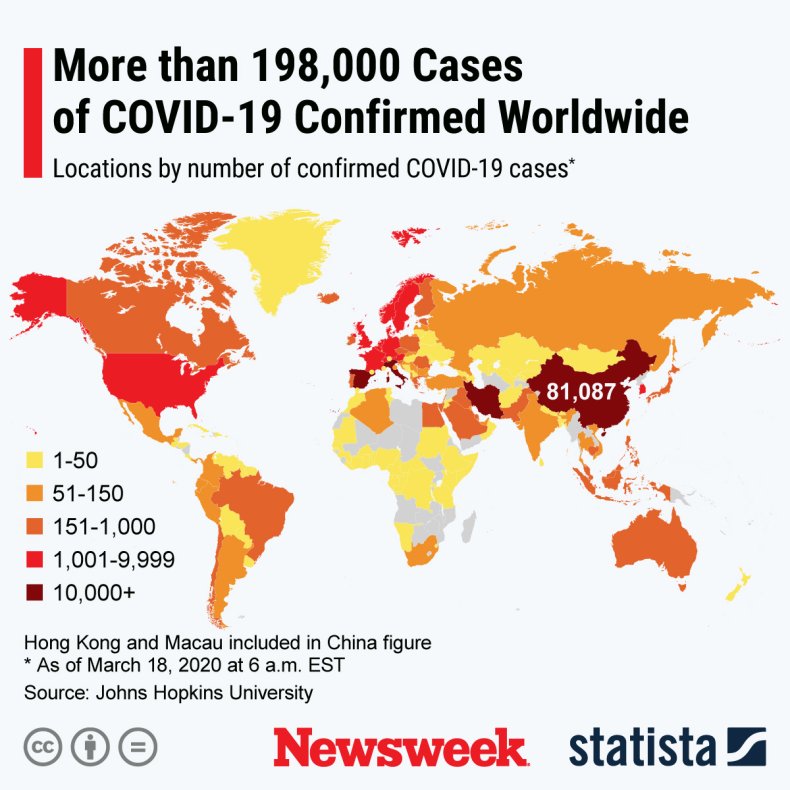 World Health Organization advice for avoiding spread of coronavirus disease (COVID-19)Hygiene advice
Clean hands frequently with soap and water, or alcohol-based hand rub.
Wash hands after coughing or sneezing; when caring for the sick; before; during and after food preparation; before eating; after using the toilet; when hands are visibly dirty; and after handling animals or waste.
Maintain at least 1 meter (3 feet) distance from anyone who is coughing or sneezing.
Avoid touching your hands, nose and mouth. Do not spit in public.
Cover your mouth and nose with a tissue or bent elbow when coughing or sneezing. Discard the tissue immediately and clean your hands.
Medical advice
If you feel unwell (fever, cough, difficulty breathing) seek medical care early and call local health authorities in advance.
Stay up to date on COVID-19 developments issued by health authorities and follow their guidance.
Mask usage
Healthy individuals only need to wear a mask if taking care of a sick person.
Wear a mask if you are coughing or sneezing.
Masks are effective when used in combination with frequent hand cleaning.
Do not touch the mask while wearing it. Clean hands if you touch the mask.
Learn how to properly put on, remove and dispose of masks. Clean hands after disposing of mask.
Do not reuse single-use masks.