California Doctor Says He's Been Offered Bribes For Vaccines as State's Rollout Flounders
As the COVID-19 vaccine rollout in California continues, some members of the entertainment industry have reportedly offered bribes of more than $10,000 to one practice in an attempt to gain early access to vaccines.
The state has faced criticism in recent days for its lagging vaccine rollout pace amid rising infections. California currently ranks 11th among the 15 states with the least number of people per 100,000 who received one or more doses of the vaccine, according to the latest report Monday by the U.S. Centers for Disease Control and Prevention (CDC).
Dr. Robert Huizenga, a doctor based in Beverly Hills in Los Angeles County, said his practice has been offered more than $10,000 by individuals, including those in the entertainment industry, who are desperate to get a vaccine in a "fight for their lives," Variety reported Monday.
Huizenga told Variety: "We've been offered bribes. We see people taking planes to every location. We've seen people try to transiently get into the healthcare profession or on staff at nursing homes, so they qualify for an early vaccine.
He noted those in the entertainment business were well represented among those attempting to secure a vaccine earlier than others.
"You can't really blame them for pulling out all the stops. The state and the government have set up a system that is really horrendous," he added.
Speaking on the condition of anonymity, one unnamed major entertainment executive reportedly told Variety: "It's The Hunger Games out there," referring to the Hollywood film series which sees the film characters battle each other for their survival.
Music executive Irving Azoff is among the older members of the Hollywood crowd who was vaccinated in mid-January when L.A. County expanded its eligibility criterias to include those aged 65 and older.
"I'm a 73-year-old cancer survivor. I recently had part of my intestine removed. Damn right I received the vaccine, and I'm glad I did. Everyone eligible should get vaccinated as soon as they can," Azoff told Variety.
Azoff has reportedly facilitated vaccinations for those in his circle, sources told Variety, but he only confirmed his own vaccination to the publication.
Azoff is also reportedly among several notable people who have been referred to Dr. Robert Bray, a neurological spine surgeon who runs a practice in Newport Beach, California.
Robert Goldstein, the acting chairman and chief executive officer of the Las Vegas Sands Corporation, has reportedly referred Bray to several other influential figures in the business, according to sources, Variety reported.
Bray told Variety his practice was not offering a private concierge service and was given 200 vaccinations from the state. He said his practice observed the state's tier system for vaccinations, offering vaccines to health workers and the elderly, before administering "extra" doses at its discretion, Variety reported.
Speaking to Newsweek, Bray said: "Through both my practice and nonprofit foundation, I have been committed to helping people throughout the pandemic, so I welcomed the opportunity to participate in getting the vaccine to healthcare workers and others meeting the state's current vaccination criteria.
"I want to be clear that I have not – and would never – accept a bribe, payment or donation for the vaccine, nor have I been offered any. And, to reiterate, I am not acting as a concierge in any way."
Citing HIPAA (Health Insurance Portability and Accountability Act) privacy rules, Bray did confirm whether Goldstein and his acquaintances were in his care but acknowledged he knows Goldstein, Variety reported.
Members of UCLA's (University of California, Los Angeles) executive health program have reportedly overwhelmed program director Dr. Robert Ansell with questions about when members would be able to receive the vaccine.
"UCLA is operating extremely by the book and hasn't given a single shot to the concierge patients," one unnamed member of the UCLA service told Variety.
The UCLA executive health program requires a fee and donation to UCLA Medical Center, ranging in cost from around $15,000 to $25,000 per year, on top of premium medical care, several members told Variety.
UCLA Health told Newsweek in a statement: "Philanthropic support is in no way a criterion to determine vaccine candidacy, and no program or options exist to bypass vaccination priorities at UCLA Health.
"We are following the direction of the Los Angeles County Department of Public Health and prioritizing health care workers, followed by patients 65 and older and facing the greatest risk based on their medical conditions. As supplies increase and guidelines expand, we are prepared to increase the number of people being offered an opportunity to be vaccinated."
The attempts by members of the Hollywood elite to bag a vaccine have been condemned by health officials.
Speaking to Newsweek, Dr. Charles Rosen, the president of the Association for Medical Ethics, said: "I have not heard of any bribing for vaccines, but if it is occurring then I can tell you it's certainly unethical for both giving and receiving parties."
American Medical Association told Newsweek in a statement: "Physicians should advocate for and abide by policies and procedures that allocate scarce health care resources fairly among patients in keeping with established public health criteria."
An unnamed former healthcare worker-turned-media-executive told Variety: "Industry people in these positions should be using their power to help and heal the system, not hurt it."
Dr. Art Caplan, the director of the division of medical ethics at the New York University Langone Medical Center and School of Medicine, has heard of concierge doctors being asked to provide the vaccine early for their wealthy clients as well as of hospital donors also seeking early access.
"It's bad behavior. It should not be condoned. We should find ways to penalize it.
"We've got 91-year-olds waiting, health care workers waiting. People who are wealthy can easily find ways to quarantine, mask, and stay isolated for another month or two, and more vaccine will become available," he added.
Newsweek has contacted Huizenga and Goldstein for comment.
This article has been updated with comment from Bray, UCLA Health, the Association of Medical Ethics and the American Medical Association.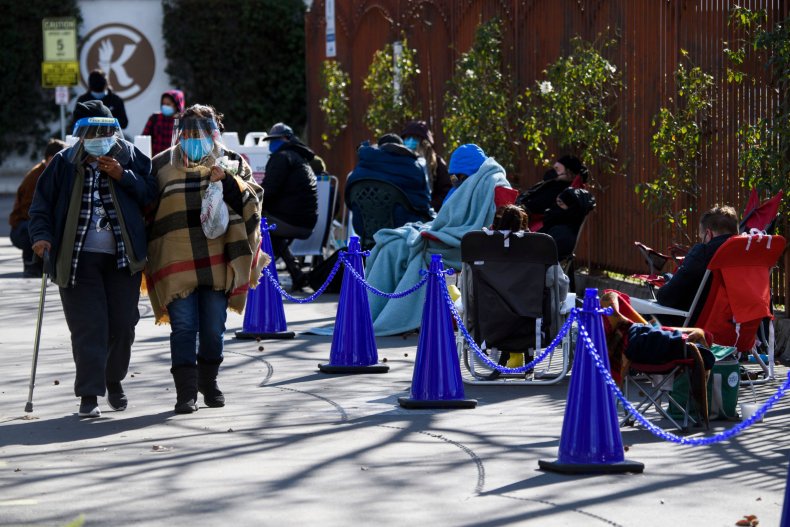 The wider picture
The novel coronavirus has infected more than 99.8 million people, including just over 25.3 million in the U.S., since it was first reported in Wuhan, China.
More than 2.1 million people have died worldwide and more than 55.1 million have recovered as of Tuesday, according to JHU.
The graphic below, produced by Statista, illustrates countries with the highest rate of COVID-19 vaccination.