Gavin Newsom Removes Essential Workers From Vaccine Priority List as Frontline Deaths Soar
California's regional stay-at-home order was lifted on Monday by Gov. Gavin Newsom who also announced a "series of improvements to the state's vaccination plan." The new measures include a move to age-based eligibility for vaccination, which would no longer see essential workers, such as those working in manufacturing and transportation, be prioritized for vaccination.
The announcement comes as many service industry workers prepare to return to work following the lifting of the stay-at-home order and as deaths among frontline workers "skyrocket," according to research by the University of California, San Francisco (UCSF).
The new framework, which takes effect after those currently being prioritized are vaccinated, has been criticized by the SEIU (Service Employees International Union) California, which has 700,000 workers.
The state is currently in the "Phase 1B" stage of it vaccine rollout at the "1B Tier One" level. This tier includes "individuals 65 and older" and "those at risk of exposure at work in the following sectors: education and childcare, emergency services, food and agriculture," according to the California government website.
The next level (1B Tier Two) includes "those at risk of exposure at work in the following sectors: transportation and logistics, industrial, commercial, residential, and sheltering facilities and services, critical manufacturing," as well as those in "congregate settings with outbreak risk," which includes those incarcerated or homeless, according to the website.
The president of SEIU California, Bob Schoonover, said in a statement Monday: "According to recent research by UCSF, frontline workers and workers of color have seen their dying skyrocket because of the pandemic.
"Millions of working Californians, most of them people of color, have no choice but to leave their homes and work each day, exposing themselves, their families, and their communities to COVID-19 and its devastation. Research shows that work is a major source of transmission.
"California labeled these workers essential when the state wanted their service through the pandemic; if they are removed from the priority list for vaccination, the state is now saying they are expendable."
The governor's office issued a statement Monday noting: "Governor Newsom announced actions to address these challenges by simplifying the eligibility framework, standardizing vaccine information and data and ensuring the available supply of vaccine is administered as quickly as possible.
"Moving forward, there will be a single statewide standard and movement through the tiers. The state will continue through 65+, health care workers, and prioritize emergency services, food and agriculture workers, teachers and school staff.
"From there, the state will transition to age-based eligibility, allowing California to scale up and down quickly, while ensuring vaccine goes to disproportionately impacted communities."
Speaking to Newsweek, a spokesperson for the California's COVID-19 Vaccine Task Force stressed that many essential workers remained prioritized.
"Under the plan announced yesterday [Monday], teachers, health care workers, food and agriculture workers (including restaurant workers) and emergency services workers are all prioritized in the current tier," they said.
COVID in California
Total confirmed cases in California have surpassed 3.2 million, with 37,543 reported deaths, as of Tuesday, according to Johns Hopkins University (JHU).
The projected number of hospital beds needed in California is expected to peak on February 6 at around 26,805, according to the latest forecast from the Institute for Health Metrics and Evaluation (IHME) at the University of Washington.
Even with rapid vaccine rollout, which would see "vaccine distribution scaled up over 45 days," the state's daily death toll is projected to peak on February 11 at around 604, according to the IHME.
Newsom's handling of the pandemic response is driving a push to recall him from office. Frustration over his response has fueled a recall campaign that would make him the second governor in the state's history to be recalled from office.
Randy Economy, a senior adviser for Recall Gavin 2020, told Newsweek on Monday that the governor's decision to lift the lockdown order is "absolutely 100 percent connected to the recall."
"He's fighting for his political life right now," Economy said, noting "If it wasn't for the campaign, he wouldn't have acted this way. He would have kept everything locked down."
Social media experts are linking the recall pressure to his move to lift the stay-at-home order to boost the economy.
Jeremy B. White, a reporter for Politico, tweeted: "Hopefully @GavinNewsom emerges to explain stay-at-home lift soon. But for now, the abrupt reversal seems to be cementing a common criticism of Newsom's #coronavirus management: a complaint that restrictions are arbitrary and dictated by politics."
Jay Caruso, Managing Editor at the Washington Examiner, tweeted: "Just. Like. That. I mean, it's great. People are losing their livelihoods, but the timing of this [lifting of the stay-at-home order], especially as Newsom faces a recall, is...something."
James Coleman, Councilmember for South San Francisco's District 4, tweeted: "The regional stay at home order was put in place in December when California had an average of 17k new cases per day. Doesn't make much sense for Newsom to lift it when we're currently averaging 27k cases?"
The latest average daily case count in California was reported to be 25,079 on January 25, which is much higher than the 19,582 reported on December 5, the day the regional stay-at-home order went into effect, according to data compiled by Worldometer.
The state's latest average daily death toll of 534 is more than quadruple the 107 reported on December 5, according to Worldometer.
Newsweek has contacted the governor's office for comment.
Update at 07:03 ET on 01/27/21: This article has been updated with comment from the California Department of Public Health.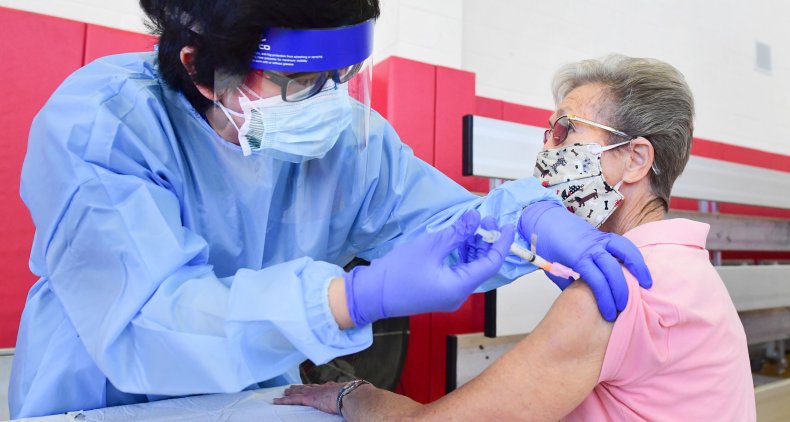 The wider picture
The novel coronavirus has infected more than 99.7 million people, including just over 25.2 million in the U.S., since it was first reported in Wuhan, China.
More than 2.1 million people have died worldwide and more than 55.1 million have recovered as of Tuesday, according to JHU.
The graphic below, produced by Statista, illustrates countries with the highest rate of COVID-19 vaccination.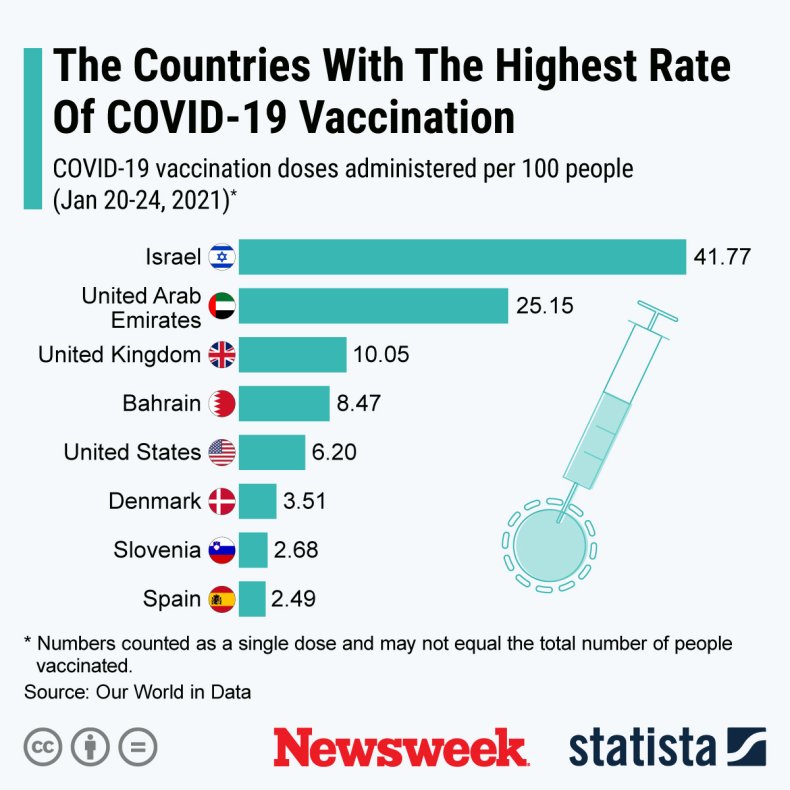 The graphic below, produced by Statista, illustrates the spread of COVID-19 in the U.S.