Despite Mounting Criticism over America's Coronavirus Response, Here's What the U.S. Is Getting Right
Medical supply shortages, testing delays and accusations of contradictory messaging from the White House are some of the criticisms of the U.S. response to the coronavirus pandemic.
However as public health officials warn that the outbreak is still yet to peak, there have been some positive things to report.
These include backing by Republicans and Democrats for a stimulus package worth more than $2 trillion and the fact that in a bid to defeat the virus, pharmaceutical manufacturers and medical researchers have been galvanized into action.
From $1,200 checks to a strong response from state governors, here are what some might consider the plus sides of the U.S. response to an unprecedented pandemic.
The size of the stimulus package
The Coronavirus Aid, Relief and Economic Security Act (CARES) was never going to please everybody and it is likely to be followed up with a further package, but the scope of the $2 trillion rescue plan did enjoy rare bipartisan support.
"The Senate has pivoted from one of the most contentious, partisan periods in the nation's history to passing this rescue package 100-0 all in one quarter of this year," Senate Majority Leader Mitch McConnell said when it passed.
The measures covered more than 900 pages. Depending on income, they included checks for $1,200 for individuals, $2,400 for married couples and $500 for each child.
There is also a $250 billion pledge increasing unemployment benefits for up to four months, $350 billion worth of loans for small businesses, as well as a a so-called 'Marshall Plan' for hospitals.
"If we produced a bazooka, they produced a nuclear bomb," said Alan Mendoza executive director of the London-based think tank The Henry Jackson Society, in comparing the U.S. stimulus package with the one announced by the British government.
"What they have rightly identified, is the need to keep the economy in as good a shape as possible, knowing there will be a big hit to GDP and that has been worked out between Congress and administration. I think they can get a lot of credit for that," he told Newsweek.
Boost in medical developments
With the death toll rising and the economy shut down, the pandemic has been the catalyst for medical research like no other and has seen collaboration between experts in the U.S. and overseas.
The stimulus package has increased funds for the National Institutes of Health to accelerate vaccine research efforts, alongside boosts to other public health agencies such as the Centers for Disease Control and Prevention.
There are many examples of scientific research being carried out at breakneck speed. Among them is biopharmaceutical company Altimmune which has collaborated with the University of Alabama at Birmingham (UAB) to develop a single dose intranasal vaccine for the virus.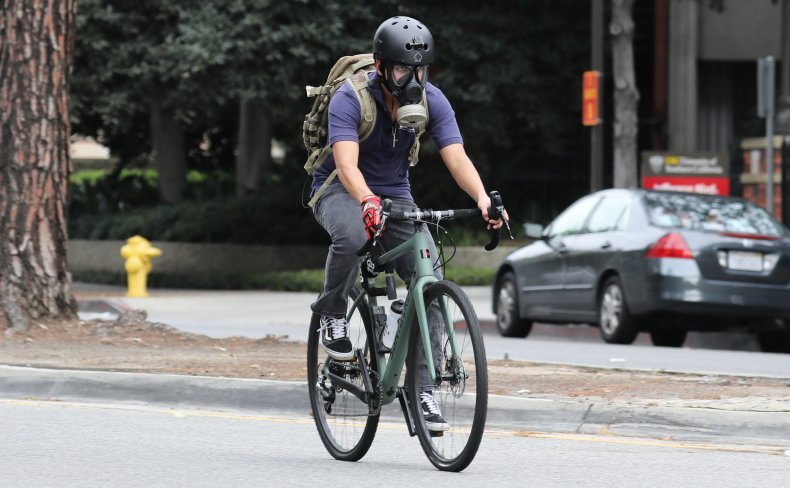 Phase one clinical trials of AdCOVID could take place in the third quarter of 2020, following further research, according to Clinical Trials Arena.
Meanwhile the Quantitative Biosciences Institute Coronavirus Research Group, at the University of California, San Francisco is developing drugs that can protect proteins in our own cells that the coronavirus use to reproduce, The New York Times reported last month.
Ron Fricker, associate dean for faculty affairs and administration at the Virginia Tech College of Science, said it was impressive that the American and global scientific communities had "come together to work on this problem."
"Everything from the vaccines being rushed to clinical trials, to the public health parts of it, the modeling part of it, the data collection, to watch the scientific community come together worldwide has been just amazing," he told Newsweek.
Strong state responses
There is a split in opinion over the response by President Donald Trump to the coronavirus pandemic, but Republicans and Democrats both rate the response of public health officials, as well as state and local elected officials, according to Pew Research.
The federal system has allowed faster responses at local levels to the crisis. On March 19, California Governor Gavin Newsom was the first to order a state-wide lockdown.
Ohio governor Mike DeWine also acted early in putting shelter in place measures, which he has since extended, while Washington Governor Jay Inslee also imposed strict restrictions ahead of much of the rest of the country.
Alan Mendoza from the Henry Jackson Society said that the U.S. federal system had helped some parts of the U.S.
"State responses have been as forthright as they have been in many European centers and governors have taken the view that they should follow the medical advice even if that is not coming from the federal rules.
"It is notable that somewhere like California because it has taken lockdown measures early will avoid the fate of New York, which shows you the power individual governors have had.
"The American model of government where their local governments work in a much more effective way than local governments in Europe shows the versatility of the American system," he told Newsweek.
The chart below, provided by Statista, shows the confirmed number of COVID-19 cases across the U.S.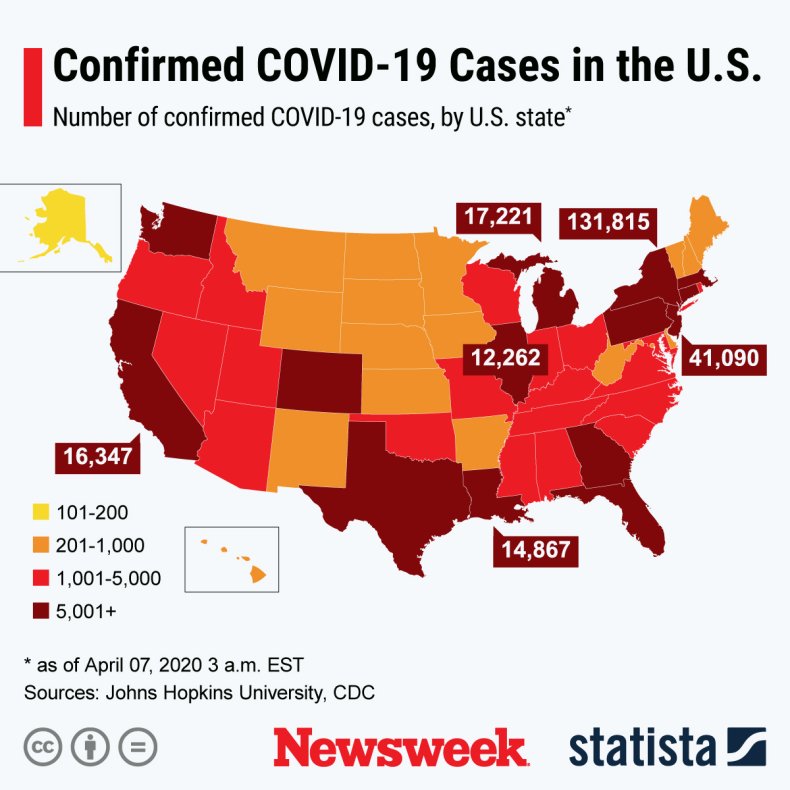 Centers for Disease Control and Prevention Advice on Using Face Coverings to Slow Spread of COVID-19
CDC recommends wearing a cloth face covering in public where social distancing measures are difficult to maintain.
A simple cloth face covering can help slow the spread of the virus by those infected and by those who do not exhibit symptoms.
Cloth face coverings can be fashioned from household items. Guides are offered by the CDC. (https://www.cdc.gov/coronavirus/2019-ncov/prevent-getting-sick/diy-cloth-face-coverings.html)
Cloth face coverings should be washed regularly. A washing machine will suffice.
Practice safe removal of face coverings by not touching eyes, nose, and mouth, and wash hands immediately after removing the covering.
World Health Organization advice for avoiding spread of coronavirus disease (COVID-19)
Hygiene advice
Clean hands frequently with soap and water, or alcohol-based hand rub.
Wash hands after coughing or sneezing; when caring for the sick; before, during and after food preparation; before eating; after using the toilet; when hands are visibly dirty; and after handling animals or waste.
Maintain at least 1 meter (3 feet) distance from anyone who is coughing or sneezing.
Avoid touching your hands, nose and mouth. Do not spit in public.
Cover your mouth and nose with a tissue or bent elbow when coughing or sneezing. Discard the tissue immediately and clean your hands.
Medical advice
Avoid close contact with others if you have any symptoms.
Stay at home if you feel unwell, even with mild symptoms such as headache and runny nose, to avoid potential spread of the disease to medical facilities and other people.
If you develop serious symptoms (fever, cough, difficulty breathing) seek medical care early and contact local health authorities in advance.
Note any recent contact with others and travel details to provide to authorities who can trace and prevent spread of the disease.
Stay up to date on COVID-19 developments issued by health authorities and follow their guidance.
Mask and glove usage
Healthy individuals only need to wear a mask if taking care of a sick person.
Wear a mask if you are coughing or sneezing.
Masks are effective when used in combination with frequent hand cleaning.
Do not touch the mask while wearing it. Clean hands if you touch the mask.
Learn how to properly put on, remove and dispose of masks. Clean hands after disposing of the mask.
Do not reuse single-use masks.
Regularly washing bare hands is more effective against catching COVID-19 than wearing rubber gloves.
The COVID-19 virus can still be picked up on rubber gloves and transmitted by touching your face.