Nine States Record New Single-Day COVID-19 Infection Highs
As coronavirus cases in the U.S. continue to soar, eight states reported their highest ever daily case counts since the outbreak began, with Louisiana reporting its highest single-day rise in new infections since early April, according to data compiled by Johns Hopkins University.
Georgia saw the highest spike among the states reporting record daily case counts, with around 4,500 new cases reported Friday, a 60.7 percent increase on the total new cases seen Thursday.
Most businesses in Georgia resumed operations from early May, while a selection of venues were allowed to reopen from April 24.
The state's seven-day rolling average of daily cases has been increasing on a sharp incline since around mid-June, according to Worldometer.
Georgia is also among the states with the highest number of active cases, which includes infected patients currently being treated in hospital or recovering at home.
Iowa, Utah and Louisiana each reported around a 42 to 46 percent increase in new cases on Friday.
Louisiana reported 2,642 new cases Friday, a 44.4 percent increase on the nearly 1,800 new cases reported Thursday. Friday's daily case count was just under the state's record 2,726 new infections reported April 2, according to Worldometer.
The daily case count in Louisiana had also seen jumps last month, with new cases rising on a sharp incline from around June 21.
On June 22, Louisiana Gov. John Bel Edwards announced the state will remain in phase two of reopening, "as the number of COVID-19 cases and related hospitalizations have started to rise in several regions across the state," the governor's office said in a statement. "The Governor will extend his Phase Two order for another 28 days, keeping in place occupancy limits and other restrictions," the statement said.
Iowa reported 918 new cases on Friday, a 45.7 percent jump from the 630 recorded Thursday.
A stay-at-home order was never issued in Iowa. In late April, Iowa Gov. Kim Reynolds announced the resuming of elective surgeries and the reopening of farmers' markets, despite the state reporting a record single-day rise in deaths at the time.
Several dramatic spikes in new cases were seen in the state through May, June and July, including more than 600 new cases reported June 25, according to Johns Hopkins University.
Utah has seen its daily case count rise on a steep incline from around May 28. Back in June, Utah Gov. Gary Herbert announced the state would pause reopenings throughout most of Utah from June 11, after the state confirmed its highest single-day jump in cases a week prior.
Record single-day rises in COVID-19 cases
Source: Johns Hopkins University (as of July 10)
Georgia: around 4,500 new cases (60.7 percent rise on previous day)
Iowa: 918 (45.7 percent)
Utah: 867 (42.3 percent)
Ohio: 1,500 (36 percent)
Montana: 127 (33.7 percent)
Wisconsin: 845 (12 percent)
Idaho: 500 (8.7 percent)
Alaska: 55 (8.7 percent)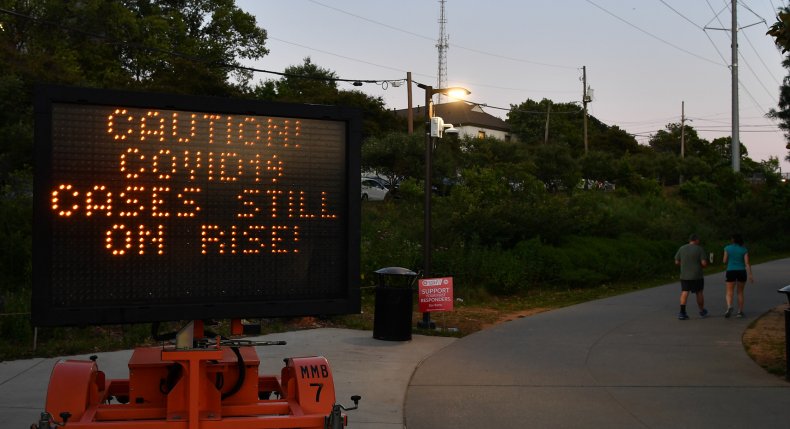 Confirmed cases in the U.S. have climbed past 3.1 million, including 134,097 deaths, as of Saturday, according to Johns Hopkins University. The country's total active cases spiked by nearly 50 percent since a month ago and over 60 percent since two months prior.
Over 12.5 million across the globe have been infected since the virus was first reported in Wuhan, China. More than 6.9 million globally have reportedly recovered from infection, while over 560,800 have died, as of Saturday, according to the latest figures from Johns Hopkins University.
The graphic below, provided by Statista, illustrates the surge in COVID-19 cases in the U.S.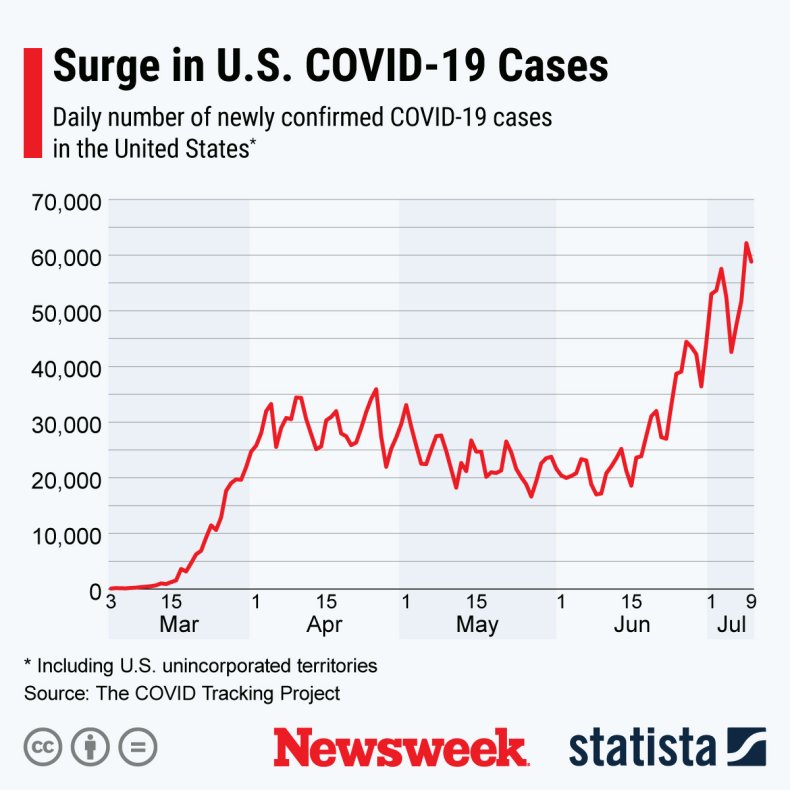 The graphic below, provided by Statista, illustrates the spread of COVID-19 across the U.S.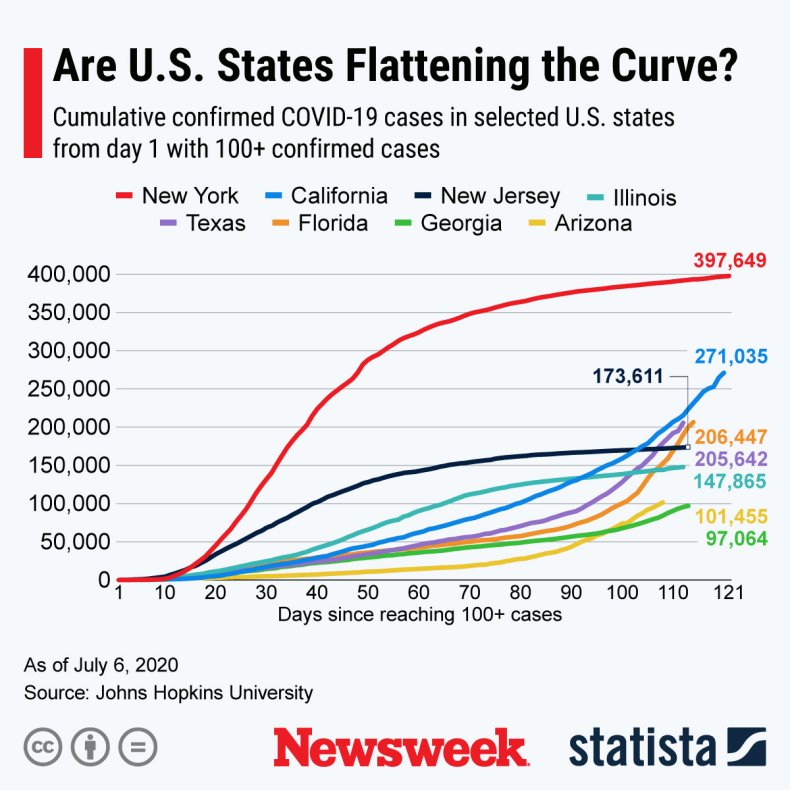 The graphic below, provided by Statista, illustrates the countries with the most COVID-19 cases.