Mississippi Runs Out Of ICU Beds As COVID Delta Variant Sweeps Through State
A spike in the COVID-19 Delta variant has caused a shortage of Intensive Care Unit (ICU) beds in Mississippi where health officials warn of a rise in deaths in the coming weeks.
Mississippi Department of Health officer Dr. Thomas Dobbs said that medical resources were under strain as the highly contagious variant of the disease gallops through the state.
He said that there were now 13 hospitals in the state which had no ICU beds available, while there was only around a tenth of ICU beds were available in other hospitals.
"We're going to have a rough few weeks," Dobbs told a media briefing on Tuesday, "Delta is hitting us very strongly. We anticipate that we are going to continue to put additional pressure on the healthcare system," the Northeast Mississippi Daily Journal reported.
In the month between June 13 and July 11, around nine out of 10 hospitalizations and deaths in Mississippi had been among unvaccinated people, the publication reported, while state officials remain worried at the spike in transmissions.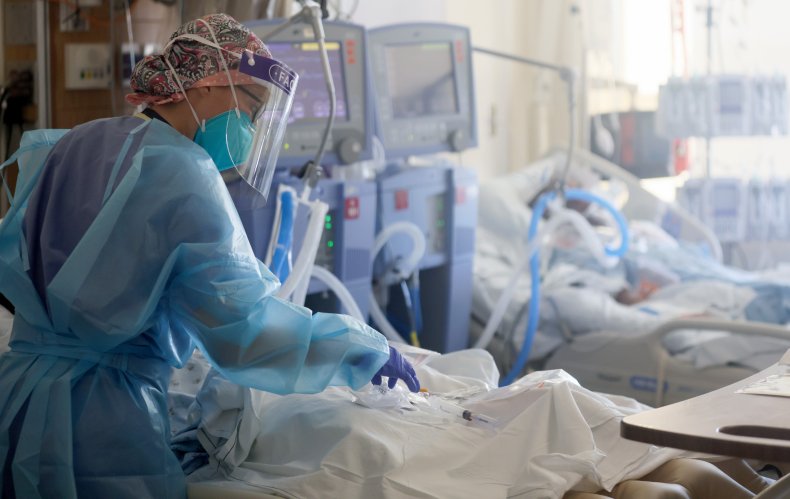 "We just don't need to go through this again," said Dr. Dan Edney, regional health officer for the Central Public Health Region, as reported in the Journal. "We have an answer so that we don't have to go through those killing times again, and that's vaccination."
Health officials have expressed alarm at the number of cases among children, which is translating into severe death and hospitalization among middle aged and older people.
Dr. Alan Jones, associate vice chancellor for clinical affairs at the University of Mississippi Medical Center in Jackson, told ABC News on Wednesday there had been "significant increase" in child patients, who displayed more symptoms than those diagnosed earlier in the pandemic.
"These seem to be more classic COVID symptoms," he said, which included fever, cough and respiratory illness.
"I suspect that's probably because this delta variant is importing a little more severe illness in the pediatric population than those earlier strains that were circulating."
While not hitting their February peak, hospitalizations between July 5 and July 19 more than doubled from 145 to 419. Meanwhile, the number of those in ICUs has increased over the same period, from 35 to 138, Mississippi Today reported.
The outlet noted that only a third (34 percent) of people have been fully vaccinated, according to Centers for Disease Control and Prevention data, meaning the state has the lowest proportion of people to have had two jabs.
Mississippi Department of Health data showed that Baptist-DeSoto was among those with no ICU beds left, although in a statement the hospital said it remained prepared to treat patients in an emergency.
It said that it could manage beds system-wide and direct patients to other nearby hospitals with additional beds if needed, according to Fox 13.
Newsweek has contacted the Mississippi Department of Health for comment.