COVID Patient Tells Doctor All 22 People at Her Thanksgiving Dinner Have Symptoms
As current COVID-19 hospitalizations in the U.S. surpass 104,000, one Rhode Island doctor pleaded "We are so tired," after a coronavirus patient admitted she hosted a large family dinner for 22 people over Thanksgiving.
Dr. Rebecca Karb, an emergency medicine physician and faculty member at The Warren Alpert Medical School of Brown University in Providence, said: "Last night, one of my (many) patients with COVID told me she had a large Thanksgiving dinner with family—22 people," in a post Tuesday on Twitter.
"The day after, one family member tested positive. Since then (according to my patient) *ALL* 22 people have developed symptoms, some severe. We are so tired," Karb wrote in the tweet, which has received at least 79,900 likes and 18,600 retweets since it was first posted.
Karb's patient may be joined by a dire number of other post-Thanksgiving COVID-19 cases when the impact of the gatherings held over the holiday is revealed in later weeks, warned Dr. Anthony Fauci, the director of the National Institute of Allergy and Infectious Diseases.
Speaking to Newsweek last week, when asked if he anticipates the post-Thanksgiving tallies for cases, deaths and hospitalizations being bad, the White House COVID-19 task force member said: "Unfortunately I do. I hate to say that but it's the truth and the reality. I do see that happening.
"At least two to 2.5 weeks, maybe even three, between two and three weeks from when the travel [for Thanksgiving] started, that's when you're going to see the peaks.
"If you and I travel and then go home and have family dinners, you're gonna see infections two to three weeks from there and then a week later you'll see more hospitalizations and then two weeks later you'll see more deaths," Fauci told Newsweek.
Karb joins several other doctors and nurses who have taken to social media in recent weeks to share a snapshot of the reality of the outbreak at hospitals and make emotional pleas to warn people about the seriousness of the virus.
Just over a week before Thanksgiving, Twitter user @MDaware, a doctor at Northwestern EM (Emergency Medicine), tweeted: "please [sic] consider having thanksgiving on iPad so fewer people have to say goodbye to their families forever from an ICU [intensive care unit] on an iPad."
In mid-November, an ICU nurse in the Texas county of El Paso, where temporary refrigerated morgue trailers were deployed to cope with the rising number of COVID-19 deaths, tweeted about her encounter with a COVID-19 patient who initially denied the severity of the virus despite being in intensive care but later admitted he was "mistaken."
The patient's perspective shifted following the nurse's "brutally honest" account of her personal experience of the outbreak.
The nurse told the patient: "You're the only patient of 25 that has been able to speak to me today or is even aware I'm here" and that "in 10 years of being a nurse I've done more CPR and seen more people die in the last two weeks than I have in my entire career."
Also in mid-November, Lacie Gooch, a nurse working in a COVID-19 ICU at Nebraska Medicine, pleaded "Please take it [COVID-19] seriously. Wear your mask. And I hope I don't see you," in a viral Twitter video that has received at least 5,800 likes and 2,900 retweets since it was posted.
COVID-19 hospitalizations in the U.S. have been at record levels since early November, according to data compiled by The Atlantic's COVID Tracking Project.
By early January, the virus could infect over a million Americans per day, according to the latest projection by the Institute for Health Metrics and Evaluation at the University of Washington.
According to the latest forecasts published by the U.S. Centers for Disease Control and Prevention, "For December 28, the forecasts estimate 2,300 to 23,000 new COVID-19 hospitalizations per day," while as many as 19,500 new COVID-19 deaths could be recorded in the week of Christmas.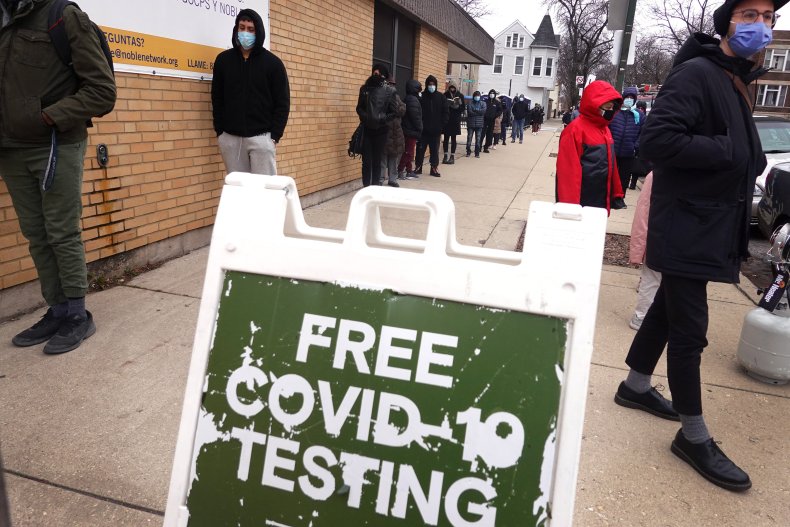 The wider picture
The novel coronavirus has infected more than 68.2 million people, including over 15.1 million in the U.S., since it was first reported in Wuhan, China.
More than 1.5 million people have died worldwide and over 43.9 million have recovered as of Wednesday, according to Johns Hopkins University.
The graphic below, provided by Statista, shows the spread of COVID-19 cases in the U.S.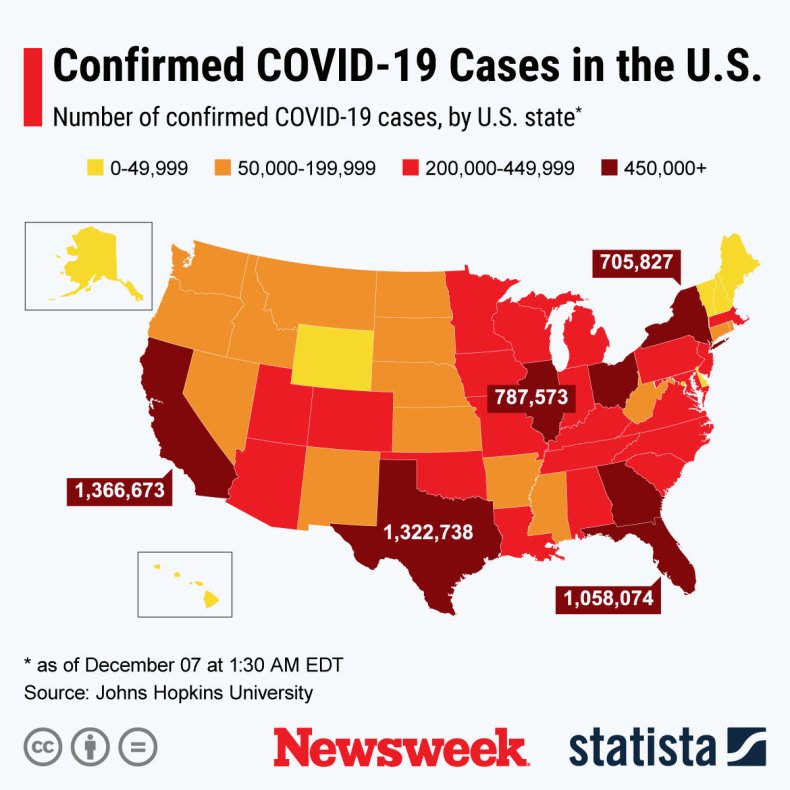 The graphic below, produced by Statista, shows the distribution of COVID-19 deaths among the U.S. population.