As Super Bowl fans in Tampa, Florida were seen ignoring the city's mask mandate amid the ongoing COVID-19 pandemic and destroying street signs and other property, Tampa Mayor Jane Castor said the "bad actors" who committed vandalism would be identified and handled by the Tampa Police Department.
Videos and photos shared on social media showed crowds cheering, standing on cars, dancing outside bars and blocking streets celebrating Sunday's win. Many fans were seen without masks while ignoring social distancing measures.
At a press briefing Monday, Castor noted: "We had tens of thousands of people all over the city, downtown, out by the stadium...and very very few incidents. So I'm proud of our community but those few bad actors will be identified and the Tampa Police Department will handle it."
Speaking to Newsweek, a spokesperson for the mayor's office said: "Tampa Police are working to identify the people who destroyed street signs and other property during Super Bowl celebrations, not people who failed to wear a mask," adding that "the City of Tampa did not issue citations to individuals who failed to wear a mask."
The spokesperson noted: "The Mayor has always asked for people to act responsibly and mask up for the safety of others. The City of Tampa handed out more the 200,000 masks and enacted a mask mandate at Super Bowl events to ensure a safe SBLV [Super Bowl LV].
The masks were handed out ahead of the game and "a majority" of people and businesses complied with the rules, Castor noted Monday.
She said: "Everyone knows that simply wearing a mask dramatically reduces the spread of COVID-19. And I'm proud to say that the majority of the individuals that I saw out and about enjoying the festivities associated with the Super Bowl were complying.
"There just has to be that level of personal responsibility. You can supply everyone with a mask, advise them of the science behind it and expect that they are going to abide by the mask order. Again, you're gonna find a few that don't. The majority that I saw were wearing masks," Castor noted at the Monday press briefing.
The mayor's words come as the city's official celebration of the Tampa Bay Buccaneers' win of Super Bowl LV is due to take place on Wednesday with a boat parade.
Castor told reporters: "We can't have a historic event of this significance in our community and not celebrate it. We definitely have to celebrate this momentous occasion.
"This win was from the Buccaneer team but this win was for our entire community.
"They deserve to be able to celebrate with the team. Everybody will be able to participate and participate safely."
The socially-distanced celebration is due totake place along the Riverwalk on February 10 starting at 1 p.m., with masks required outdoors in all event zones.
Asked if she was concerned that a parade celebration of the win could potentially become a super-spreading event for the coronavirus, Castor noted: "It's always going to be a concern. But, again, if we can get the majority of individuals wearing their masks, then we can tamp down and contain the spread of COVID-19."
Newsweek has contacted the Tampa Police Department for comment.
Ahead of the Super Bowl in late January, Castor issued an executive order requiring masks to be worn in parts of the city in a bid to "protect the health and safety of Super Bowl fans and the community."
The mask mandate, which is in effect until February 13, is in place for Downtown Tampa and the area surrounding Raymond James Stadium (where the Super Bowl was held) as well as "entertainment districts" including the Ybor City Historic District, the South Howard Commercial Overlay District, the Central Business District, and the Channel District.
The scenes among Super Bowl fans in Tampa even concerned President Joe Biden, according to White House press secretary Jen Psaki.
"He [Biden] is of course concerned when there are pictures and photos - we all are - that show many, many people without masks in close distance with one another at the height of a pandemic," Psaki said.
Total confirmed cases in Florida have surpassed 1.7 million, the country's third-highest case count among the states, with 27,815 total reported deaths, as of Tuesday, according to Johns Hopkins University (JHU).
The seven-day average of cases has been declining from early January, after climbing from late October. The state's seven-day average of deaths has been rising from early November, according to data compiled by Worldometer.
The state's projected daily death count declined from early February but is forecast to rise from mid-March if "vaccine distribution is scaled up over 90 days" and the COVID-19 variant B.1.1.7 "continues to spread in certain locations," according to the latest projection by the Institute for Health Metrics and Evaluation (IHME) at the University of Washington.
"Daily deaths is the best indicator of the progression of the pandemic, although there is generally a 17-21 day lag between infection and deaths," the IHME notes.
This article has been updated with comment from the mayor's office.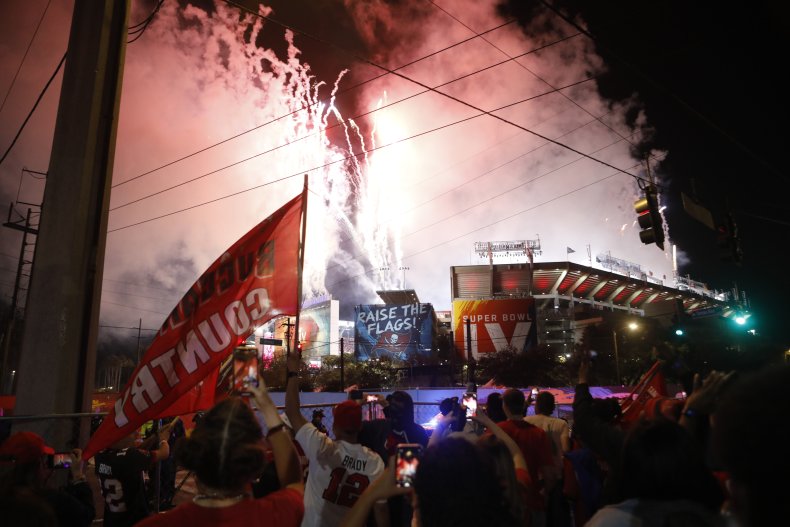 The wider picture
The novel coronavirus has infected more than 106.5 million people, including just over 27 million in the U.S., since it was first reported in Wuhan, China.
More than 2.3 million people have died worldwide and more than 59.4 million have recovered as of Tuesday, according to JHU.
The graphic below, produced by Statista, illustrates the spread of COVID-19 cases in the U.S.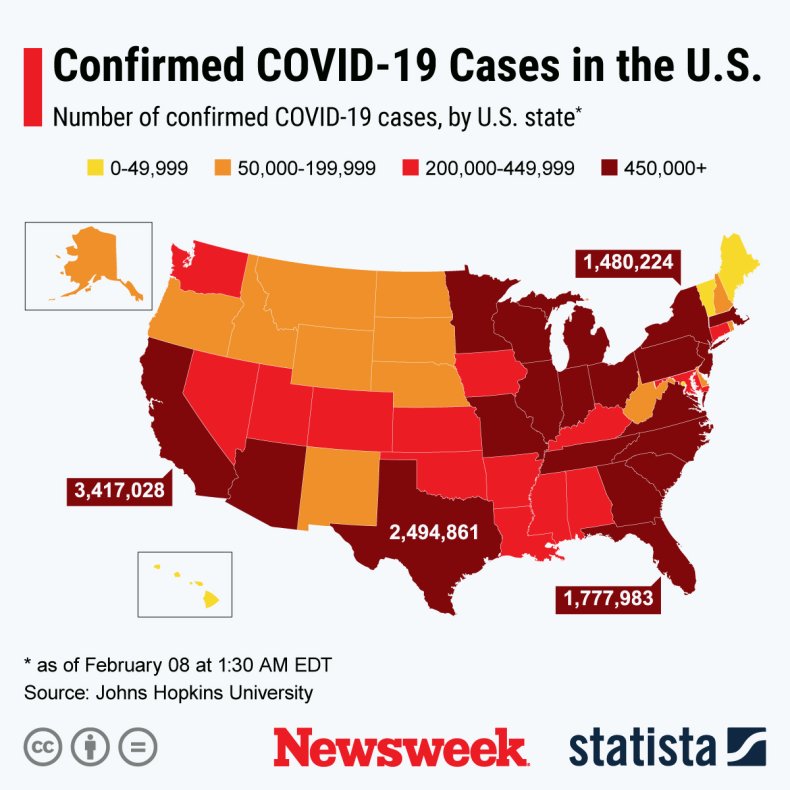 The graphic below, produced by Statista, illustrates countries with the highest number of COVID-19 vaccine doses administered per 100 people.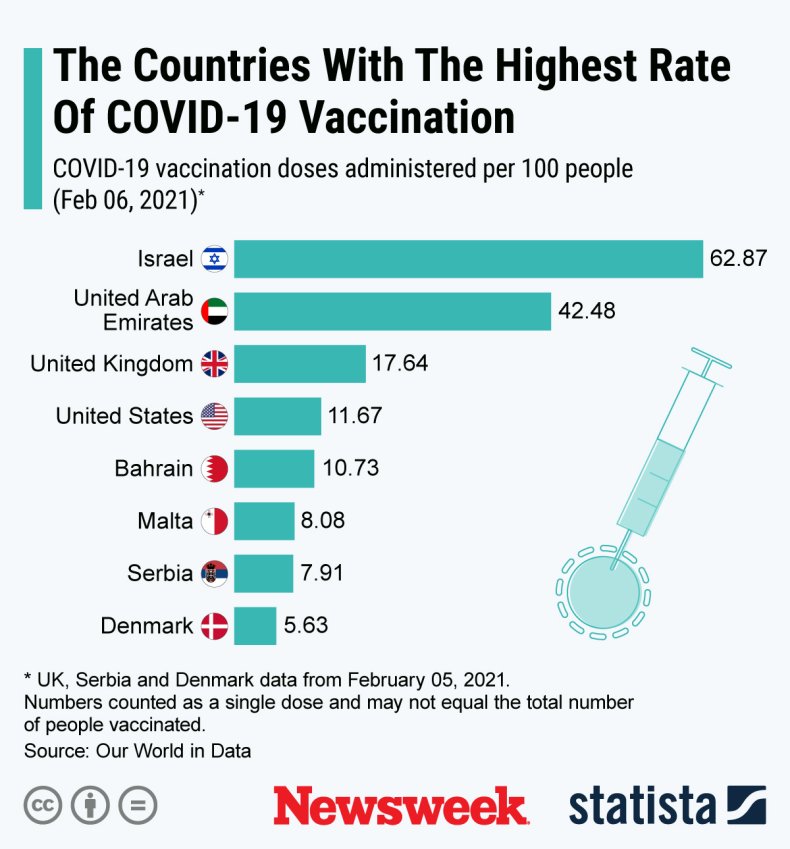 Correction: This article originally stated that Tampa Mayor Jane Castor said maskless Super Bowl fans would be identified by police. A spokesperson for the mayor's office has clarified to Newsweek that police are only looking to identify those who destroyed street signs and other property.
About the writer
Soo Kim is a Newsweek SEO Reporter is based in London, UK. She reports on various trends and lifestyle stories, from health, fitness and travel to psychology, relationships and family issues. She is also a South Korea expert who regularly covers Korean culture/entertainment for Newsweek, including the latest K-dramas, films and K-pop news, and is the author of the book How to Live Korean, which is available in eight languages. Soo also covered the COVID-19 pandemic extensively from 2020 through 2021 after joining the general news desk of Newsweek in 2019 from the Daily Telegraph (a U.K. national newspaper) where she was a travel reporter/editor from 2010. She is a graduate of Binghamton University in New York and the journalism school of City University in London, where she earned a Masters in international journalism. Languages spoken: English and Korean.
Follow her on Twitter at @MissSooKim or Instagram at @miss.soo.kim
You can get in touch with Soo by emailing s.kim@newsweek.com