Tampa Fans Flood Streets To Celebrate Super Bowl Win, Ignore Social Distancing
Fans of the Tampa Bay Buccaneers flooded the streets of the Florida city on Sunday night after the team beat the Kansas City Chiefs to win the Super Bowl.
Photos and videos circulating on social media show crowds cheering, standing on cars, dancing outside bars and blocking streets while mainly appearing to ignore social distancing guidance—despite the ongoing coronavirus pandemic.
The Tampa Bay Buccaneers made history by becoming the first team to ever play a Super Bowl in their home stadium and made even more history by winning the game.
With veteran quarterback Tom Brady at the helm, the team won 31-9 against the Kansas City Chiefs. In his first year with the team, Brady led Tampa Bay to its second-ever Super Bowl title, and seventh in his distinguished career.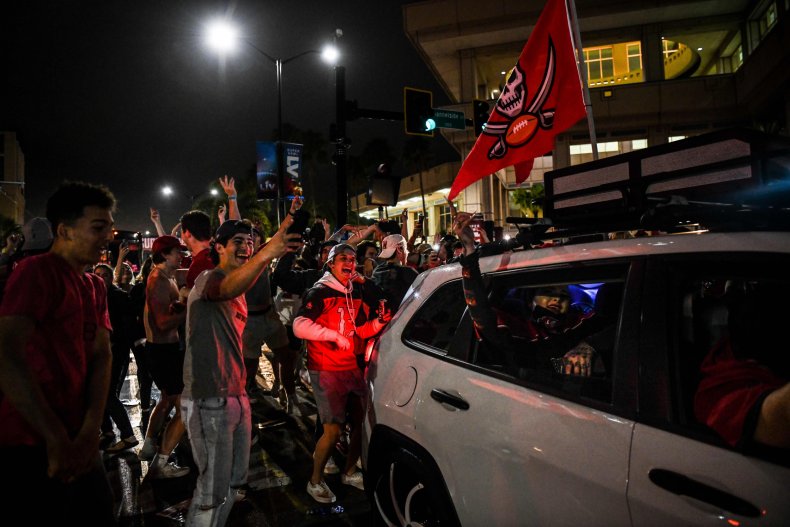 The victory in their home stadium, which had a limited capacity capped at 22,000 fans due to the pandemic, meant local fans could celebrate on their own turf.
After the game finished, fireworks exploded over Raymond James Stadium while Walt Disney World in Orlando lit up the Cinderella Castle at Magic Kingdom in red and blue.
Many people in the Tampa crowds could be seen celebrating without masks and showing little sign of taking precautions to prevent the spread of COVID-19.
It comes after Tampa Mayor Jane Castor issued an executive order last month, making it mandatory to wear face masks outside in popular areas of the city during Super Bowl festivities and the days following.
Before the game, officials said those who breached local health guidelines would face fines of up to $500.
But on Sunday night, fans were seen hugging, screaming, climbing street lights and running between cars that were stuck on the gridlocked streets for several hours.
Media outlets reported that the scenes grew more violent as the night went on, with fans swarming police officers and forcing them back into their cars.
According to FOX 13, excited fans even hijacked a public transport bus for a few minutes. No one was injured.
Tampa police also tweeted that e-scooter services had been suspended for unclear reasons.
Police reportedly deployed pepper spray to bring the crowds under control and clear the area towards midnight.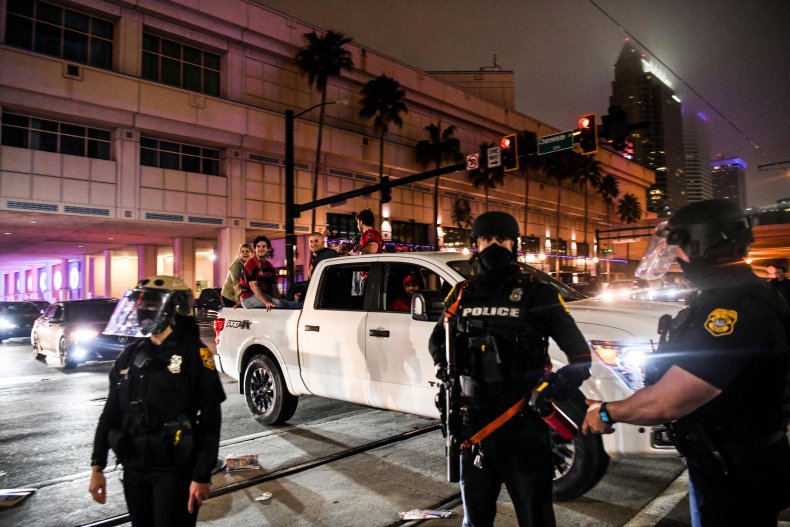 The Super Bowl had already prompted fears among the country's top health officials that it could become a COVID superspreader event.
Rochelle Walensky, head of the Centers for Disease Control and Prevention, told media outlets: "I'm worried about Super Bowl Sunday, quite honestly. People gather they watch games together. We've seen outbreaks already from football parties. So I really do think that we need to watch this and be careful."
Critics took to Twitter to condemn the scenes in Tampa, with top epidemiologist Eric Feigl-Ding saying: "Damnit, why Florida, why?!?! Don't you know the new more infectious #B117 variant is spreading the fastest already in Florida? Doubling every 9 days there. #COVID19"
Comedian Pauly Casillas tweeted: "Congrats COVID for winning the Super Bowl" and Victor Samuel Huckabee wrote: "super bowl of covid soup."
Physician and advocate Esther Choo shared a COVIDgraphic and said: "I believe I called it".
While crowds in the city mainly appeared maskless, many people outside Raymond James Stadium were wearing masks. Around 7,500 of them were vaccinated healthcare workers who were invited to watch it live by NFL Commissioner Roger Goodell.