New York has recorded its highest ever number of medical 911 calls, overtaking the amount seen during the September 11 terror attacks, as the city continues to become overwhelmed by the coronavirus outbreak.
New York received around 6,550 medical 911 calls on March 25, a daily average increase of around 40 percent, according to emergency worker unions.
An official fundraiser for The New York City Fire Department Bureau of Emergency Medical Services (EMS FDNY), which aims to provide financial assistance to those struggling to deal with the fallout of COVID-19, also revealed a similar figure while highlighting the risks these workers are currently facing as the virus continues to spread.
The FDNY is now urging people not to call 911 unless it is an emergency and to only attend the emergency room if they are having difficulty breathing and high fever, so as not to overwhelm the hospitals and medical workers.
According to Johns Hopkins University, there are more than 23,000 confirmed cases of the coronavirus in New York, making it one of the most infected cities in the world right now.
"Our busiest day of the year, we usually do 5,000 calls. That's usually New Years Day. We have shattered a record last night," Oren Barzilay, president of the Local 2507 union, told Bloomberg.
"Due to the spike, we have some calls that are waiting three, four hours to get an ambulance."
The reports of the number of medical 911 calls overtaking those seen on 9/11 arrived as doctors and other emergency medical service (EMS) workers describe how the city's hospitals are barely managing to cope with the constant influx of patients.
Barzilay also highlighted issues such as first responders dealing with potential COVID-19 patients falling sick, meaning they are forced out of work during a time of crisis.
"If we lose another 10 percent of people to falling ill from this, I think the city is going to be in a crisis," he said.
Anthony Almojera, from the EMS officers union, also described how what medical staff are dealing with.
"9/11 didn't have this many calls. We're doing it now every day for the last two weeks the call volume has gone up and up," Almojera told CBS.
Almojera said the city must better provide workers better protection from the virus following reports there aren't enough masks and other protective equipment to deal with the pandemic.
State senator Andrew Gounardes also described how New York must learn the lessons of 9/11 by doing more to protect frontline workers.
For years after the September 11 attacks, firefighters and other emergency workers were reporting cancer diagnosis after being exposed to a number of carcinogens following the collapse of the World Trade Center Towers.
"After 9/11 we should have learned our lesson: Never send first responders to do their jobs without proper protection and a clear sense of the risks," Gounardes wrote in the New York Daily News.
"We failed to do that, and 20 years later, people are paying the price. We can't repeat the mistakes of the past.
"We have to take immediate action to protect those who are fighting this deadly battle on our behalf."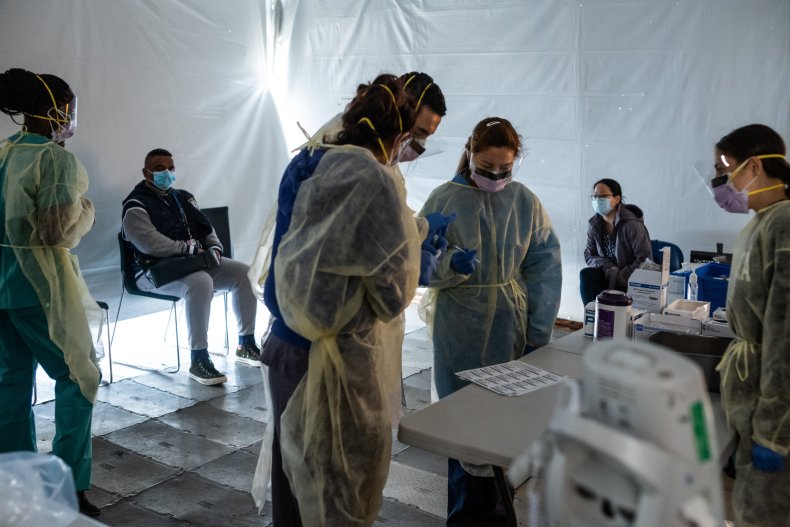 While there were more reported medical calls received on Wednesday, the number of overall 911 calls on September 11 is still a vastly larger number.
There were more than 3,000 911 calls within the first 18 minutes of the first plane hitting the towers, and more than 57,000 in the proceeding 24 hours, The New York Times reported in 2006.
Overall, the U.S now has the highest number of confirmed cases of COVID-19 in the entire world with more than 85,000. There have been 1,296 fatalities from the virus, with 753 patients managing to recover.
This infographic, provided by Statista, shows the number of confirmed COVID-19 cases in New York state compared to Washington and California.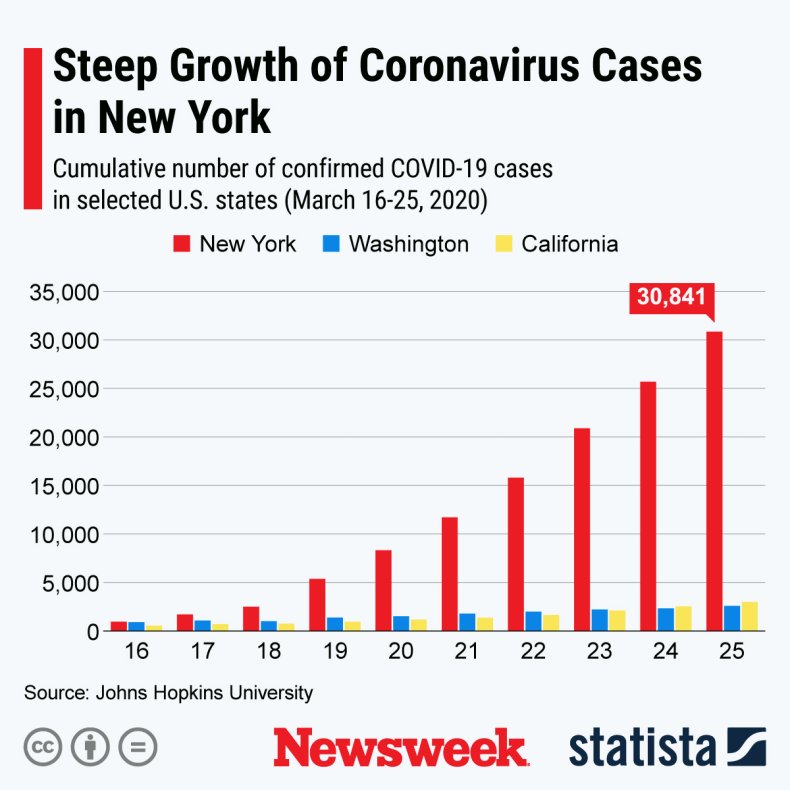 World Health Organization advice for avoiding spread of coronavirus disease (COVID-19)
Hygiene advice:
• Clean hands frequently with soap and water, or alcohol-based hand rub.
• Wash hands after coughing or sneezing; when caring for the sick; before, during and after food preparation; before eating; after using the toilet; when hands are visibly dirty; and after handling animals or waste.
• Maintain at least 1 meter (3 feet) distance from anyone who is coughing or sneezing.
• Avoid touching your hands, nose and mouth. Do not spit in public.
• Cover your mouth and nose with a tissue or bent elbow when coughing or sneezing. Discard the tissue immediately and clean your hands.
Medical advice
• Avoid close contact with others if you have any symptoms.
• Stay at home if you feel unwell, even with mild symptoms such as headache and runny nose, to avoid potential spread of the disease to medical facilities and other people.
• If you develop serious symptoms (fever, cough, difficulty breathing) seek medical care early and contact local health authorities in advance.
• Note any recent contact with others and travel details to provide to authorities who can trace and prevent spread of the disease.
• Stay up to date on COVID-19 developments issued by health authorities and follow their guidance.
Mask and glove usage
• Healthy individuals only need to wear a mask if taking care of a sick person.
• Wear a mask if you are coughing or sneezing.
• Masks are effective when used in combination with frequent hand cleaning.
• Do not touch the mask while wearing it. Clean hands if you touch the mask.
• Learn how to properly put on, remove and dispose of masks. Clean hands after disposing of the mask.
• Do not reuse single-use masks.
• Regularly washing bare hands is more effective against catching COVID-19 than wearing rubber gloves.
• The COVID-19 virus can still be picked up on rubber gloves and transmitted by touching your face.