Orthodox Jews vs Bill De Blasio and Andrew Cuomo—Why New York is Battling Anti-lockdown Protests
Protests held by Orthodox Jews have erupted in the New York City borough of Brooklyn following the announcement of new coronavirus restrictions in New York. Many of the areas affected by the restrictions have large populations of Orthodox Jews.
New York Gov. Andrew Cuomo announced the new restrictions last week "to address COVID-19 hot spots that have cropped up" in Brooklyn, Queens, Broome, Orange and Rockland counties, the governor's office said in a statement Tuesday.
New York, the country's former epicenter of the outbreak, began seeing a rise in average daily new cases from late September, after flattening out for months since mid-June, according to data compiled by Johns Hopkins University (JHU).
The new restrictions are split across three categories (Red Zone, Orange Zone, Yellow Zone), each of which dictates different capacity limits for houses of worship, mass gatherings, businesses, dining venues and schools. The new rules also include a $15,000 fine to anyone who organizes a mass gathering.
"Orthodox Jewish gatherings often are very, very large and we've seen what one person can do in a group," Cuomo said during a news briefing last Monday, referring to an Orthodox Jewish man believed to be a "super spreader" responsible for hundreds of infections.
"Mass gatherings are the super spreader events. We know there have been mass gatherings going on in concert with religious institutions in these communities for weeks... I'm talking about you're only supposed to have 50 outdoors, [but] they had 1,000... you don't see masks and you see clear violation of social-distancing," Cuomo noted last Monday.
On October 4, New York City Mayor Bill de Blasio tweeted: "We've seen consistently high COVID-19 numbers in nine ZIP codes across South Brooklyn, Far Rockaway and Central Queens."
At the suggestion of the mayor, last Monday Cuomo ordered that public and private schools be temporarily closed in parts of New York City that have large Orthodox Jew populations.
De Blasio's suggestion of the closures coincided with the second day of the Jewish holiday Sukkot, when Orthodox Jews would not be using phones or computers and wouldn't have heard the news until sundown.
Daniel Rosenthal, a New York State Assembly member from Queens, tweeted on October 4: "Announcing this in the middle of a Jewish holiday shows City Hall's incompetence and lack of sensitivity towards the Jewish Community."
The latest restrictions led to several protests by Orthodox Jews, including one which saw a pile of face masks be set on fire on Tuesday. Another protest took place on Wednesday, with some waving campaign flags promoting President Donald Trump.
One of the protests saw Jacob Kornbluh, a Hasidic Jew and reporter at Jewish Insider, be "brutally assaulted, hit in the head, and kicked at by an angry crowd of hundreds of community members," according to a tweet by Kornbluh.
On Sunday, Harold "Heshy" Tischler, an Orthodox Jewish activist and radio talk show host based in Brooklyn, was arrested in connection with the assault of Kornbluh.
Tischler, who is a candidate for Brooklyn's City Council, has become a leading figure in the fight against COVID-19 restrictions in New York. His arrest sparked another protest this Monday outside the home of Kornbluh.
Members of the Orthodox Jewish community believe they've been unfairly targeted following the recent rise in infections.
"People are very turned off and very burned out," Yosef Hershkop, a Hasidic Jew from Brooklyn who works for a chain of urgent-care centers, told the Associated Press (AP) last week. "It's not like we're the only people in New York getting COVID."
Brooklyn resident Meir Nimni told the AP: "I understand you need to wear a mask. I understand you social distance. What bothers me is: You pick on the good people."
The community also claimed it was not given enough notice about the latest restrictions but Cuomo noted Tuesday: "I spoke to members of the Orthodox Jewish community today. I spoke to the leaders myself this morning. We had a very good conversation."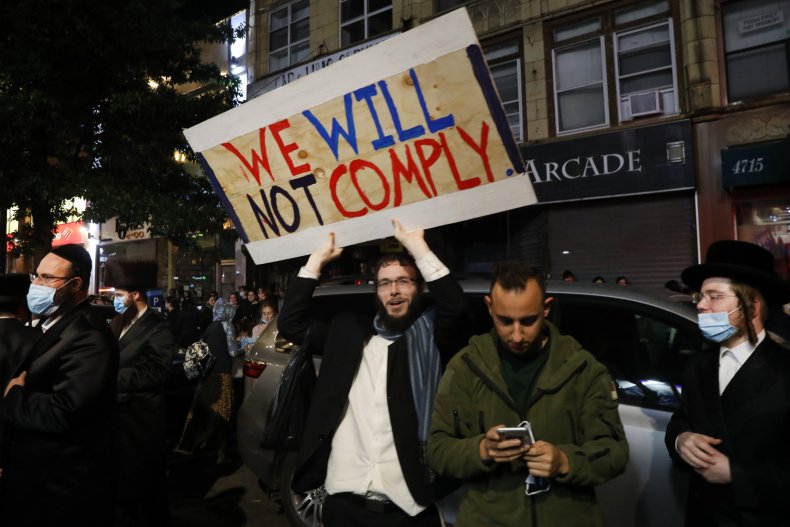 In a statement, Agudath Israel of America, an organization representing Haredi Orthodox communities, said last week: "It should be made clear that the Governor's reference to a 'good conversation' he had with a group of Orthodox Jewish leaders was largely a one-way monologue, and contained no mention of this new plan.
"Agudath Israel intends to explore all appropriate measures to undo this deeply offensive action," the statement said.
Rabbi David Zwiebel, executive vice president of Agudath Israel of America, said the group would consider a court fight if the state wasn't open to changing a new 10-person limit for houses of worship in areas with a high concentration of new cases, AP reported.
Newsweek has contacted New York's Jewish Community Relations Council for comment.
Confirmed cases in New York are approaching nearly 474,300, including 33,294 fatalities, the country's highest death toll, according to the latest report Monday by JHU.
New York City alone currently has the country's highest per capita death rate, with 284 deaths reported per 100,000 people, according to the latest report Sunday by the U.S. Center for Disease Control and Prevention.
The wider picture
The novel coronavirus has infected more than 37.5 million people across the globe since it was first reported in Wuhan, China, including over 7.7 million in the U.S. More than a million have died following infection, while more than 26.1 million have reportedly recovered as of Monday, according to JHU.
The graphic below, provided by Statista, illustrates a survey of U.S. adults concerned about catching COVID-19.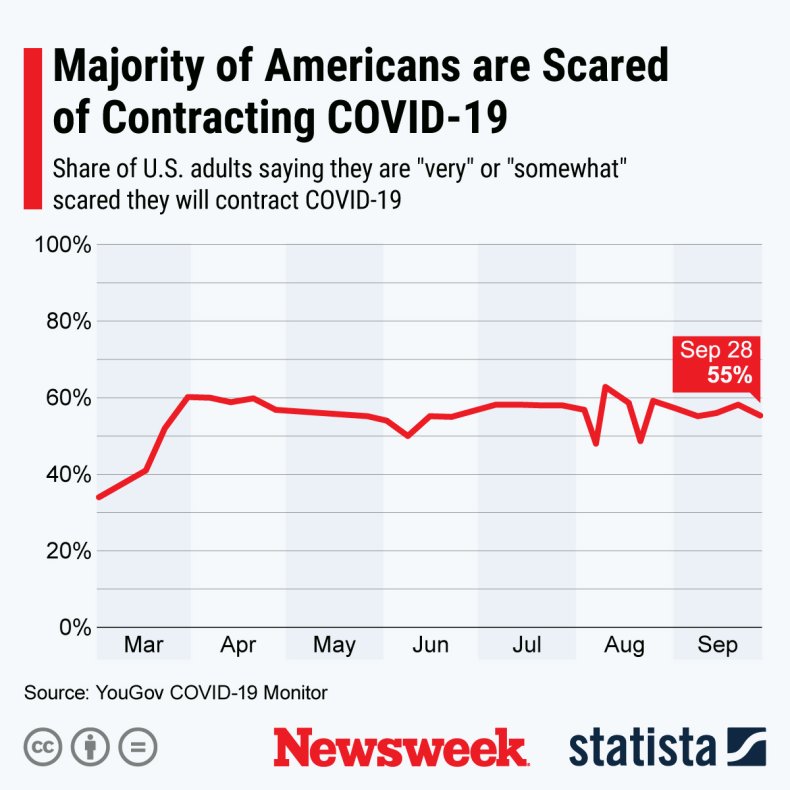 The graphic below, provided by Statista, illustrates the spread of COVID-19 cases in the U.S.